When it comes to the best headphones on the market I spend a lot of time reviewing and editing the top contenders. And there's no doubting that Nothing's Ear (2) 'buds are a very impressive offering – indeed they won the T3 Awards gong for Best True Wireless Headphones this year.
So it's great to see these award-winners drop from already reasonable to even more affordable, as Nothing's 5-star earbuds have hit their lowest-ever price to date on Amazon's site. There's a tasty 23% off the list price at the time of writing, which is every bit as good as the best Black Friday deals – just a fortnight ahead of the sales event proper.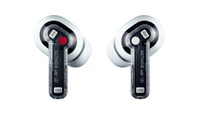 Nothing Ear (2): was £129, now £99 at Amazon.co.uk
5-star rated, award-winning and only likely to further improve thanks to Nothing's proactive software updates. An ideal partner for the Nothing Phone (2), T3 highly rates Nothing's second-gen earbuds as among the best affordable options on the market – even more so now the price has fallen to its lowest-ever level!
To verify the price as being its lowest yet, I've checked with third-party tracking site CamelCamelCamel, which confirms that the Nothing Ear (2) dropped below £100 for the first time ever this month. Not by a couple of quid either, the lowest previous price was £109, down from the £129 RRP.
The earphones, which are available in transparent with white, or a more recent black finish, have even improved since their debut thanks to over-the-air software updates to improve sound quality further and add more customisation additions. Even the older Nothing Ear (1) received may of these updates.
So if you're in the market for a pair of the best wireless earbuds and you want some of the best noise-cancelling options available too then look no further: the Nothing Ear (2) are a no-brainer purchase – especially if you're looking to not spend massive amounts of cash.