For drone pilots looking to nab one of the best drones for beginners at a very fair price point, Amazon may just have the deal for you. Offering the DJI Mavik Mini on sale ahead of Labor Day, this cheap drone deal is a must-see for both beginners and enthusiasts alike.
On sale for $349.99, this deal saves a solid $50 on this incredible little drone. Receiving a five star rating in T3's DJI Mavic Mini review, we raved that DJI's Mavic Mini "is yet another example of DJI's mastery of the drone market." It's an incredible value for the price, is super smooth and easy to control, and shoots some amazing pictures and video.
Simply put, this is one of the best DJI drone deals for the price you'll find right now. It offers the perfect starter drone for beginners, as well as great little backup drone for more skilled pilots, at an incredibly low price of entry.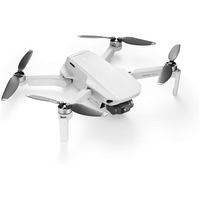 DJI Mavic Mini Drone Kit: was $399, now $349
Savings - $50
The Mavic MIini offers a great recording platform for beginners, even if it doesn't record at 4K. Still, it's a great way to learn the craft and get used to drones before you step into something higher up.
---
Editor's Recommendations