Nobody would claim life has been normal over the past year, but one positive thing to come out of 2020 was that we all renewed our focus on fitness and wellbeing. Having a healthy body needn't mean sporting bulging biceps and a perfect six-pack; there are ways for everyone to get better, fitter, stronger and healthier. And while it may sound like a cliché, a healthy body really does contribute massively to a healthy mind. There are clear and proven mental health benefits to physical activity.
If you want to Get Fit for 2021, Decathlon (opens in new tab) is here to help.
Decathlon is well known for its shops, which are like little palaces of sport and fitness. They are positively bulging at the seams with affordable, high quality products to help build a better you, whether that is through escaping to the great outdoors for sports, running and general al fresco workouts or starting off – and building up – your own home gym.
Decathlon PLAY: Everything you need to know about sports and fitness
However, Decathlon is not just a shop. With over 1,500 articles across the full spectrum of sports, its PLAY (opens in new tab) knowledge bank has great articles on everything from The Mental Health Benefits of Being Outdoors to The Ultimate Guide to Working Out at Home.
PLAY is filled with advice to help you get in shape and lift your mood – something that's never been more essential than it is today. PLAY offers tips for a huge range of sports and activities, and caters for fitness buffs of all abilities. As well as advice and motivation, there are the all-important guides to the kit and clothing you'll require.
The Power of 10: The podcast that helps you get active
The Power of 10 (opens in new tab)is the brand's podcast, hosted by Olympic skier turned Dancing on Ice twirler Graham Bell. Providing audio inspiration every week, Power of 10 features stars of sports and entertainment, revealing how fitness helps their physical and mental wellbeing.
Everything you need to get active
Decathlon is literally a one-stop shop for health and fitness, with something for everyone, no matter their age or ability. It sells great products at great prices across over 70 sports – online, or at one of over 40 stores nationwide.
With more than 20 in-house brands of its own, Decathlon has everything from dumbbells to badminton rackets to fitness trackers. It invests heavily in R&D and draws on its knowledge of customers' needs to create and hone hundreds of high quality fitness products at brilliantly affordable prices. Like these, for instance…
• Evolving ab wheel (opens in new tab)
• Suspension trainer (opens in new tab)
• Glute resistance band (opens in new tab)
• Pilates floor mat (opens in new tab)
2021 is going to be quite a year! Find out more about how Decathlon can help YOU get active and get fit for 2021.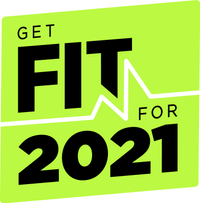 (opens in new tab)
This is part of T3's Get Fit for 2021 programme, which will be running throughout January, and is brought to you in association with our friends at RHA (opens in new tab). We aim to bring you tips on diet, lifestyle and exercise that will help you shape up for what is certain to be a difficult year. One thing we can guarantee: it WILL be better than last year. And we'll help you get the most out of it.