iPhone 5 Launch Live Blog: Watch the event unfold here
iPhone 5 launch live blog: discover everything about Apple's new handset here in this very post, updated reguarly throughout the day
Update: Check out our iPhone 5 review
Update: Check out our iPhone 5 hands-on video
19:58: OK, we're done here. The event is over. Thanks for tuning in and remember to keep it locked to T3.com for all of the key reaction and our first look at the new line-up. Have a great evening!
19:56: iOS 6: Full details revealed
19:55: iPhone 5: 10 Things you need to know
19:54: A third Foo Fighters Song. Walk. This one's an absolute belter. Hope Dave is getting an iPhone 5 for his troubles today.
19:51: While Dave Grohl continues to make most Foos and Nirvana fans feel a little uncomfortable, we'd advise you to head over to the T3.com homepage for in-depth details and reaction from all of the major launches. Stay tuned to the site this evening.
19:45: "One of the great things about being here is meeting all these people who are shaping our future," says Foo Fighters frontman Dave Grohl stood on stage in front of a massive Apple logo. Come on, Dave!
19:44: Foos still playing, My Hero, following Times Like These.
19:43: So while Dave Grohl rocks the audience in San Francisco, lets recap. We've got a new iPhone 5 which was pretty much everything we expected it to be, which will be out in the UK on September 21. Pre-orders begin on Friday. iOS 6 will be available to download on September 19, two days before launch. There's a new version of iTunes alongside new iPod touch (which has the same 4-inch screen) and iPod nano (which returns to the long, thin form factor) models. Oh, and new earphones. Not the most phenomenal keynote Apple has ever held really is it?
19:43: Doesn't look like it. Cook says "Apple has never been stronger" and then calls the Foo Fighters out on to the stage to close the show. Sweet!
19:42: Tim Cook is back on stage now. Looks like a recap, but will there be One More Thing?
19:41: Now onto pricing. Here's what Apple will be charging in the US. Shuffle will be $49, iPod nano is $149 for 16GB, the 4th gen iPod touch stays in the line up at $199 for 16GB and the new iPod touch 32GB will be $299. We'll get UK prices to you ASAP.
19:40: No update to the iPod shuffle and no mention of the iPod classic, which did not appear as part of the family shot. Is it finally dead?
19:39: They'll ship as standard with the iPhone 5, new iPod touch and new iPod nano.
19:38: Here they are. It took Apple 3 years to design these, apparently and it says they sound amazing.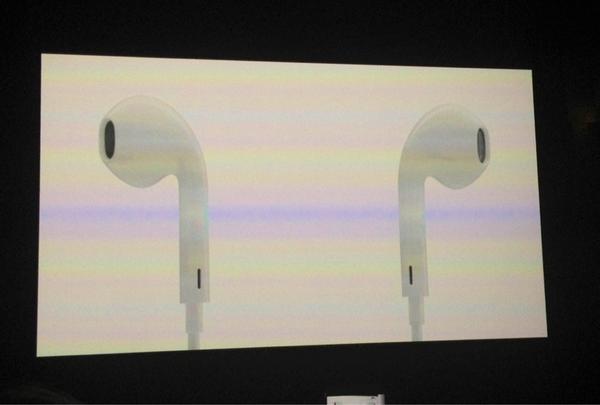 19:37: "The shape of the EarPod is actually defined by the geometry of your ear, but they don't create a seal the way other in-ear headphones do," says Joswiak.
19:35: Apple is updating the crap earphones it ships with the iPod touch. They're called EarPod.
19:33: Now we're moving on to talking about speakers.
19:32: The new iPod touch will come in five colours. Here they are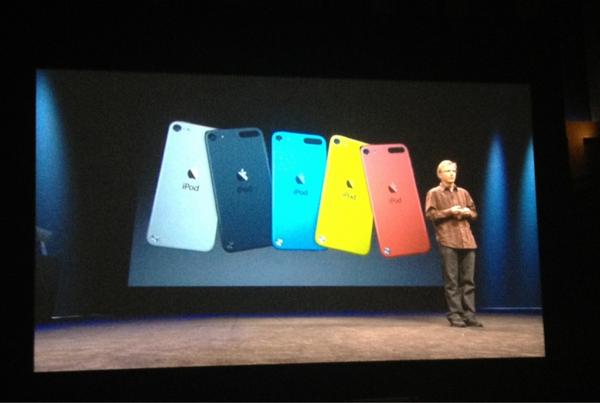 19:31: iPod Loop allows you to attach a wrist bracelet. Fancy. Fancier still? The 5th gen iPod touch is the first to have AirPlay Mirroring built-in, which will allow you to send the content directly to your Apple TV. Siri is also on-board for the first time.
19:30: 40 hours of video and 8 hours of music playback before the batter conks out and there's also an improved 5-megapixel iSight camera, backside illuminated with a face detection.
19:29: The new iPod touch is going to be aimed at gamers and has 7x improved graphics. Watch out Sony and Nintendo. Again.
19:27: Luke Peters on Twitter: "Oh wow - you HAVE to check this Clumsy Ninja game. Ragdoll 2.0 tech" and "Clumsy Ninja = Tamagotchi for the next generation"
19:26: There's an on-screen demo of a game called Clumsy Ninja. The idea is to train him to be less clumsy, but you can also chase and tickle him. Went over well with the audience.
19:25: Here's how thin it is. It also has a lightning connector.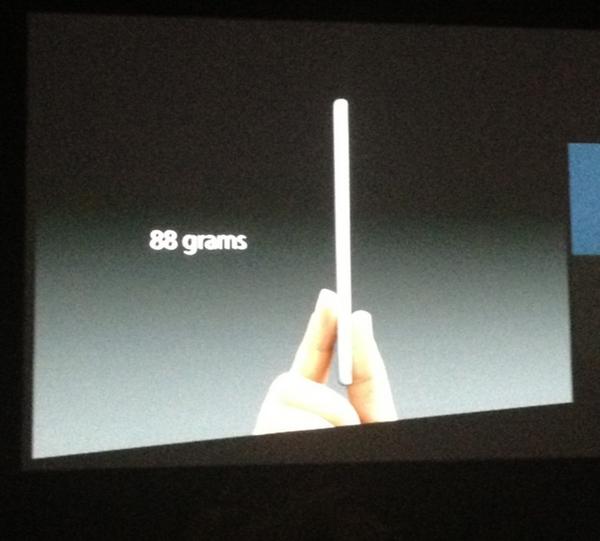 19:23: Next-up a new iPod touch. 5th gen. It's the thinnest ever at just 6.1mm, making it almost as thin as the new nano. needless to say it's the thinnest the company has ever created and also the lightest at 88g. It's also got the same 4-inch screen as the iPhone 5 and boasts an A5 chip making it twice as fast as the previous generation's model.
19:22: It's also got fitness apps, a pedometer, comes in 7-colurs with matching wallpapers and also has a built-in FM transmitter.
19:19: It's also got video, multi-touch and it's got a 2.5-inch screen. At 5.4mm its 40 per cent thinner than the previous iPod nano and here it is.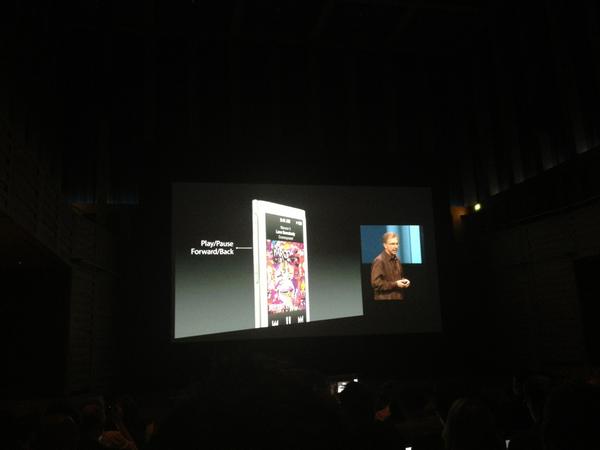 19:18: The watch-face like iPod nano is gone. It has returned to the tall and thin form factor and has the new dock connector. "We really wanted to take the chance to reinvent the nano," says Joswiak. The new nano now has a longer and thinner display which covers much of the body. The 7th-gen nano is the most beautiful Apple has ever created he says.
19:17: New iPods are incoming. First up a new iPod nano.
19:16: "We love music and we have the most loved family of music players there is," says Greg Joswiak, who's now replaced Eddy on stage.
19:14: New iTunes is out in October.
19:13: iCloud Movies is now built into iCloud allowing us to access our movie collection within iTunes on Mac or PC. We can now continue watching movies we've started watching on iOS devices.
19:12: Here's a snap of the new mini player, which received a nice round of applause when announced.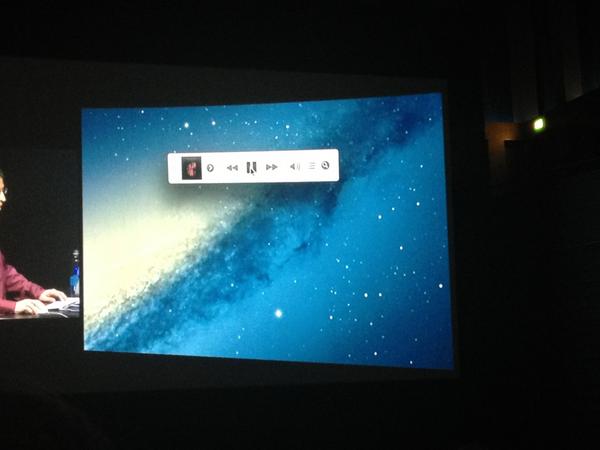 19:11: There's also a brand new mini player where you can control what's coming next also.
19:10: There's a "coming next" button to arrange the order of upcoming tracks. Clicking on a song and dragging it now brings up a menu to allow easier addition to playlists, there's a 'go to store' button and the opportunity to play any song next with the new 'up next' feature.
19:09: "New iTunes on Mac and PC looks nice. Cleaner, less crap on screen. Like a visual digital music library," says Luke Peters on Twitter.
19:07: Brand new version of iTunes being announced today. On screen is looks very iOS-ified. The design runs edge-to-edge and has iCloud built-in.
19:05: New iTunes design within iOS, to reflect 2/3rd of downloads now coming from iOS. Facebook Likes now intergrated within every page and there's going to be extended song previews.
19:04: That does it for the iPhone 5 announcement. Now Eddy Cue is on stage to talk about changes to iTunes and iPod.
19:03: iOS 6 is coming on September 19
19:01: Pre-orders start on September 14. That's Friday. The device ships on September 21 in the US, UK, Canada, Australia, France, Germany. More countries on the 28th. 100 countries by December.
19:00: Here's the iPhone 5 in white.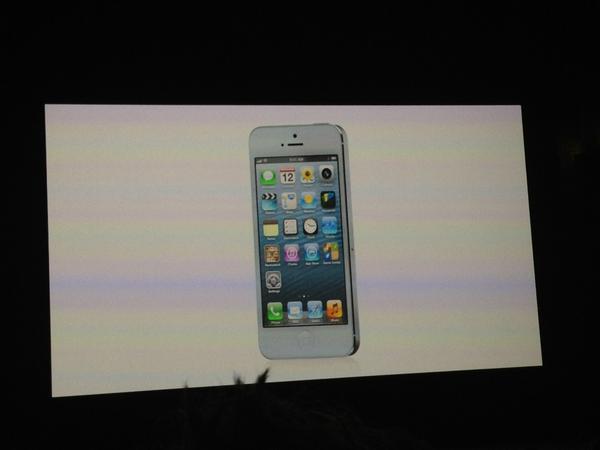 18:59: iPhone 4 is now free on contract, while the iPhone 4S will be just $99 for those in the United States.
18:59: Now we're awaiting some pricing and release date news. Will it be September 21 as everyone on the internet seems convinced it will be?
18:58: it really looks like Apple has opted against including NFC-connectivity. That was widely expected to be included in the iPhone 5.
18:53: To be honest, we've seen most of this stuff before at WWDC and now its time for a promotional video. Time to gather our thoughts and recap. The iPhone 5 is, as expected, a 4-inch phone with a 16:9 aspect ratio. It has improved the 8-megapixel camera and 1080p video camera and now the FaceTime camera is HD. There's a new Lightning dock connector, replacing the 30-pin connector, the iPhone 5 is 4G LTE compatible, will come in black and white and is the world's slimmest smartphone at 7.6mm. For all of the specs, check out our iPhone 5 announcement news post on the homepage
18:52: You can now post to Facebook right from Siri in iOS 6," says Luke Peters on Twitter, while long-time T3 contributor and the nicest man in tech David Phelan adds on Twitter: "Siri can now find restaurants, movies, answer sports questions and more. it's much cooler."
18:49: PhotoStream Sharing. A welcome addition to the party, meaning friends can view or add comments to your photographs, uploaded through iCloud. They'll get a notification when you upload a photo.
18:48: Next up, we've got mentions of iCloud tabs, which sends Safari desktop windows to your iPhone for those times when you have to leave your screen. There's also a full-screen mode for Safari. Passbook, which will store all of our store cards, event tickets and airline boarding passes, also gets a mention from Scott.
18:47: Here's a 3D flyover of Big Ben. Looks awesome.
18:44: First up is a demonstration of Apple's new Maps app which offers turn-by-turn navigation, 3D buildings and satellite imagery
18:42: Scott Forstall is out to talk about iOS 6 on the iPhone 5
18:41: A lot of the major audi maufacturers are already working on solutions. Bose, JBL, B&W, B&O, all mentioned.
18:40: There's a 30-pin-to-lightning connector so all of your existing accessories no not become redundant. Here's a picture of the new connector.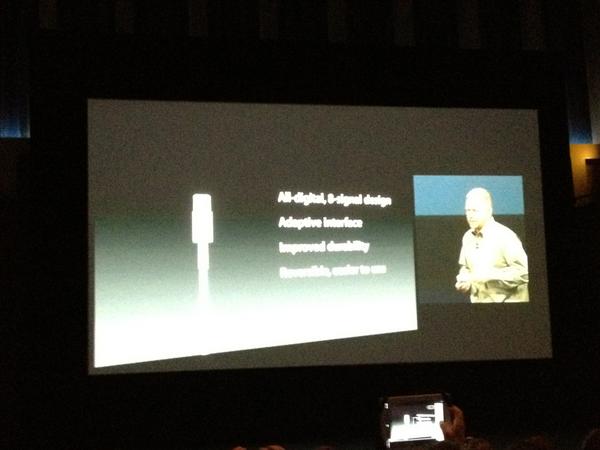 18:39: Next up. Connector change. It's called Lightning, as speculation had...er, speculated. "So a lot has changed, and it's time for the connector to evolve. Our new connector is called Lightning. So we have Thunderbolt and Lightning," Phil says. It's 80 per cent smaller, reversable, making it easier to use.
18:37: The video camera is obviously still 1080p, but now you can take photos while shooting video. The FaceTime camera has now been updated to 720p.
18:36: The camera has 40 per cent fast image capture. Wow, it's not like the iPhone 4S was a slouch in that department.
18:35: The panorama effect can be used to stich together snaps that will come together to form 28 megapixel photos.
18:34: Photos from the new iSight camera being displayed on screen, Phil Schiller insists they're 'untouched' and gets in an awesome dig at Nokia in the process, who faked photos and video during a promo video for its new Lumia 920.
18:31: Now onto the new camera. The iSight camera is 8-megapixels, has backside illumination, hybrid IR filter, 5 element lense and boasts a maximum resolution of 3264 x 2248. There's also a dynamic low light mode and faster photo capture.
18:30: Battery life has not only been matched but exceeded, with 8 hours of 3G talktime and 225 hours on stand-by. 10 hours browsing, 10 hours video, 40 hours of music.
18:28: Luke Peters says on Twitter: "EA showcasing Real Racing 3. Porsche GT3 on the screen. Graphics look RIDICULOUS"
18:27: First demonstration of the day comes from EA Sports' Rob Murray who's on stage to show off what the A6 can achieve. He's showing off Real Racing 3. The game is full console quality and has rear view mirrors for the first time. There's a headline feature right there. "Real tracks, real cars, real people you can play against anytime you like," He says.
18:25: The iPhone 5, as expected, will have an A6 chip, which Apple says is 2x faster than the A5 across the board.
18:24: It has been confirmed that the iPhone 5 will support 4G in the UK with Everything Everywhere. Wooooohooo!
18:23: 4G LTE confirmed, called Ultrafast Wireless. Grest news for UK smartphone fanciers, with EE4G getting off the ground imminently.
18:22: 44 per cent more colour saturation in that screen.
18:21: Schiller says "you won't notice." Erm, yes we will. Going to be some hard graft necessary for developers to get their wares up to speed
18:20: Until they're updated, existing apps will be centred and letterboxed rather than stretched. That'll be awkward for a little while.
18:19: "You see more of your email in mail. Your calendar shows more events," says Phil. And all of Apple's software (the likes of Mail, Keynote, Pages, GarageBand, iPhoto and iMovie) is being updated tofit with the new aspect ratio.
18:18: 4-inch screen with a 16:9 aspect ratio which adds a fifth row of icons. The Retina Display is 326ppi and the screen resolution is 1136 pixels x 640. It's the same width but a bit taller.
18:17: It's the thinnest iPhone yet at just 7.6mm and is made entirely of glass and aluminium. It weighs 112g and is 20 per cent lighter than the iPhone 4S.
18:17: Here's a snap from the London event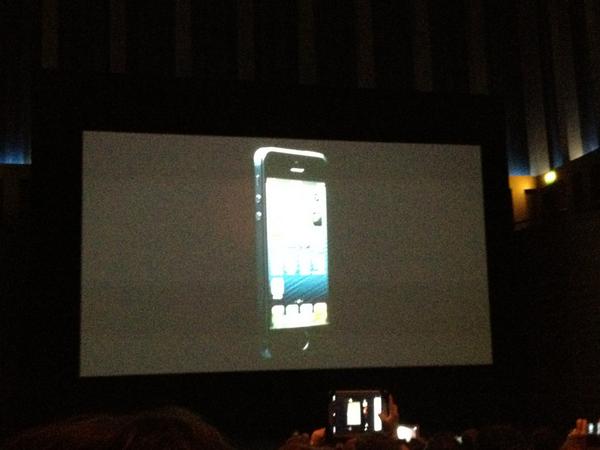 18:16: It appears to be exactly the same as the recent leaked images, with the larger, elongated screen. "It's the most beautiful product we've ever made," says Phil as the device raises up onto the stage like something out of Star Trek. Here comes the features...
18:15: The iPhone 5 has officially been announced. Getting it in early. Nice.
18:15: Phil Schiller is on stage. What's Apple's chief marketing dude got to say?
18:14: 400m iOS devices now sold.
18:12: Now onto the App Store. 700k in total, 250k for the iPad and 90 per cent of those apps are downloaded every month. "We sold more iPads than any PC manufacturer sold of their entire PC line. Yes we are in a post PC world," says Cook.
18:11: "We sold more iPads than any PC manufacturer sold of their entire PC line. Yes we are in a post PC world."
18:10: 94 per cent of Fortune 500 companies in the US are testing or deploying iPads.
18:09: Despite competition from Android tablets, the iPad now has a 68 per cent market share, compared to 62 per cent one year ago. So much for the Kindle Fire and Nexus 7 killing the iPad.
18:06: If you add the MacBook Air into the equation, Apple's notebooks have been the best sellers in the United Stated in the previous quarter. That's huge for Apple. A 27 pr cent market share in July. There were also 17 millon iPad's sold between April and July.
18:05: Now onto the Apple Mac. Rather more quickly than usual, perhaps there's a lot to get through today? There's talk of the success of the Mountain Lion launch (any news on those battery issues Tim?). He calls the Retina MacBook Pro "the best MacBook we've ever made"
18:04: 380 stores in 12 countries now and there were 85 million visitors last year.
18:02: Yep. An 'inspirational video' is already playing and Tim describes the retail outlets as the "perfect place to explore and discover Apple's products."
18:00: Tim Cook is on stage and says: "It's an amazing time for Apple." We'd imagine he'll spend a while talking about the success of retail stores here.
17:59: Members of the audience are now seated in San Fran too. Pretty soon we'd imagine there'd be some Coldplay coming through the loud speakers, before the lights go down and a series of "woooooooooooo" chants that would make the Nature Boy Ric Flair proud will start to ring around the Moscone Center too.
17:56: More shots from the London event. Expect to see some footage shot from these cameras on the news later.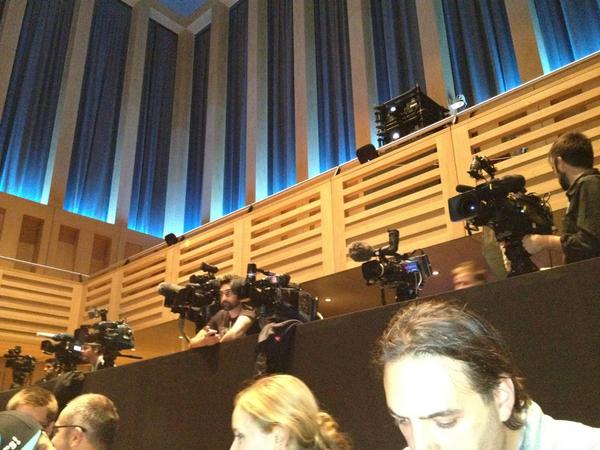 17:52: It's at times like these we really miss Steve Jobs. It's not that Tim Cook, Phil Schiller and Scott Forstall to a bad job on these keynote occasions, but there was no-one like Steve when it came to delivering new tech and making the world believe we needed to own it.
17:47: Tweeting from the event @T3dotcom, Luke says: "Most people I've seen at an Apple Keynote this early since the first iPhone launch. Everyone from industry here." Just over 10 minutes to go.
17:45: T3 Editor Luke Peters is in London where Apple will be streaming the event, before offering a select few reporters some hands-on time with the new tech. Here's the view from the London event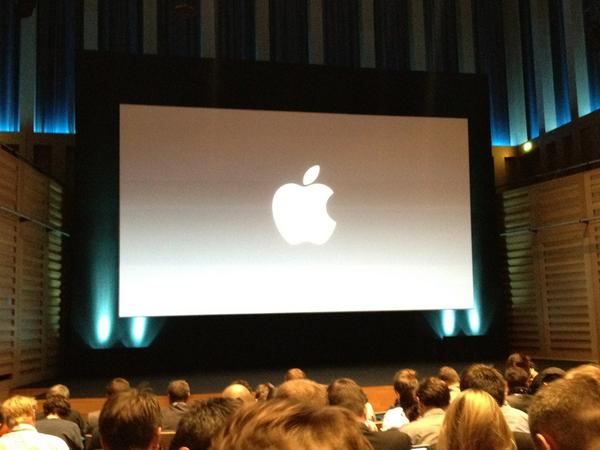 17:41: Yet again, Apple has chosen not to provide a live video stream for the keynote, so the best way to follow the action is right here and on the T3 Facebook and Twitter pages where our team will also be posting up-to-the-minute updates.
17:34: It has been heavily rumoured that Apple will launch a new, smaller dock connector called 'Lightening.' Would this put some iOS device owners off upgrading to the iPhone 5? Do you have a host of accessories in your home, car or accessories that would be undermined by the change to 9-pin?
17:30: Half an hour. Excited yet?
17:21: The crowd of developers, partners and reporters are lining up around the block in San Fran ahead of the launch. Will the iPhone 5 announcement raise the biggest cheer or does Apple have another knock-out product in store for us all?
17:12: Food for thought on the BBC website today with a column from Dan Lyons, the man famous for the Fake Steve Jobs blog. Lyons expects little excitement from tonight's launch. He says: "In terms of products, Apple has become the one thing it should never be. Apple has become boring." Do you agree?
17:04: So just one hour to go until the keynote begins at the Moscone Center in San Francisco where Apple is preparing to launch the latest iteration of its monumentally successful iPhone. Whether you're on the way home from work or just settling into your favourite easy chair, keep it locked to T3.com for all of the updates as they happen.
16.41 Andrew Wooden, T3 and T3.com's news editor says:
Probably the iPhone 5 will be more evolution than revolution, as we saw with the iPhone 4S. It's also likely to come under criticism for this, since the waves of speculation we've had for month's build up to the level of hyper-anticipation you don't really see from the launch of new consumer products elsewhere. If Tim Cook comes out tonight and reveals the face of God, there will still be some who shrug and ask 'is that it?' But that sentiment won't be very widespread - it will sell bucket loads all over the world, and unless Apple has really dropped the ball, it will enjoy similar enthusiasm in the reviews.
In terms of what it will look like, we've had more hints than usual this year. A larger screen seemed extremely unlikely a while ago, but the evidence is mounting. LTE inclusion seems logical. NFC and quad core, perhaps not. As I say, it probably won't reinvent the wheel, which isn't really a problem for now. However in years to come if rivals like HTC, Samsung and a resurgent Nokia do look more dynamic in pushing the boundaries of mobile computing, Apple's position may not always be as rock solid as it is now - and it may not be able to rely on fine tuning to retain its enviable market share.
15.59 T3 staff writer Peter Dreyer reckons iOS 6 will be the iPhone 5's best feature.

He said: "Fully expecting the iPhone 5 to be typically gorgeous, with a new screen, new camera and enough processing power to keep the Android army at bay. Should provide plenty of big numbers for Apple to throw around in a glitzy press event and keep them ahead of the chasing pack.
"But don't expect anything ground-breaking in the hardware department - people were still buying iPhone 4S handsets until recently, surely proof that the Apple factor is enough for many punters.

The real star is iOS 6 - it packs some fantastic forward-thinking functionality and should be right at home on a new, upgraded iPhone."
15.53 Ensure you check out our iPhone 5 rumours round up for all the latest news
15.52 Adam Leach, a telecoms analyst at Ovum has said that he believes the iPhone launch will knock Google off the top spot in the consumer technology battle, saying:

"Apple has successfully built the iPhone from a radical new entrant to the must-have smartphone. Whilst the company is still reaping the rewards of the brand equity of the iPhone, consumers are notoriously fickle when it comes to buying handsets.

Without the continued innovation which we are accustomed to with Apple, the company risks losing consumer appeal. The iPhone re-defined the smartphone category in 2007 but it can't rely on past success to guarantee its future or rely on litigation to keep its competitors at bay."
15.20 The same method of clever searching seems to also confirm the iPhone 5 will have LTE, and iTunes 11 will launch tonight.
15.20 And here's the image to prove it...


15.12 Apple may have just accidentally leaked tonight's launch - according to 9to5Mac, a search on Apple.com reveals (dead) links to press releases for the iPhone 5 and new versions of the iPod Touch and Nano.
14.50 Check out the video below of a cake made in the shape of the iPhone 5. The sweet treat is the handy work of the kitchen masters over at CooksUnited.
13.45 We're hearing through the grapevine that the iPhone 5's revised 9-pin dock connector will be called 'Lightening', and that the handset will also come equipped with a revamped set of headphones called 'Earpods'.

The firm is also expected to announce a new iPod accessory called 'Loop', although information on this particular product is thin on the ground.

The Apple dedicated blog 9to5mac claims the handset's new 9-pin port (below) could be significantly faster than the 30-pin one found in previous models. It will be called 'Lightening', leading to speculation it will function with the Thunderbolt ports found on the latest Macs.




It's also believed Apple will launch a new set of headphones alongside the iPhone 5, dubbed 'Earpods' (below) although we're struggling to understand why the firm would drop the iconic 'i' it places at the front of their product names. Stay tuned for more…
13.20: T3 magazine deputy editor Matt Hill reckons many of the rumoured iPhone 5 specifications are just too outlandish to be true, although the inclusion of NFC technology is probably kind of possible. Probably.
"Just as with the iPad 3 launch, where rumours of textured displays raged due to other companies playing the press at their own game, the iPhone 5 is surrounded by outlandish rumours based on wishful thinking.
"The thought of a sleeker chassis with a bigger screen, better camera and more functional operating system seems just too mundane for many.
"That said, the potential shown already in iOS 6's PassBook, which will throw vouchers, offers and even stuff you actually need like boarding cards to your phone screen depending on your location, hints that Apple may at last be dipping a toe into NFC, contactless-payment waters.
"Its attempted buyout of fingerprint-security firm AuthenTec adds further weight to the grand plan to turn our phones into our ID card, credit card and Oyster card all in one. Surely that would be too big a leap for this year's reveal, though, right? Right?!"
13:07: T3.com editor Kieran Alger thinks we won't be seeing any major changes in the iPhone 5, despite rumours implying otherwise.
"I expect the usual reaction to the new iPhone 5. Slightly improved performance, small changes to form factor and just enough new tricks to have people queuing around the blocks of NYC and London to get their hands on Apple's latest product.
"With the launch of iOS 6 and it's range of upgraded new capabilities you're basically getting a new phone and if Apple couples this with a decent step on in terms of design, battery life and connectivity I think they'll have another success on their hands."
Vodafone reveals nano SIM
We've heard rumours of the iPhone 5 sporting a nano SIM slot but none have been confirmed – until now. Vodafone UK has confirmed a stockpile of 500,000 nano SIMs, ready for use in the iPhone 5.

The firm posted an image of the SIM on its official blog but later pulled it down. The nano SIM is 40 per cent smaller than the tiny micro-SIM currently used in the likes of the iPhone 4S and Samsung's Galaxy S3.

The tiny new card measures in at 12.3mm x 8.8mm and, according to Vodafone, is "so slim and tiny you might only be able to handle them with tweezers". The smaller SIM means there's more room for internal specifications.

iPhone 5: Battle of the brands
Apple's iPhone is a brand in itself but have you ever wondered how it could have looked had it been the brainchild of another corporation?

T3's video team used their editing wizardry to discover how the iPhone 5 could look if it was designed by mainstream corporations such as Nike and Audi. You can check out the results in the clip below…


iPhone 5: The biggest upgrade in history?
On Monday, fresh rumours emerged that the iPhone 5 could come with 4G compatible technology, exacerbating rumours that Apple is in the midst of striking up a deal with T-Mobile and Orange owner Everything Everywhere to offer the handset exclusively on its 4G service.

This means iPhone 5 owners will have access to faster web browsing and media streaming while on the go. But that's not all. Analysts predict that Apple can expect to shift a whopping 10million units of the iPhone 5 this month when it hits shelves, reportedly on September 21.

Gene Munster analyst Piper Jaffray claims it will be the "biggest upgrade in consumer electronics history."
In addition, more rumours have emerged that the handset will come pre-loaded with iOS 6, Apple's latest operating system. Although not confirmed, experts believe the new software will be unveiled alongside the phone. The firm's CEO Tim Cook is expected to make the announcement at the "special event" in San Francisco.
iPhone 5 is coming...
Enter your email below to receive alerts about exclusive deals as soon as the Apple iPhone 5 becomes available.