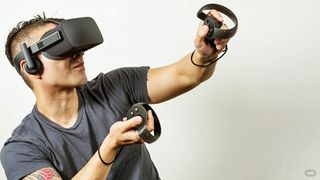 It's here! (Almost)
It was first announced three years ago and has been through two main dev kit versions and two further, more minor variations. Numerous direct competitors have sprung up, including from big hitters HTC and Samsung.
But now the Oculus Rift is finally, officially to be released as a consumer device.
At a packed press conference, Oculus CEO Brendan Iribe announced details of the device, due in early 2016, and showing strong links to Xbox One and Windows 10.
The headline stats: the consumer version has six-axis tracking and an OLED screen resolution of 1200x1080 for each eye. It'll be "lighter than DK2", and appears to be wireless (we've not been able to get confirmation on that yet, but that's how it was presented at the event) and there are removable headphones either included or available for purchase as an accessory.
Later on in the evening, company founder Palmer Luckey did a "one more thing" and it was a pretty spectacular pair of hand controllers that resembled Star Wars castanets. More on that later, here's the official video.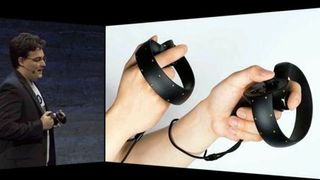 Those controllers!
Shaped like a half moon or a plastic tambourine, the Oculus Touch controller is thefirst truly cool "one last thing" from a tech launch since the Steve Jobs era. The Oculus Rift consumer version, like DK2, includes a Kinect-like camera to track forward and back head movements, and now it also tracks these ker-razy looking motion controllers.
The controllers feature analogue sticks, two buttons and a trigger - you know, for shooting people. They allow tracking of your hands across the requisite six axes (axises?), with Palmer giving a demo that involved tearing, button pushing, close manipulation and the punching of garden gnomes. Well, they deserve it.
It'll also be able to support gestures, of course. Alas, nobody at the launch was allowed to "touch" the Touch, as it's still at the prototype stage. You won't have to wait three years for these to arrive, though. The Touch is slated for an early 2016 arrival, the same as the Oculus Rift consumer edition itself.
Care to peruse the key features of the Touch by means of a slightly child-like set of drawings? Then you're in luck, sir!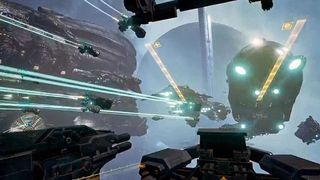 The games!
There's already a number of free/cheap games specifically for the developer versions of Oculus Rift, as well as support for Left 4 Dead, Hawken, Skyrim, Portal 2, Half-Life 2, BioShock, Star Citizen, War Thunder, and the killer app to date, Elite: Dangerous. At the consumer launch, a number of new titles - some of which have been kicking around in demo form for ages - were announced.
Foremost among these was Eve: Valkyrie, a game that's long been blowing the minds of games journos who've had a preview. It's a space shooter set in the Eve: Online universe, described by developer CCP as, "The closest thing you will get to being a real spaceship fighter pilot."If you've ever wanted to be right there in the cockpit in a Star Wars/Battlestar Galactica, multi-ship, hyper-kinetic laser battle, well, this is your chance.
Also highly intriguing is Chronos from Gunfire. A VR RPG, this sees you exploring dungeons and killing thingies, in traditional style. The twist is that your character actually ages during gameplay, being more fleet of foot as a youngster and better at casting fireballs and knitting when older. Slightly alarmingly, the developer intimated that every time you die, "you must wait a year and play again."
We're going to assume something was lost in translation there, and that your character is a year older when you respawn, rather than the game locks you out for 12 months while you go and think about what you've done.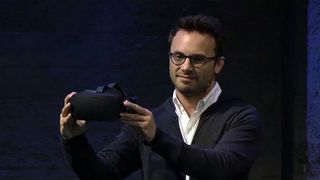 Free Xbox One controller for every customer!
Granted, you don't get a super-cool pair of Touch controllers, because Oculus hasn't quite finished those yet. But you do get a Microsoft Xbox One controller. Boring, yes, but a very solid controller. In fact, arguably the best one you can get at present.
The move was announced byXbox head honcho Phil Spencer, suggesting that this didn't come about because Oculus went to Argos and bought up every spare Xbone controller in the damn place. There's a, perhaps surprising, amount of collaboration between Microsoft and Oculus on this, as you will read shortly…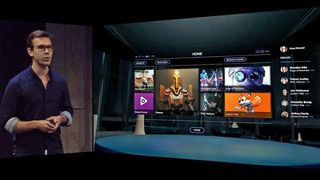 The interface!
This is Oculus Rift Home, the UI that will let you control the VR "baseball cap" (as Oculus described it at one point). As you can see, it's not the most revolutionary of home pages, but then why reinvent the wheel?
You can operate Home with your "baseball cap" on, previewing and buying games from Home, and getting easy access to favourite or recently-played titles. There's also a TV-friendly version for those who prefer to adjust network settings in the 2D realm. Luddites.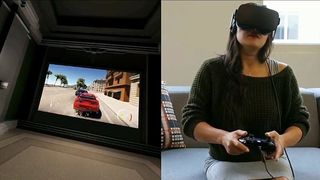 The streaming!
Now, here's another example of how Oculus and Microsoft are now sitting in a tree, working together to further their brands' core values and bring users great experiences.
Phil "Xbox Man" Spencer also announced "direct streaming" of games and video from your Xbox One (and presumably your PC), modestly adding, "It was really important that we are able to bring the greatness of Xbox, Xbox Live and all of the games that people have created to PCs and tablets everywhere. I'm really proud to announce that that same streaming capability will be available for Oculus Rift."
Now, before you get too excited, while this might eventually mean you can stream actual VR titles to your headset from Xbox, at the moment it means that you play standard, 2D Xbox titles on a sort of virtual telly, actually in a virtual living room, using your Xbox One controller.
It's a novel way to play games outside of your living room, basically. In our view, it might seem a tad eccentric to use it while sat in front of your main TV, in your lounge, viewing a virtual telly in a virtual lounge. Still, nice feature.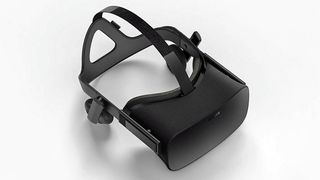 The release date!
A brief history of waiting: the first Oculus Rift consumer edition was a nailed-on certainty for a 2015 release. And then it wasn't. But Palmer Luckey seems fully confident that the real date will be the first quarter of 2016.
Likewise, the Touch controllers, which nobody was able to touch and wave in the air like they just didn't care at the event, will be available in the same Q1 time frame, supposedly, and presumably as an optional extra. Pricing is unconfirmed but a tag of $500 has been suggested by Brendan Aribe.
What we do know is that the long wait is nearly (ie: within six to nine months) over, and Oculus looks better than ever. You can quibble about screen resolution, pricing and the "virtual cinema" style of streaming, but there are some killer games coming, and we can't wait to try them.