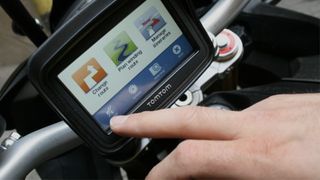 Find the right sat nav for you
Get the low down on the best UK sat navs to buy in 2015 with our bite-sized reviews for the essential in-car navigation set-ups. From Garmin to TomTom, these are the best ways to ensure you find your way home this Christmas.
Buying a sat-nav today is a lot different to buying one a few years ago. These days most of us have basic navigation covered by Google Maps, Apple Maps or even Bing Maps on our smartphone, so splashing out for an extra unit is often only done for specific features. Maybe you're looking for more detailed maps, traffic tracking or speed camera identification, if so, your best bet is still a dedicated sat-nav unit.
Another thing to look out for when buying a sat-nav system is how it loads and updates its database of maps. You really don't want to be stuck with an out of date map set just a year or so after your purchase, do you? For instance, the TomTom 6000 featured in this list will recieve free map updates for the entire time you own the unit, along with free traffic updates. Some of them though get all of the maps through an SD card, this means to get an update you have to buy a completely new SD card, which likely won't be free or included in your original. Many cars that boast built-in navigation systems also suffer from this, as they often get maps from a disc, which can't be updated without picking up a new version.
Are you lost? If so, you've found your way to the right place. Ironic, we know. Whether you need some GPS guidance to get around, or you're looking for a reason to chuck that map book out to the back seat, we've pulled together a collection of the best sat navs around to guide you into modernity.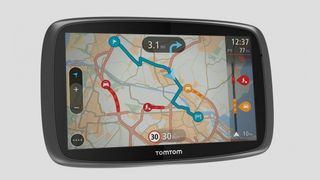 TomTom 6000
Possibly the current king sat-navs, the flagship 6000 benefits from exceptional routing thanks to the Live data from TomTom and includes lifetime updates from 45 European countries. The large, bright touch screen is perfectly readable under plenty of lighting conditions and the voice guidance is loud and clear.
£249.95 | TomTom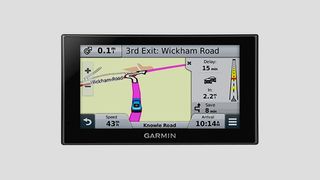 Garmin Nuvi 2699
This feature packed sat-nav boasts a 6-inch display with pinch to zoom, Foursquare integration for POIs and Garmin's Real Directions, which aims to turn those robotic sounding navigation commands into something much more lifelike. There's Bluetooth support for linking up your smartphone, a full set of European maps and access to Garmin's safety camera service.
£179.99 | Garmin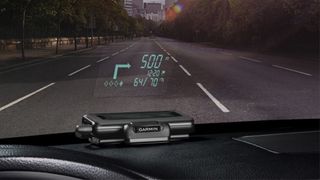 Garmin HUD
Want to add a slice of futuristic tech to your car? Course you do. Garmin's HUD, or heads up display, is the best way of doing that and it'll work with virtually any car. It delivers real time journey updates right on your windscreen, meaning you won't be distracted by looking at a separate display.
£74.45 | Garmin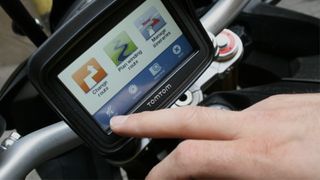 TomTom Rider
Strictly bike only, due to the lack of car charger or mount, the Rider lets you upload routes from other devices, so you don't have to fiddle about with the touchscreen. You'll have access to daily map updates, speed camera alerts and TomTom's huge store of interest points.
£349 | TomTom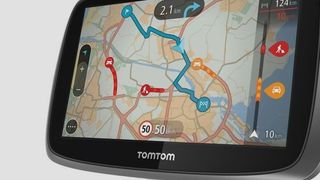 TomTom Go 5000
The latest dedicated system from Tom Tom boasts a 5-inch, 16:9 capacitive display, along with a slim build and constantly updating maps. Speaking of maps, they're 3D and look pretty impressive on that good screen. Smartphone stalwart feature pinch to zoom is here – making it easy to keep a track on your route, but the standout addition is the always connected Tom Tom Traffic – which means you'll always be up-to-date with the latest jams.
Price: £188.68 | Tom Tom|Buy it now on Amazon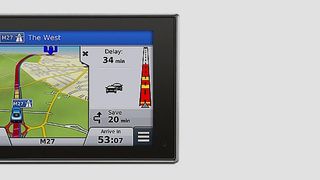 Garmin Nuvi 3598 LMT-D
This system is rather sharp looking, for a sat-nav anyway, with a strong build quality and a chrome bezel. Front-and-centre is a detailed, 5-inch capacitive display that can be used either horizontally or vertically. Stand-out feature though is the always connected aspect that keeps you abreast of queues and speed cams, without needing a smartphone connected. Clever.
Price: £199 | Garmin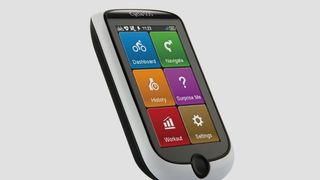 Mio Cycle 505 HC
If your heading out on your bike, this nifty Mio device will make sure you don't end up lost in the forest. Special bike routes are included and it can even alert you on ways to improve. Navigating aside, the Cycle is packed with heart monitors and it's water-resistant if you're on for some off-road action.
Price: £299.99 | Mio|Buy it now on Amazon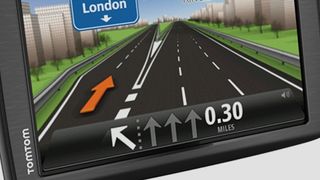 TomTom Start 60
At the lowest end of TomTom's catalogue is the Start series. Toting 6-inch displays, yet a lack of connected features you might find in the higher price brackets. One useful addition though is an integrated car-mount to streamline your set-up, while TomTom offer a lifetimes worth of map updates free to sweeten the deal.
Price: £149.99 | TomTom|Buy it now on Amazon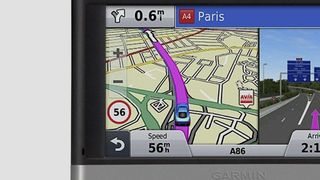 Garmin Nuvi 2447LM
Garmin win out again in the design-stakes here, with a classy, yet simple silver and black device. The high-res 4.3-inch screen is good too, showcasing maps in detail, whilst not being overbearing on your dash. A lifetime of free maps is included, so you'll never again be surprised by a new road that you swore wasn't there before.
Price: £112.87 | Garmin|Buy it now on Amazon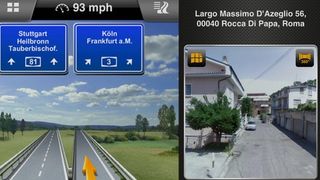 Navigon Europe app
While your smartphone may come with in-built navigation thanks to Google Maps or Apple Maps, neither has quite the feature set of this dedicated app. The UI is professional looking, there are 2D and 3D maps and it'll use your phones data connection to search for places of interest. Just make sure you've got your phone plugged it when your using it, as it drains the battery fast.
Price: £59.99 | Navigon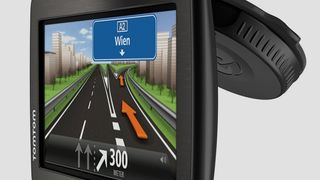 TomTom Via 135
The teenager of the TomTom family may not have a classic feature set, yet its low-price and large screen make it a worthwhile car buddy. At 5-inches, the display is clearly visible and readable, even if the resistive touchscreen tech is a tad old-fashioned and finicky. The maps are strong, as with all TomTom devices, though you'll have to shell out extra if you're planning on touring Europe.
Price: £117 | TomTom|Buy it now on Amazon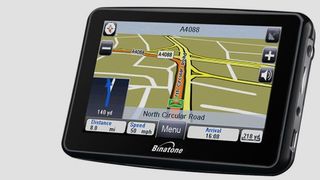 Binatone F430 Europe
A distinct lack of features means this device is extremely basic but free safety-cam information is a nice touch. The £50 price tag and good core functionality means this is not the best device by far but it's great if you're on a budget and looking for something basic.
Price: £59.98 | Binatone|Buy it now on Amazon