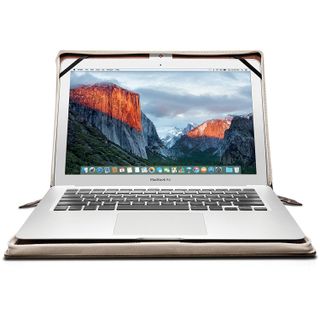 Which MacBook case?
Want to keep give your slimline and powerful Apple laptop a protective new home? Here's our pick of the best MacBook cases to buy, whatever portable Mac you have.
Whether you chose the MacBook Air for its awesome battery life, the beautiful crisp screen of the MacBook Pro with Retina Display or even the little but powerful MacBook, you'll want to protect your prized possession the best way possible.
However, with every company trying to tell you why their cases, covers and sleeves are best, it can be hard to actually figure out which one to go for.
Here at T3 we've taken the hassle out of the search and found the best cases and covers on the market today. Whether it's durability or sleekness that you are after, we've got you covered - click through the next few slides to see them.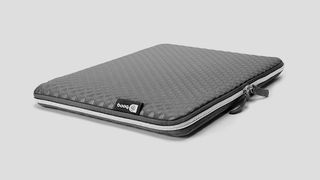 Booq Taipan Spacesuit
Available for Macbook Pro 13/15 and retina versions, the Booq Taipan is a traditional neoprene laptop sleeve with a technical edge. The honeycomb-design sliver or black outer is as understatedly space-age as you'd expect, while the beautifully plush interior cuddles your Apple laptop with love. Nice additional touches include a non-metallic zip that won't scratch the matt aluminium finish, and a selection of brightly coloured zip pulls to add some individuality. Overall, great protection in a stylish package – what more could you want?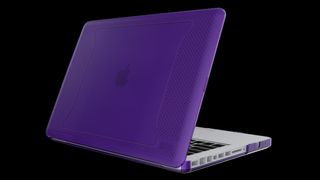 Tech21 Impact Snap
It can often be hard to find a snap-on case for your Macbook that offers enough protection, yet doesn't take away from that classic aluminium design. Tech21 though, has done a great job with the Impact, giving plenty of protection, but with a sleek and minimalist design. It is specifically designed to repel and absorb force upon impact, giving your laptop a fighting chance if you happen to knock it onto the floor below.
Price: £59.95 | Buy Tech21 Impact Snap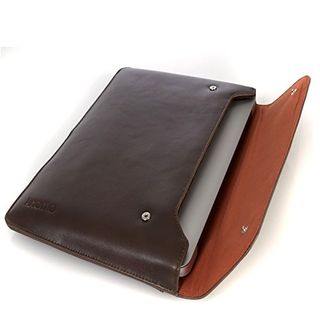 Knomo Leather Envelope Case
The genuine leather case is a suitably sleek home for the slimline Apple laptop with a soft velvet lining to making sure your Air is snug and secure inside. A leather flap with stud will keep the laptop out of sight, and there's is even a 'If Lost' ID number if anyone is honest enough to return it should it decide to go walkies.
Price: £65 (11 and 13-inch MacBook Air versions available) |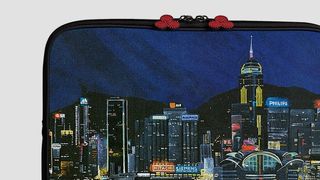 be.ez Hong Kong case
Unique brand be.ez has teamed up with LifeStyle NY and artist Lorette E. Roberts to create these protective sleeves featuring great cityscape art of Hong Kong, Paris and China. Picturesque night vistas aside, these cases also come up trumps in the protection department, with a Low Resilience Polyurethane outing, an inner lip and a jersey fabric lining. The price on Amazon has plunged since it was launched.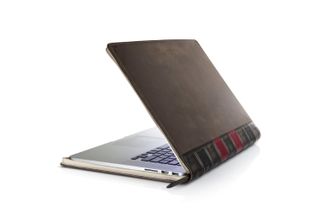 Twelve South BookBook Leather Case
Giving your cutting-edge tech a vintage book look, heavy duty protection is the key here thanks to two hardback covers, reinforced corners and a tough spine. Use it as a sleeve with the dual zippers and steady it with interior elastic bands for easy use.
Price: £72.34 (11-inch and 13-inch MacBook Air versions available) |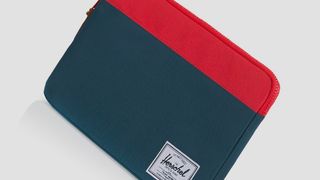 Herschel Supply sleeve
This colourful sleeve from Herschel offers fully padded and fleece lined construction, with a simple and good-looking design that rivals the MacBook itself. It's durable too, so won't rip after a few weeks in your bag.
Price: £34.95 | Buy Herschel Supply sleeve now from Apple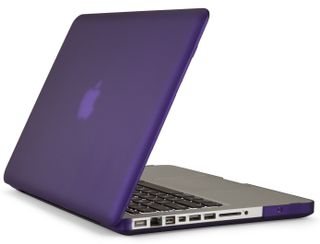 Speck SeeThru Satin Case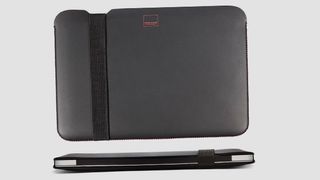 Acme Made Skinny Sleeve
The ultimate component to match the already ultra-thin MacBook Air, this design won't add any extra bulk. Zipperless closure and sewn-in reinforcement will keep your Air unscathed and all is kept secured with a stylish elastic band to maintain its low key yet sleek look. Now a fraction of its original price.
Price: £9.98 (Will fit 11-inch MacBook Air) | Buy it now from Amazon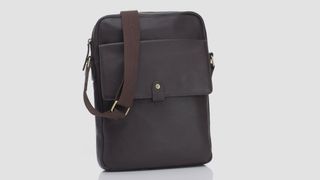 Marshall Bergman Hugo Leather Laptop Bag
For that MacBook Air over the shoulder look, this satchel-style bag is made from cowhide leather and features an internal padded compartment to keep your Mac device secure. The strap is adjustable to wear across your body and there should be more than enough pockets to keep other iOS devices close by.
Price: £125 (Will fit 11-inch MacBook Air) | Buy Now From Marshall Bergman