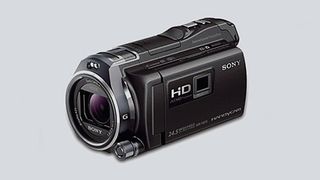 Sony PJ810E
This is not just a camera, it's also got an integrated projector, eliminating the need for a separate unit or even streaming your clips to your TV or computer. It shoots in 1080p with 12x optical zoom and Sony's SteadyShot technology, guaranteeing a sharp image every time. The projector is bright to 50 lumens, so get comfy for the inevitable holiday snapshot slideshows...
£849 |Sony|Buy it now on Amazon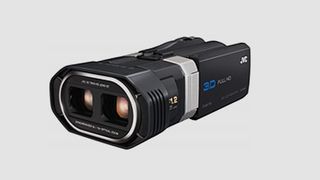 JVC GS-TD1
JVC kick off our top picks with an incredibly intelligent device that sets the standards for 3D shooting. The 3D setting is no optional extra - the twinned HD GT lenses are integrated, which feed into Falconbrid, the camera's imaging engine, which processes them simultaneously to produce one image. What you end up with is a stunning1920 x 1080i 3D image in essentially the same MP4 MVC format used for Blu-ray. What's more, you can do away with those ugly 3D glasses, as the 3.5-inch screen is autostereocopic.
Though it takes time and dedication to get used to with the various buttons and settings, the amazingly sharp results make it time well spent. It's a great 2D recording device too, but it was made for 3D, and it's in 3D where it blows the competition out of the water.
£1,599.99|JVC| T3 Review|Buy it now on Alfatec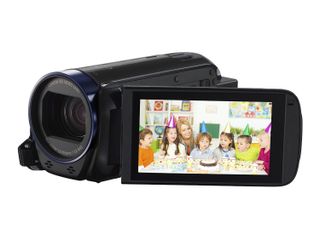 Canon Legria HF R66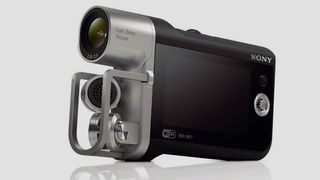 Sony HDR MV1
Pretty bonkers in terms of design and functionality, this camcorders main reason for existence is to record music concerts. The 3D mic is great for capturing sound, while even 1080p footage shot in less than perfect conditions comes out shining. NFC and Wi-Fi are both onboard, perfect quick connection and sharing.
£229 | Sony|Buy it now from Amazon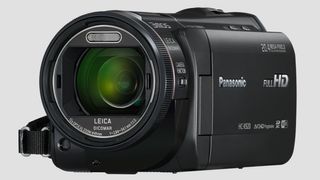 Panasonic HC-X920
Panasonic's flagship video camera features one particular standout feature, the ability to live-stream your footage, over Wi-Fi, to Ustream – all from the camera itself. Aside from this nifty addition, there's all the usual stuff you'll find in a high-end cam – 1080p recording, 3D support and a 12x optical zoom.
£634 | Panasonic|Buy it now from Amazon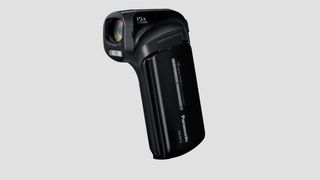 Panasonic HX-DC3
Weighing in at just 162g, this compact cam offers full HD recording, along with a variety of shooting modes. Still shots can be snapped at 16 megapixels and there's an Active Image Stabiliser, ensuring shaky videos are firmly in the past. 5x optical zoon is supported, as is digital zoom at 120x for video and 50x for stills. If you're looking for a camcorder that is small in size, this could be a great pick.
£179.99 | Panasonic|Buy it now from Amazon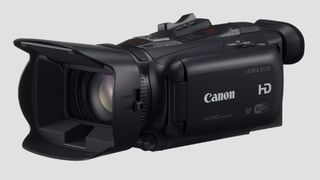 Canon Legria HF G30
The majority of cams on this list are consumer products; this one however, is aimed more at the pro market – as you can probably tell by the design. Specs are unsurprisingly impressive with an 8 blade circular aperture, 26.8mm wide-angle lens and 20x zoom. Video can be recorded in multiple formats at the same time, the fold out OLED touchscreen is tiltable and there's intelligent image stabilisation. Full 1080p video is a given, though a useful addition is the dual slots for memory cards.
£879 | Canon|Buy it now from SLR Hut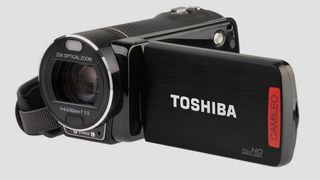 Toshiba Camileo X400
The 5MP CMOS sensor with BSI technology on the X400 significantly improves light sensitivity, meaning your snaps and videos will pop with colour. There's a 23x optical zoom, the ability to take a photo during recording and it's full HD. Looks wise, this cam is rather standard – shiny black and pretty sleek.
£115 | Toshiba|Buy it now from Amazon