If you love the idea of gaming on the go, you'll want to have a close look at the Asus ROG Ally. The new Steam Deck rival from the folks at Asus is packed with gaming goodness, and will definitely scratch the itch while you're away from your setup.
I had the pleasure of testing the Ally a few weeks ago. It's a seriously impressive piece of kit, which makes playing top-spec games a doddle. What's more, with the device running Windows 11, it feels instantly familiar.
And now, the wait is over. From today, users in the UK will be able to pick up one of these brilliant handsets. The devices are available directly through the Asus ROG shop, or at Currys.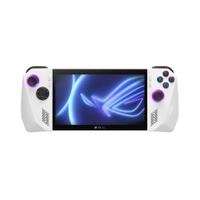 Asus ROG Ally: just £699 at Currys
The Asus ROG Ally offers a top-tier gaming experience in a take-anywhere size. It packs in a gorgeous display and a powerful processor, for seamless gameplay. You'll get a full access to titles across platforms, too.
The ROG Ally packs in a custom-designed AMD Ryzen processor. That's designed to keep power-hungry games running smoothly – and it does that effortlessly. It's easy to forget that you're not playing on something like a PS5 after a while.
The 7-inch display features a full HD resolution and a 120Hz refresh rate. That makes for some really smooth content. I loved using it for driving games, where every motion was slick. 500 nits of brightness makes it great for using in all sorts of conditions, too.
A well-engineered cooling system also keeps the unit from overheating in use. Anti-gravity heat pipes ensure the cooling system is always effective, even in 360° rotation. Plus, a pair of cooling fans on the rear pull heat out of the device, without distracting with unnecessary noise.
Ultimately, if you're looking for a way to play your favourite games in more than one place, the ROG Ally is a top pick.