It seems the good readers of T3 love a bargain as much as we do – and we like them a lot! Hence why we are so excited about the launch of the Insta360 Summer Sale, where a selection of the best action cams from one of the most popular 360° cam manufacturers are on offer, including the highly-rated Insta360 One RS Twin Edition, which is currently 25% off. Not for long, though!
Shop all deals in the Insta360 Summer Sale (sale ends 7 June).
Other Insta360 products, including the Insta360 One X2 (15% off) camera and the Insta360 Link webcam (5% off), are now also cheaper. If you'd still rather have a GoPro, you'd be delighted to know that GoPro have also revised their prices, allowing people to buy their action cam for less even if they don't have a GoPro Subscription.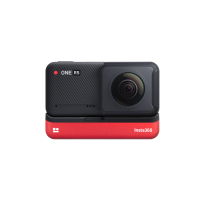 Insta360 One RS Twin Edition: was $550, now $412 at Insta360
The flexible modular design of the Insta360 One RS Twin Edition is loads of fun. The 4K boost lens delivers excellent quality video and, alongside the existing 360° lens module, offers a well-rounded action camera package that delivers on all fronts. Now nearly $140 cheaper – offer ends 7 June!
With the One RS Twin Edition, you get what you'd call a standard action cam – think best GoPros – and a 360° camera.
In our review, we said that the Insta 360 One RS is, without a doubt, a premium action camera, packing in an impressive raft of features, both hardware and software. In fact, one of our only grief was the price of the camera, but even so, we said you're getting a lot of bang for your buck here.
We also liked the build quality, mentioning that the modular design can be somewhat addictive for those who like to tinker with their setups. The image quality of the Insta 360 One RS is right up there, too, and thanks to the intuitive, AI-powered editing suite, you can provide Instagram-worthy footage effortlessly using the can.