When it comes to the best MacBooks, I've got to send out love for the MacBook Air, complete with M2 processor, which I think is the best laptop for most people right now. But I've found one super-easy way to upgrade it with a cheap accessory –improving things twofold or more for those on the go.
It's quite simple: Apple doesn't provide the fastest-charging setup out of the box, including a 35W charger only, but the Cupertino company does indeed sell optional chargers that will enable you to juice the battery faster. Which is exactly what this $68 accessory has done for me! I'm talking about Apple's 96W charger in particular, which has 15% off its usual asking price right now.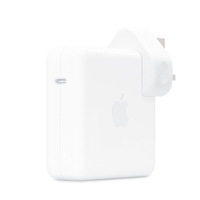 Apple 96W charger for MacBook Air: was $79.99, now $68 at Amazon.com
Finding your MacBook Air doesn't charge quickly enough for your needs? I find the 96W charger, on offer here, which can provide 50% battery in just 30 minutes, is the ideal solution for Apple's laptops. It's still portable enough to cart around too.
I actually own the older-generation MacBook Air M1, which I picked up for a bargain price, which this 'hack' also works for. I'm certainly not disappointed with the performance in Apple's older-gen silicon either – and adding this cheap charger accessory has been a major benefit for me.
I know, it might not be the most exciting product on the planet, but trust me: for the sake of spending under 100 dollars it'll deliver back its worth to you in little time – especially when you find yourself in a pinch and needing a quick top-up before getting on the move.
If you want quicker still then there is also a 140W official Apple charger, also compatible with both the MacBook Air M1 and M2 models, but it's a little pricier and a bit bigger physically too – which is why, for my money, the 96W option is the best balance of all things.
This is an official Apple product accessory, too, so it features the smart logo, and guarantees you peace of mind – no unknown third-party brand name to worry about here. And I think it's a magical little box that I now can't live without for when I'm on the move for work. It's an even better deal now that it's on offer and lower than its typical list price.