No matter who you are, picking up one of the best Bluetooth speakers on the market is a great idea. Whether you just use it to boost the quality of audio from your phone, or you're keen to have something you can take on your travels, it's a great addition for most people.
We've tested every model worth talking about here at T3, in order to make sure we can give you the best advice. And great news! We've just spotted a killer deal on our pick of the bunch – the Bang & Olufsen Beosound A1 (2nd Gen).
Right now, you can pick up this five-star rated speaker for just £169 at Amazon – saving you £70.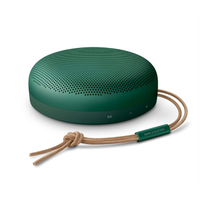 Bang & Olufsen Beosound A1 (2nd Gen): was £239, now £169 at Amazon
Save £70 on the Bang & Olufsen Beosound A1 (2nd Gen). Enjoy top-tier audio packed into one of the most beautiful packages on the market – and enjoy it right now for even less!
There are many reasons why this is our top pick for a Bluetooth speaker. First off, there's the sound quality.
As you'd expect from a premium audio brand like Bang & Olufsen, the sound is top notch, with our reviewer even saying "[it] sounds like a fully-fledged hi-fi system". That's high praise indeed, and should set your mind at ease about the quality of the sonic performance.
Then there's the design. It's simply gorgeous, with a sleek minimal appearance. This wouldn't look out of place in a Scandi-minimal living room, and it certainly won't be offensive wherever you choose to set it down.
You'll also get a decent amount of battery life. It's rated for eight hours on a full charge, though in testing, we found you could get significantly more than that if you don't gun the volume. A full 0-100% charge will take less than three hours, too.
Ultimately, this is a great speaker anyway. Sure, at the retail price it's on the pricey side, but it's still worthwhile. Snagging it with a £70 discount, though? Well that's a no brainer.