There was a time, even earlier this year when the thought of a PS5 going on sale would have been mere fantasy. For many, stock issues seemed to give the console mythical status, like the Loch Ness monster, sightings were rare and spurious. But now on Black Friday 2023, the only monster is this deal.
Right now you can get a PS5 bundled with Call of Duty: Modern Warfare 3 for only £399 at Argos. Even if COD isn't your bag (more on that later), that's the best price I've seen for the console and £80 more expensive than if you just try to buy the console without the game. What a funny old world eh? What's more, this is the more expensive disc edition of the console too.
If you're a gamer then you'll know that the PS5 is smashing it right now, with some top games to choose from. It is the only way to play the fantastic Marvel's Spiderman 2 for example.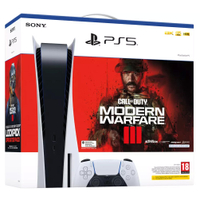 PlayStation 5 with Call of Duty: Modern Warfare 3: £399 at Argos
Get gaming in 4K with the super powerful PS5. Sony's console also has magic controllers with haptic feedback and adaptive triggers for an immersive experience. This bundle comes with Call of Duty: Modern Warfare 3 at a cheaper price than just buying the console on its own.
How does the PS5 improve on the PS4? Well, you only need to hold the controller to figure it out. Haptic feedback is the name of the game here. You'll feel more immersed than ever while adaptive triggers that have more or lense resistance based on context are also super cool. Of course, though, the biggest leap is in graphics with full 4K support on the PS5 as well as super fast loading times.
As for Call of Duty: Modern Warfare 3? This is the latest installment in the legendary shooter series marking 20 years in 2023. It is a worthy nod to one of the most iconic shooters of the 21st century, 2009's Modern Warfare 2, and features all 16 expertly crafted maps from that title as well as over 100 weapons to choose from and kit out. It's not going to reinvent the wheel but it's still great fun. Alas, it's a digital code and not a disc, so you can't really trade it in but I'd implore you to give it a try.
You're probably aware that there's a brand new slim PS5 coming soon, but functionally they are identical (except for a small storage difference and detachable disc drive), so if the price fits, don't feel worried about being left behind.