Amazon Prime Day 2022 is here and it's a great avenue to finding the best TV deals and discounts on a great value new set.
Whether that's the best 4K TV, best 8K TV, best OLED TV, or best small TV, there's a whole variety that will become available over the two-day sales period, which runs from Tuesday 12 July through to the end of Wednesday 13 July 2022.
That's where T3 comes into play. In addition to our usual best Prime Day bargains, the staff will be running this TV deals live blog, documenting the best buys and bargains on televisions that appear over the day.
It's worth bookmarking this page as we'll not only be covering Amazon's deals, but also looking to its competitors, who typically put out their own brief sales to counteract interest. So if there's a top TV to buy, we'll help you find it right here.
Top Prime Day TV deals UK
Top Prime Day TV deals US
Refresh
For my money, I find OLED the current winning TV technology. Get a top OLED panel in a darkened room and the sheer depth of black levels is astonishing. That's why I'd be looking for an OLED telly as a top pick, as even the not top-of-the-line ones are still hugely impressive.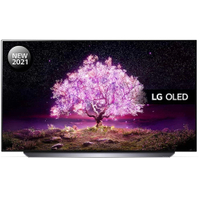 LG C1 OLED 48-inch: was £1699, now £799 at Amazon
So let's start off with a bang: LG's OLED panels are the pinnacle of quality, widely regarded as the best TVs for most people who are happy to spend for the utmost in picture quality.
Here there's a big chunk of change off the 48-inch model, which hits Amazon's sale days at £799. That's less than half the original list price, but more realistically it's a couple of hundred quid down on the typical asking price.
Still a total bargain, especially if you're looking for a 48-inch 4K screen rather than anything massive, and want to benefit from the inky deep blacks and zero light bleed that OLED is so superb at delivering.
If OLED isn't for you and you want something altogether brighter (ideal if you're in a room that often experiences lots of light, for example) then Samsung's QLED technology is an ideal option. Especially at this bargain basement price point.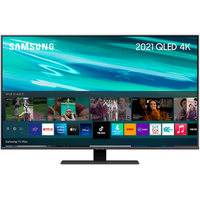 Samsung Q80A QLED 50-inch: was £899, now £549 at Amazon (save £350)
Samsung's mid-tier Q80A came out in 2021 and thanks to its QLED panel (that's Quantum Dot tech, i.e. micro-scale LED lights for better, more uniform backlighting) it delivers seriously bright and colourful images.
Best of all with this one, however, is its asking price: to gab a 50-inch 4K telly for just over £500 delivered is a real steal, which is exactly what's on offer here.
If you don't care about 4K (heck, if you don't even care about Full HD) and just want a small, affordable panel to pop into, say, your kitchen or kid's bedroom, then here's a viable option.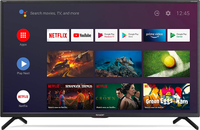 Sharp 1T-C32BI6KE2AB 32-inch: was £249.95, now £170 at Amazon
This one says 'HD Ready', which means it's just a 720p resolution, i.e. half the number of lines compared to a 1080p/Full HD panel. Don't expect the world, however, and your cheap TV deal dreams could still come true.
Especially as higher resolutions on smaller panels such as this are often wasted (unless you sit too close!) and young eyes might not think/know to care about what they're watching Peppa Pig/Boris Badger/whatever the show is.
Yes, its name reads as though a cat walked over the keyboard, but to avoid your bank balance getting steamrolled we're sure that's a forgivable offence.