Here at T3 we rate the LG C2 OLED as the best TV for most people, which is why we are so excited to see the 2023 model, the LG C3 OLED on sale.

Right now on LG's website, all 2023 TV models are 10% off, making this a great time to grab a new telly. The LG C3 OLED 48-inch has fallen from £1399, (a price that was already well below its £1599 RRP) to £1249. With the Premier League returning this month, you might want the best possible picture for the new season.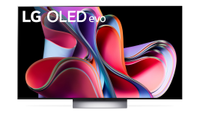 LG C3 OLED, 48-inch: Was £1399 now £1249 at LG
No-one does OLED like LG, and this 2023 model is more of the same. Picture quality is paramount in any TV and the C3 offers an absolutely stellar performance in this department. Whether you're looking to watch Blu-Rays in all their glory or game at ultra-high framerates, this is a top choice.
Of course, as a smart TV, you'll get access to apps for all the best streaming services, but that's not all the C3 has up its sleeve. You could consider this TV to be a gamer's paradise.

With 4 HDMI 2.1 ports, you'll not only never be struggling to switch between consoles, but should also be able to get a 120Hz picture even at a crisp 4k resolution. With an ultra-responsive 0.1ms latency your favourite games will never have been so smooth.
If you're not looking for a gaming TV, the C3 is still a stellar option with the rich blacks that OLED does oh so well and an Alpha 9 Gen 6 processor helping it handle upscaling of non-native 4K content with ease.
The only real drawback however is the existence of the LG C2 OLED, which is functionally very similar and with the C3's release, a much more affordable option. You can get the same 48-inch size display for under £1000. As you'll see in the widget below.