Despite the day itself not arriving until the end of the week, there is already a host of brilliant Black Friday deals cropping up. This time of year is perfect for picking up new technology, with brilliant deals to be found across a range of sectors.
In particular, it's a brilliant time to pick up one of the best TVs on the market. Big ticket items can often be found with huge price slashes – and that's exactly what I've found for you today!
Right now, you can snag a quirky 55-inch TV – the Samsung The Frame – for just £959 at Amazon. That's a saving of over £500!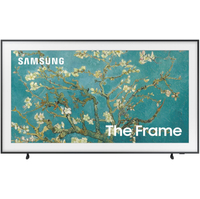 Samsung The Frame 55-inch: was £1,499, now £959 at Amazon
Save over £500 on a brilliant 55-inch TV at Amazon. The Frame allows users to blend their TV seamlessly into their living space, acting as a piece of artwork when not in use.
Check prices: Samsung £999
I love this model. I recently got an opportunity to use it, and found myself really impressed with the quality on offer. As a TV, it's brilliant, with the matte display ensuring minimal glare even in direct sunlight.
That showcases a 4K QLED panel, which makes all of your favourite content absolutely pop. Whether you have a fledging home entertainment setup with a collection of Blu Ray's, or you're just ready to tuck into the best streaming services on the market, this TV will look great.
Of course, the TV is only part of the story here. The other half is what happens when the TV gets turned off.
There, the Art Mode allows users to display different artwork while not using the TV for watching content. In fact, there's even a sensor in the body which allows the unit to recognise movement to display artwork, in a bid to save on energy usage.
That concept is absolutely brilliant. Watch your TV blend into your space when not in use, and then transform into the centrepiece when needed.
Now, with over £500 off, this model represents even better value. Act fast if you want to get your hands on one – these won't last long!