I love the Roku Streambar. It's compact and full of great tech to make any TV sound and stream better, yet is now available for an incredible price in the UK as part of the Black Friday sales.
US customers can also snag a great deal on the all-in-one soundbar that gives you access to all of the streaming apps in up to 4K HDR, plus a 4-channel speaker setup.
Argos is offering the Roku Streambar for the amazing price of just £59.99 – which is less than half price.
And, in the States, you can get the Roku Streambar with $30 off.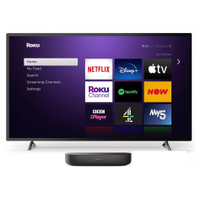 Roku Streambar - UK deal: was £129.99, now £59.99 at Argos
Argos has the Roku Streambar with an amazing £70 off. It will suit any TV and is great if you want a full home cinema-style experience in a smaller room.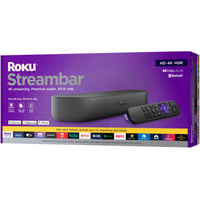 Roku Streambar - US deal: was $129.99, now $99.99 at Best Buy
The Roku Streambar has four speakers - front-facing and side-firing – to widen the soundstage, plus the full Roku streaming experience inside.
Why choose the Roku Streambar?
Scoring a four-star review on T3, the Roku Streambar is a great way to expand both the sound and streaming capabilities of a TV – especially one that's based in a smaller room.
Its compact size means it can sit anywhere – on a TV stand or bedroom set of drawers – and you get the whole Roku streaming experience, including 4K HDR video from the best streaming services, such as Netflix, Disney+, Amazon Prime Video, and Apple TV+.
There are four speakers built into the bar, two front-facing with another couple on either side to expand the soundstage. And, it also supports Bluetooth so you can stream music to the device from your mobile phone.
Setup is super simple too, with a HDMI port to connect it to the TV, plus an optical audio input for good measure. You get bass boost and other sound modes to make sure what you're watching sounds at its best.
In short, this is a great all-in-one solution to expand your viewing experience. And is even better than these unbelievable prices.