All that hype around the LG C1 OLED, the fact that people say it is the best gaming TV on the market today and that you'd be a fool to ignore it if you're shopping for one of today's best OLED TVs – well, it's all true.
I can confirm this as, unlike many pedlars of Black Friday deals, I actually own the LG C1.
I've being using the LG C1 for months now and, let me tell you, it's probably the best purchase I've ever made. Which is why this incredible offer on it at John Lewis right now is so easy for me to recommend.
The offer sees the 48-inch LG C1 OLED drop to £999 at John Lewis, which is the first time the LG C1 series has ever rung in under the thousand pound mark. Even last year's LG CX didn't drop this low in its launch year as it cost LG the same amount of money to manufacture as the 55-inch version.
LG's got new OLED TV production factories now and a refined manufacturing process, though, which means that the LG C1 48-inch can be made for less and, as a result, its price has dropped underneath £1,000 much sooner.
And that's simply great news for gamers and OLED TV hunters, as it is an incredible television. Also, John Lewis is the best place to pick up this deal as it delivers a 5-year guarantee, free delivery and the ability to split payment with no interest over 18 months.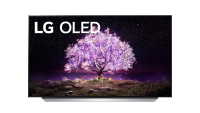 LG C1 OLED 48-inch TV: now £999 at John Lewis
This is the best gaming TV on the market and the best OLED TV available arguably, too. This is the cheapest the LG C1 has ever been and a fantastic Black Friday deal. It's a top future-proofed TV that delivers across the board, making it very easy to recommend.
The reasons why I bought an LG C1 are numerous. Firstly, this panel comes with LG's top image processor on the market today, which delivers stunning visuals. Secondly, the LG C1 comes with FOUR HDMI 2.1 ports, which is unheard of on a TV that is now so cheap and massively future proofs it.
Thirdly, thanks to the LG C1's 120Hz refresh rate ability and dedicated gaming features and modes, it is an absolute dream to use with next-gen consoles such as the PS5 and Xbox Series X. Seriously, playing today's best, most graphically intensive titles like Assassin's Creed Valhalla, Forza Horizon 5 and Deathloop on the LG C1 has been breath-taking.
And, fourthly, in terms of smart TV features and user interface it is second to none, with full access to all my subscription services like Disney+ and Netflix directly accessible on it in seconds. Watching 4K, HDR10 content such as Blade Runner 2049 has been mind-blowing and I'm now stoked to watch epic blockbusters like Dune on my LG C1, too.
Simply put, as a gamer and lover of 4K HDR movies and TV shows, it is a dream product and has elevated my gaming and viewing experience by orders of magnitude. It's going to be my TV for the next 5-10 years and couldn't be happier.
Like the idea of the LG C1 but want an even bigger panel? Then check out today's best prices on the 55-inch variant below.
These are the best TVs on the market today, 4K and 8K powerhouses