We've long held a candle for the Dell XPS 13 Plus here at T3, it currently ranks as the highest-placed Windows machine in our best laptops guide, and with Prime Day sales now in full swing, it's an even better prospect.
The Dell XPS 13 Plus (9320) is currently £1325 on Amazon, down from £1599 and if you think Macbooks have a monopoly of sleek design then think again. The keyboard especially is a thing of beauty with a touch sensor bar above it as well. This super-thin machine isn't just a pretty face either. While a 13-inch display isn't exactly cinema size, it does mean that this is an incredibly small and light machine tha packs a punch with a 12th generation Intel i7 processor that should handle pretty much all of your everyday needs.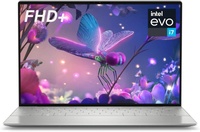 Dell XPS 13 Plus 9320: was £1599 now £1325 at Amazon
If you want a serious Windows machine that also looks fantastic then here you are. The XPS 13 Plus is a pocket rocket that you can take anywhere with you. 16GB of RAM and an i7 processor will see you right for pretty much any task.
Also adding to the XPS' performance credentials is its memory. 16GB of RAM will help you have dozens of tabs open at once if needs be and a 512GB SSD offers plenty of fast storage.
Gaming isn't this laptops speciality but with an integrated Iris Xe graphics card you should be able to play some less intensive titles like Minecraft or Football Manager. Similarly lacking is connectivity with just two USB-ports, but adapters exist for a reason.
In summary, if you've been eyeing MacBook users with jealousy, but can't or don't want to use MacOS, then this is the laptop for you.