Black Friday season is officially here, and with that, we're seeing deals on everything from Lego to laptops, and it's the latter of those two I want to focus on here as I've spied an incredible deal on a powerful lightweight machine.
Right now on Newegg, you can grab the MSI Modern 14 for a staggeringly low $499. That's not for the base model either but the Intel i7 powered version. For pretty much any everyday task that's a serious amount of power. Plus it's actually cheaper than many i5 variants of the same machine and comes with Windows 11.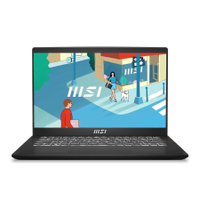 MSI Modern 14 14" Ultra Thin: was $799 now $499 at Newegg
With an i7 processor and 8GB of RAM, this ultra-thin laptop doesn't let its compact design keep it from packing a punch. With Iris Xe graphics you can even dabble with gaming too.
There's more than just a supercharged CPU on show here too. This laptop features a 512GB SSD to provide plenty of storage for documents, photos and games. That's right, with integrated Iris Xe graphics, you can even enjoy some light gaming on the full HD screen (1920 x 1080) with no problem.
Realistically though with a 14" screen and sleek design weighing just 3.08 lbs this ultra-light laptop is a commuter's dream but I think its true purpose is something else. At $499, this laptop is well in the range of students and this is where it could shine, as a more powerful alternative to the ever-popular Chromebooks.