If you're keen to up your coffee game and start your day with a really good coffee, there's no more convenient way than with a bean to cup coffee maker. These integrate a grinder and milk frother into a barista-grade coffee machine, so everything you need for the perfect morning cup is right there.
You've got the choice of fully automatic machines, which dispense coffee at the press of a button or touchscreen, or a more traditional espresso machine style, which makes it easier to get creative, but without the need to have any particular expertise. Baristas have to train for years, but with a bean to cup machine, you won't have to worry about that.
Because the beans are freshly ground and the coffee extracted under high pressure, you get richer, tastier, more aromatic results than with any other type of coffee machine, and without the waste and recycling hassles associated with pod coffee machines. The best bean to cups also make it easy to experiment with the strength and size of your coffee, and to get creative with the milk portion of the drink. Even if you don't know your ristretto from your elbow when you buy a new machine, you'll soon be serving up perfect lattes, cappuccinos, espressos and Americanos.
Currys is the ideal place to go to pick up a new bean to cup coffee machine. They've got the expertise, a huge range of options and right now, they're also offering up to one year's supply of free coffee when you purchase a new machine1.
Fully automatic machines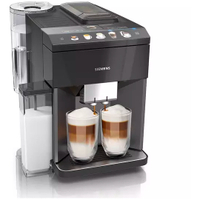 SIEMENS EQ500 TQ505GB9, £479
Don't compromise on aroma. This powerful machine from premium brand Siemens serves up a variety of coffee options via incredibly simple controls. Anyone short of time will appreciate the twin spouts and large milk frother, which mean you can create two milky drinks at the same time.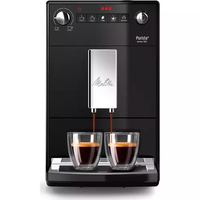 MELITTA Purista F230-102, £329
Another stylish machine that can serve up two drinks at a time, this slimline bean to cup is great for anyone with a lack of worktop real estate to work with. It's easy to customise the size and strength of your favourite coffee drinks, and store the settings to repeat every time with just the press of a button.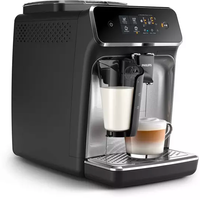 PHILIPS LatteGo EP2236/40, £429
Get creative, with 3 aromatic coffee options – espresso, cappuccino and Americano – customisable to your taste. The USP here is the easy-clean miilk frother, which adds a perfect layer of creamy milk froth to your cappuccino, then unclips for extremely easy cleaning.
Espresso machines with integrated grinder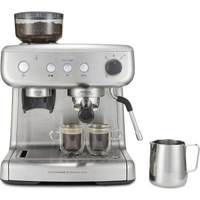 BREVILLE VCF153 Barista Max+, £349
With this handsome beast, intelligent grind ensures great taste, every single time. The intelligent grinder dispenses the correct amount of coffee for a single or double shot. You then tamp it down, extract your drink – a timer lets you gauge exactly how long to do this for – and then froth up a storm with the powerful steam wand.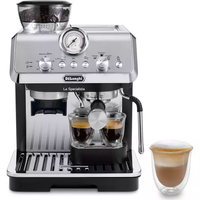 DELONGHI La Specialista Arte EC9155.MB, £499
Similar to the Breville, this has an excellent integrated grinder that's perfect for any type of coffee beans. A simple dial makes it easy to get exactly the right amount and intensity of coffee, every time. Again, a steam wand is on hand for perfectly steamed and textured milk for your lattes and cappuccinos. Your friends will really think you're a trained barista.
1. Get 2 months' worth of free coffee when you spend £350 - £599, 6 months' £600 - £999, 12 months' over £1,000. Here are the full terms and conditions of this offer.