If you're like me, you will literally depend on your air fryer for everything. They're a revolutionary appliance, and the best air fryers create incredibly crispy, delicious results without the need for lots of fat. They are also very easy to use, very versatile, and great fun to cook with. Well, news came in today that VeSync Co's premier kitchen appliance company, COSORI, has announced the launch of its latest air dryer, the 6L Turbo Blaze.
COSORI are known for manufacturing some pretty great kitchen tech, particularly impressing a lot of people with the eSync Pro Smart 5.8-Quart Air Fryer that came out a year ago. It seems so far that the COSORI 6L Turbo Blaze is no exception, designed to be an incredibly versatile, compact air fryer that's equipped with nine cooking functions. The latest launch marks COSORI's first air fryer powered by a dynamic DC motor, making it up to 46% faster than previous models and perfect for providing efficient, healthier and delicious cooking results every time.
At a glance, it looks to be an essential for those looking to save on both energy bills and valuable time. The 6L Turbo Blaze Air Fryer is the perfect multitasker and can be used for air frying, baking, roasting, dehydrating, defrosting, reheating, proofing and keeping food warm.
Before you find out more, check out the 6 things you should know before buying an air fryer.
COSORI 6L Turbo Blaze Air Fryer: Price and availability
The COSORI 6L Turbo Blaze Air Fryer is now available to purchase on the COSORI website or Amazon UK for £159.99. However, there's currently a £30 voucher available, taking the price down to £129.99. Have a look for yourself: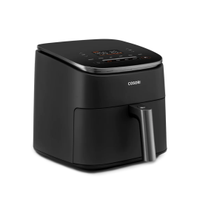 COSORI 6L Turbo Blaze Air Fryer: was £159.99, now £129.99 at Amazon (save £30)
Enjoy faster cooking with COSORI's advanced DC Motor tech, delivering meals 46% quicker than traditional air fryers. Savour crispy delights like a whole roast chicken, pizza, steaks, and chips in half the time.
COSORI 6L Turbo Blaze Air Fryer: Features
Dynamic DC Motor
Ensures consistent and even cooking and crisping by powering the fan that circulates hot air, ensuring results are up to 46% faster than ever.
Energy efficiency
The air fryer boasts precise speed control and energy efficiency, so users can regulate airflow and cooking temperature while saving energy. The high-performance DC motor is much more efficient than AC motors seen in other models, due to the secondary magnetic field being generated from the permanent magnets rather than copper windings.
Delicious results
Five fan speeds and nine cooking presets enable total control of food moisture levels, making food cook evenly and taste better, with no shake reminder needed! The non-stock crisper plate has an increased surface area between food and hot air, ensuring even and faster cooking for the user.
Large capacity
The DC motor takes up less space and height, allowing plenty of overhead clearance. With a 6-litre capacity vs. the traditional basket design, it is large enough to cook an entire meal for a family of five.
Temperature control
Getting great results has never been easier, with a wider temperature range of 30˚C - 230˚C that offers endless cooking possibilities for a variety of foods.
Easy cleaning
With a dishwasher-safe basket and crisper plate, the 6L Turbo Blaze Air Fryer couldn't be easier to clean.
Easy to use
With a one-touch, comfortable-to-view panel and simplified UI, the device is easy to operate and does not require users to bend over to view front-facing screens. The app includes a great selection of video recipes and key cook temperatures to make it simple for anyone and everyone to get started.
Safety first
Auto shutoff ensures that when the basket is removed during cooking, the air fryer will automatically stop heating and shut down. Overheat protection also ensures that the device will automatically shut off if the air fryer overheats, preventing damage and providing the user with reassurance.

Interested in more? Check out the 7 foods you should never cook in an air fryer!