If you're looking to get fit for 2021, and bounce back from 2020, you'll find music is a great motivator. It's been proven time and again that listening to music during a workout or run helps you get better results… Or at least the same results but it feels like less of a slog.
Anyone looking for sonic inspiration during their daily jog, online workout class or other essential exercise should seriously consider RHA's latest true wireless earbuds: TrueConnect 2 or TrueControl ANC. These are not just great-sounding buds, with crystal clear call quality so you can keep in touch with loved ones. They're also a great aid to smashing your fitness goals as we strive our way back to normality and a better life, in '21.
Well, 2021 can't be worse than last year, right?
January always brings new resolutions, but that feels more important than ever now. 2021 is the year for renewal and self-improvement. If you're fit, healthy and the best you can be, you can make more out of your spare time, perform better at work and live your best life.
That doesn't mean subjecting yourself to an endless grind of sweat-drenched masochism, running ultra marathons and doing one-armed pull-ups till you puke. Although if that's what floats your boat, don't let us stop you. No, it's about making the most out of the exercise you do; making it fun. That is the best motivation you can get.
RHA true wireless: two buds, one goal
To help you stay connected and entertained as you pound the pavements or floor of your hastily assembled home gym, RHA has two great sets of buds.
Designed in the UK, TrueConnect 2 is a sleek, affordable pair of true wireless buds that offers a hell of a lot for your money. There's 9 hours playback per battery charge, and a whopping 44 hours in total, with regular recharges in their battery case. Crucially for exercise they're IP55 sweat and water resistant. Bluetooth 5 support means rock solid connectivity and high quality sound.
• Buy TrueConnect 2 for £102.66 with the voucher code RHA21 – just enter at checkout. That's 21% off
Stepping it up a gear, TrueControl ANC offers a more advanced fit and Active Noise Cancellation. This is great whether you are blocking out the outside world on a jog, or turning off your family or other co-habitees when at home. An 'ambient' mode means you can still stay alert to your surroundings.
Further enhancing the premium experience, TrueControl ANC offers full EQ control via the easy-to-use RHA Connect app and supports Qualcomm aptX for the best possible sound. It's audio excellence, pushed further!
With 5 hours of ANC and audio per charge (20 hours in total with battery case), TrueControl ANC are also IPX4 sweat and water resistant.
• Buy RHA TrueControl ANC for £249.95 or 3 payments of £83.31 with Klarna
Satisfaction guaranteed
RHA has a coveted 5-star rating from Trustpilot users. It offers a 3-year warranty on both these buds – as it does on all its headphones. There's free, next-day delivery, and a 50-day no-quibble returns policy. You can buy now and pay later via Klarna.
• Shop RHA TrueConnect 2 for £102.66 (with voucher code RHA21) and TrueControl ANC for £249.95 now!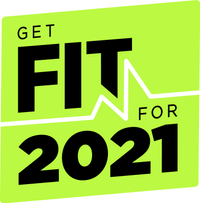 This is part of T3's Get Fit for 2021 programme, which will be running throughout January, and is brought to you in association with our friends at RHA. We aim to bring you tips on diet, lifestyle and exercise that will help you shape up for what is certain to be a difficult year. One thing we can guarantee: it WILL be better than last year. And we'll help you get the most out of it.