T3 knows a thing or two about the best student laptops, as we spend each year reviewing and rating the very best systems on the market. And that's why we know that Nvidia's GeForce RTX 30-series laptops are perfect for students.
Nvidia's laptops are so ideal for a student going back to school, college or university as they literally deliver the best of both worlds – a system that excels at both gaming and productivity. For students who need to both work and play hard, there's no better choice.
The power that Nvidia GeForce RTX 30-series laptops have on tap means that a student has all the performance they will ever need for studying and creating, no matter their course or processing/application needs. But then these laptops also deliver a best-in-class entertainment experience, with key NVIDIA Max-Q technologies like DLSS, Whisper Mode 2.0 and Dynamic Boost 2.0 and Resizable BAR taking gaming to a whole new level of quality and immersion. There's a reason why there's so many Nvidia powered portables in T3's best gaming laptops guide.
Right here we explain the key Nvidia technologies delivered in top RTX 30-series laptops, exploring what they deliver and how they benefit students, before then selecting the very best deals on Nvidia GeForce RTX 30-series laptops currently available ahead of the new academic year starting.
The Nvidia difference for students
For years the best gaming laptops delivered awesome graphics power but did so at the expense of portability. Nvidia's Max-Q technology changed all that, though, and the result is that laptops can now be both gaming powerhouses and highly portable.
Max-Q, which is now onto its third iteration, is so game-changing as it is a system-wide approach to making gaming laptops powerful, thin, light and quiet. And, what's more, Max-Q laptops enable this through both hardware and software.
Firstly, the RTX 30-series graphics cards, such as the Nvidia RTX 30 series laptop graphics cards like the RTX 3060 laptop GPUs, are incredibly powerful and that means demanding creative applications and tasks, such as video editing or rendering in After Effects, are handled with ease. RTX 30-series laptops make creating your own content fast and straightforward, meaning the only real limit is your imagination. And, of course, gamers are well catered for as well.
Laptop graphics cards are also much thinner and more streamlined than their desktop counterparts, meaning that the laptops they are installed in can be thinner and lighter, too. This means that students have a bag friendly laptop that is incredibly portable.
But this thin and light graphics hardware is partnered by what can only be described as a truly elite, gamer and creator-focussed suite of AI and software features. All of Nvidia's RTX 30-series laptops come with support for Dynamic Boost 2.0, for example. This AI-powered system automatically delivers the needed power between the laptop's GPU, GPU memory, and CPU to ensure optimal performance at all times, while Nvidia's Whispermode 2.0 AI-powered algorithms mean temperatures of these components remain optimal, too, reducing excess heat and therefore keeping fan noise to a minimum.
And, talking of AI, the other awesome technology that Nvidia's 30-series laptops unlock for students is DLSS, which stands for 'Deep Learning Super Sampling'. As T3 has written about before, DLSS is basically a slice of gaming magic, with groundbreaking AI rendering powered by Nvidia's RTX 30-series graphics card's dedicated Tensor Cores massively improving in-game frame rates. Seriously, with DLSS enabled frame rates often more than double. But it's more than that, because pro apps also get a performance boost from DLSS AI, from Photoshop through to 3D modelling software Blender all get a big advantage from this clever tech.
Nvidia's 30-series laptops also come with powerful AI capabilities like virtual background and noise removal that makes video calls, streaming and broadcasting easy and high quality. Students who need to join in virtual seminars and lectures during the working day can now do so with optimal sound and mic quality, while at night they can broadcast their gaming exploits with unparalleled clarity. Thanks to RTX Voice, you'll never have to worry about dorm room sounds coming across in a call, any strange noises will be silenced by this truly amazing tech.
The best Nvidia RTX 30-series student laptop deals available today
T3 is a master at hunting out the very best deals on products for its readers, and right now SCAN stands out in terms of Nvidia RTX 30-series laptop deals. That's where we feel any prospective students heading back to school, college or university should shop for a laptop upgrade ahead of the new term starting.
Here are the best deals right now: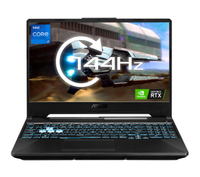 ASUS TUF Gaming F15 with RTX 3050 | £798.98 at SCAN
This sub-£800 gaming laptop from ASUS has an Nvidia GeForce RTX 3050 graphics chip sat at its core, meaning you get DLSS, Dynamic Boost 2.0 and more. This 30-series system also comes with a gamer-focussed 144Hz display with 100% sRGB.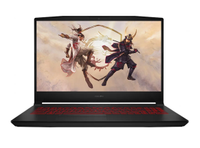 MSI Katana GF66 with RTX 3050 | £798.98 at SCAN
Another, similarly specced system to the one above, the MSI Katana GF66 gaming laptop delivers an Nvidia GeForce RTX 3050 graphics card along with a strong Intel processor, 8GB of RAM and a spacious 512GB SSD for work and games storage. Under £800 at SCAN.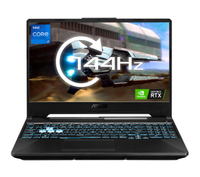 ASUS TUF Gaming F15 with RTX 3050 Ti | £898.99 at SCAN
Spend another £100 or so and you can also bag the ASUS TUF Gaming F15 with an Nvidia GeForce RTX 3050 Ti installed. This GPU delivers a bump up in terms of CUDA, RT and Tensor cores over the RTX 3050, and therefore slightly better core graphics/processing performance.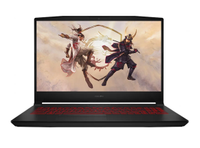 MSI Katana GF66 with RTX 3060| £998.99 at SCAN
If you like the idea of the Katana system above but want even more graphics performance, then this system comes loaded with an Nvidia GeForce RTX 3060 GPU and Intel Core i7 CPU, which translates as even higher frame rates in games and processing power overall.
Each one of these laptop deals deliver that combination of really strong processing power and productivity features that are ideal for students working at college or university, while also backing that up with very powerful gaming performance that makes running today's latest AAA games easy.
And, while there's no doubting the quality of the other components that they come equipped with, it is their Nvidia 30-series laptop GPU and Max-Q technologies that are the difference maker, with their brilliant combination of next-gen hardware, software and AI features taking them to the next level in terms of performance.
To us here at T3 these laptops show exactly why students shouldn't settle for an underpowered system while studying, and they do so while also demonstrating just how affordable laptops with quality gaming hardware installed can be – and also just how useful that gaming tech is to creative and productivity applications.
To learn even more about Nvidia GeForce RTX 30-series laptops and the benefits they deliver be sure to head on over to Nvidia's official website.