The best remote control cars come in all shapes and sizes and for all age groups. Whether you want to race a supercar or do daring off-road antics, there's an RC car for you – and there are models for all skill levels, from absolute beginners to seasoned road warriors. Whether you're looking for a racer or a rock crawler, a speed demon or a bouncing buggy, the range of high quality remote control cars is better than ever – and the prices are better too.
Of course, not all remote control cars are made equal. Some cut corners you'd rather not cut, or they skimp on battery life or range. That's why we've put this guide together: we'll look beyond the pretty photos and the price tags to see what's good about each of these picks, as well as what could be better. We've taken customisation and reparability into account, which is particularly important with more expensive models: just like a real car, the best remote control cars sometimes need a little TLC.
Last, but definitely not least, we've considered the fun factor. Whether it's a mountain climber or a drifter, a car made for straight-ahead speed or to defeat every kind of obstacle, every remote control car here is tons of fun. If you turn out to love RC cars and want to take it up a gear, there are plenty of options: there are tons of local clubs and tracks running races and regular meets.
The best remote control cars: how to buy
The more expensive your remote control car, the more important it is to think about reparability. Unfortunately, faster vehicles don't always do so well if they hit an obstacle or vehicle at high speed, so the availability of spares is important. Where there are spares, there are often upgrades – so once you've pushed your car to the limit, you can add different tyres, better suspension, a more powerful engine or even a different motor position to push it even further.
If you're buying car for jumping then suspension is obviously crucial, but give some thought to scale and weight too. Small-scale cars are speedy, but their smaller size means they're also more affected by bumps that bigger cars would simply cruise over. They can be more difficult to control, especially when they take flight, and their smaller battery packs run out of power more quickly. Larger scale cars solve all of those things, but they tend to cost more too.
With the best remote control cars, cheap doesn't necessarily mean nasty, and it's wise to stick to a low budget if you're buying a first car for kids. Overall, it hurts a lot less if they lose interest in a basic RC car than in one you've spent half your wages on. But there are some great affordable options for adults too, although it's important to realise that they probably won't be very repairable so you might want to stock up on superglue.
The type of car you need very much depends on what you want to do. The new generation of RC cars includes spectacular 4x4s that can handle even the trickiest terrain, while racing fans might want to consider the explosive acceleration of nitro cars. They're messier because they're powered by exploding methanol, but you can refuel them straight away without having to charge any batteries. The batteries are used only for the radio, not to power the wheels, so they last much longer. Battery powered cars are outselling them by a wide margin, but as much as we love battery tech, there's nothing quite like fiddling with a tiny but explosive engine.
The best remote control cars 2022: ranked
Although its design isn't perhaps the most detailed - there's certainly a lot of raw plastic on display – you'll hardly be able to focus on its looks given how fast Wltoys' celebrated buggy can go. Taking full advantage of an RC390 brushed motor, more commonly found on heavier 1/10 scale vehicles, this thing absolutely rips along, and comes ready to run. All four wheels get decent shock absorbers, so the A959 is just as comfortable in your kitchen as it is careening up bumpy hills.
We'd recommend picking up a second 7.4V battery just to give you a little extra run time, and keep an eye on its drive train; some owners have found the plastic gearing didn't play too nicely with the torque of that motor. Thankfully, there are plenty of spares (including metal gears) floating around on the market.
Kyosho is a Japanese manufacturer known for establishing the Mini-Z standard, a set of teeny 1/28 scale cars which replicate real-world vehicles and are custom-made for drifting. This is a great example of the type: it's not super-fast in a straight line, but get it on the right surface (super-low pile carpet and hard floors work best) and it's perfectly balanced to slide around obstacles in style.
There's a low-speed mode for kids, a stopwatch built into the controller to keep tabs on your lap times, and the whole lot runs on AA batteries, which makes switching out for a new set of rechargeables a breeze. The only slight issue is that this is a straight Japanese import, so the instructions may be tricky to understand – though it comes pre-assembled, and there's plenty of advice from enthusiasts on the internet if you want to try modding.
Rock crawlers are a great way to have fun with an RC car if you're more interested in realism and control than going as fast as possible – and Traxxas' officially-licensed Land Rover is one of the very best out there.
It's so packed with features: Traxxas' portal axles give it huge ground clearance and eliminate torque twist, it's completely waterproof so you can go crazy in the mud or water, the servos are an all-metal design, and the whole chassis is joined together with a rigid steel ladder frame.
You get precision control, too, with everything from cruise control to gearing to diff locks available on the handset. There is a fairly large barrier of entry in the form of its price, but given that you can likely get two hours' one-tenth scale trail bashing out of a single battery charge, we think it's worth the investment. Check out our guide to the Traxxas TRX-4 vs FTX FTX5570 Outlaw to see how it compares to much cheaper option.
Lego's Control+ app has come into its own recently, powering a whole host of interesting Bluetooth-based vehicles, and this is our pick of the bunch. We'd be lying if we said it was fast, and its Bluetooth connection means its range can be a little limited, but this is certainly a fun 374-piece set to build and drive.
Given that it includes both a 88012 Powered Up Technic Hub and a pair of 88013 Powered Up Technic Large Motors (the price of which, sold separately, comes to more than this set) it's the perfect way to get started with Lego RC, particularly if you're planning to build your own creations. Not that we'd necessarily disassemble this frame, though. It's a bouncy, suspension-heavy buggy which can pull off some supremely fun tricks. Read our Lego Technic Off-Road Buggy vs Lego Technic 4X4 X-treme Off-Roader guide to see how it compares to a bigger and more expensive Lego RC car.
If all you want is a car for interested kids to trundle around the floor, CMJ's cut-price range of 1:24 replicas is the way to go. They're fast enough for indoor use, they seem to last a long while on their AA batteries, and they're no great loss should someone decide to use the stairs as a racetrack.
There's a wide selection of car models on offer beyond this neat little Vantage, but we've picked this solely because it's the most affordable of the bunch; the whole range runs on 2.4GHz controllers with around 25 metres range, which means you can easily get multiple examples racing at once without fiddling with radio channels.
The Hornet is fast approaching its 40th birthday, and it has hung around in the market for so long by virtue of its brilliance: this is a true classic in the RC world, and the perfect platform for getting started with the more hands-on aspect of RC cars. It's durable, with an ABS resin frame and a sealed gearbox, and it can take bumps and stunts with style, packing oil-filled dampers on its rear axle suspension.
Note that there's a certain amount of building involved, and this is just the wheels, chassis, motor and speed controller so you'll need to add your own radio, servos and battery to complete the kit. Once you have, though? Make sure you've got some space to let it run.
We couldn't not mention Traxxas' RC hypercar in this guide, because that statistic above isn't a typo – this can reach 160kph (100mph) in five seconds from standing, at one point in time giving it the world record top speed for an RC car. You'll need to find a wide, smooth surface to hit that sort of speed because to generate the relevant downforce this has minimal ground clearance, though the company has also built in traction control to help with cornering and overall control, and it can handle rougher paths too if you're slightly more conservative.
This is a huge investment, and it's not made for rough-and-ready jumps and stunts, but this is the fastest RC car you can buy – just make sure you have plenty of batteries to power its Big Block motor.
This isn't a car from a known brand, but if you're looking to get into the world of nitro racing it's a very reasonably-priced option. It comes ready to run - you just need to add your own fuel – and its 2.4GHz radio should provide plenty of range. The 75CC engine can make it all the way up to 60kph with ease, with potentially a little extra on top of that, and if that's not quite fast enough you're welcome to pull this apart and start tinkering.
Such is the way with nitro cars; they start as a fast, dirty way to take flight over local parkland, and quickly become a sea of spares, upgrades and tools.
Another beneficiary of Lego's Control+ app, which maybe even makes a little more sense here – taking full advantage of the 3-axis gyro in the Smart Hub here (as well as the pair of XL motors and single large motor) means you can keep constant tabs on the X-treme Off-Roader's angle of incline and tilt. If you're taking it to more extreme climes (or on more extreme climbs) that could be invaluable information, though this is more a build-a-course-in-your-lounge type off-roader than one to fling outside in the mud.
Again, the value is strong considering the number of otherwise-expensive components you get in the package, and the X-treme Off-Roader's massive side-to-side suspension is a neat touch. There's no secondary build included, but there's nothing to stop you employing a little creativity – we're sure its chunky tyres will prove inspiring.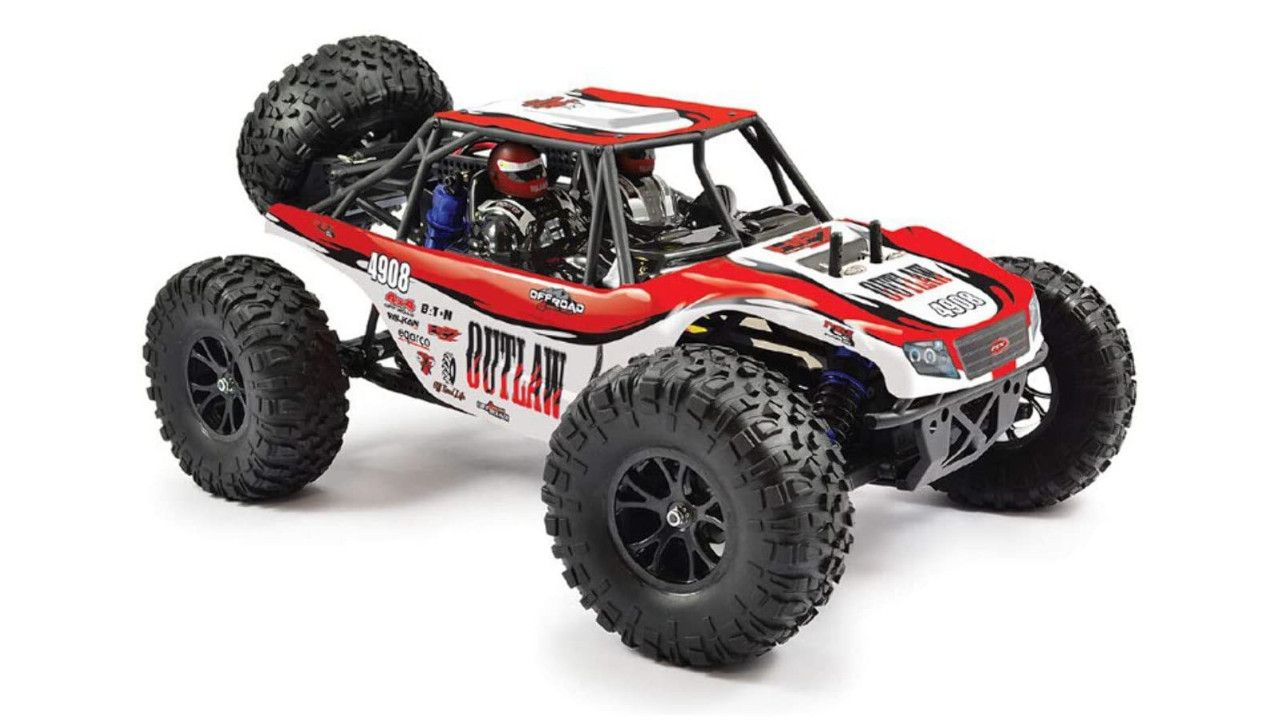 Rock crawling doesn't have to be expensive, but we'd recommend steering away from super-cheap cars and starting at the mid-range if you want something that'll work hard. FTX's 1:10 buggy is a top choice if you can't quite afford Traxxas prices: it's fast enough to bomb along flat surfaces, yet offers fine enough control and big enough torque that you'll be able to hit the hills in style.
This particular model comes ready to run, with only a few AA batteries required, and includes a waterproof steering servo – but while it'll take a few splashes, the chassis shouldn't be submerged.