The Samsung Galaxy Note 8 is imminent and the rumour mill is spitting out tasty leaks every week now, with everything suggesting the new phablet might just be Samsung's most impressive phone yet (just as well, because after the Note 7 disaster, it needs to be).
The Note 8 looks to carry on the the success of the brilliant Galaxy S8 and Galaxy S8 Plus, two phones T3 absolutely loved (it's currently top of out best smartphone buying guide), but with a few more productivity features thrown in for good measure.
We think we already have a pretty decent idea of what the Note 8 will look like, when it'll be released, and what features it'll include. Below are the most credible rumours we've seen so far.
Quick Look: Samsung Galaxy Note 8
Release Date: 23 August 2017 announcement, early September 2017 release
Price: around £780, maybe more
Key features: S-Pen, Facial Recognition, Bixby, Infinity Display
Release Date
Samsung has announced that the Galaxy Note 8 will be revealed on the 23 August, which is what we've come to expect of the Note range. This was confirmed in a Tweet from the Samsung account.
Devices will start hitting the shops (in certain countries) in September, and a roll out to the rest of the world in October.
Samsung Galaxy Note 8 price
The Samsung Galaxy Note 8 will be expensive, with a capital EXPENSIVE.
There haven't been any official announcements yet, but looking back at previous handsets, the Note 7 cost £750, and the Samsung Galaxy S8 Plus cost £779.
We expect the Note 8 to cost around £779, possibly even stretching up to £799.
Samsung Galaxy Note 8 specs
In terms of specs, we're not expecting the Galaxy Note 8 to be too different from the S8 and S8 Plus.
That means it'll probably use the blazing fast Qualcomm Snapdragon 835 in the US and Exynos 8895 in the UK and elsewhere.
The difference may come in a RAM increase from 4GB to 6GB. That'd make sense as the Note is usually touted as a productivity tool and perfect for multitasking.
Storage is expected to come in 64GB and 128GB variants.
As for the screen, we think that'll be 6.4-inches.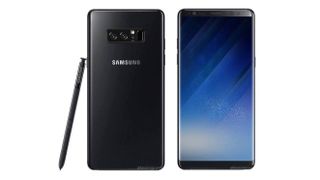 As for the camera, we didn't get an upgrade in the S8, so we think we'll see something new in the Note 8. This could come in the form of a dual-lens set up, which we've seen several rumours about already.
The dual camera setup is rumoured to have 3x optical zoom, but we're not sure how that will work.
Apparently, the Galaxy Note 8 will have a 12MP wide-angle lens and a 13MP telephoto one, and you'll be able to combine them for a 3x optical zoom. Both will have optical image stabilization. That sounds like a killer system, and we really hope it's true.
Is it too soon to mention batteries? We're expecting between 3,300 and 3,500 mAh. And they definitely, DEFINITELY won't explode this time, okay?
Samsung Galaxy Note 8 design
We suspect the Note 8 will take most of its design cues from the S8. That means sleek glass and metal enclosure and Infinity Edge display.
We could see an even smaller bezel than on the S8 if leaks are to be believed. This rumour has been repeated from several sources, and can even be seen in the very Note-looking image from one of Samsung's official Twitter accounts:
Do what you want. #Exynos will get things done. Learn more about #Exynos8895: https://t.co/xjBw74E39o pic.twitter.com/zzxH7NE3QUJuly 13, 2017
It looks like Samsung plans to shrink the top and bottom bezels even further, and feature corners with a slightly sharper radius. This can also be seen on the official invitation Samsung released.
One question that still remains about the design is whether Samsung has figured out a way to embed the fingerprint sensor behind the screen, similar to what's planned on the iPhone 8. Some leaks have shown off a design which is sensor-free, while others suggest the technology isn't ready yet. Only time will tell with this one.
Update:
The above image is a little less official than the official Samsung invite, but it looks entirely credible. It was tweeted by Evan Blass, and seems to show the Note 8 in all of its glory.
Here we can see the black and gold colourways, but we're also expecting the Note to appear in grey and blue, as well.
Other Samsung Galaxy Note 8 features
Of course, as this is the Note range, Samsung's S Pen will be back. This is made clear in Samsung's teaser video.
We'll also see the Iris Scanner and Facial Recognition carried over from the S8.
Oh, and Bixby, Samsung's Siri rival with plenty of potential will be back, hopefully with improved features over the version which shipped with the S8 and S8 Plus. Bixby's voice capabilities have expanded to more than 200 countries including the UK, Australia, Canada and South Africa.
Liked this?