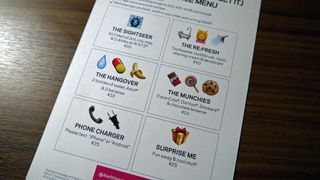 5pm: Checking in and checking it out
We've just checked in to Aloft Downtown Manhattan, tapped our contactless key on the door handle of 1007 and stepped inside our New York hotel room for the first time.
Bed, check. Bathroom, check. TV, check. Emoji room service menu, check... wait, what?
You read that right, emoji room service. A menu of six different packages you can get delivered to your room by texting a few icons down to reception (plus your name and room number).
It's called 'Text it. Get it' (TiGi for short), and Aloft is the first hotel chain to offer it. It's only available in the Downtown Manhattan residency at the moment, but it is looking to roll it out to more properties around the world.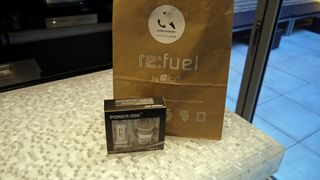 6pm: Running low
Having spent the best part of eight hours on a transatlantic flight, not to mention the early morning wake up call, our phone battery is pretty depleted.
More annoyingly we've managed to leave our charger at home - we're not great with early starts and we fear this isn't the only item we've left behind.
As we reach for the in-room phone our eyes catch the TiGi menu on the desk - what were we thinking? We don't need to speak to an actual person.
We whip out our smartphone (the BlackBerry Priv, since you're asking), tap in the Telephone Receiver and Electric Plug emojis followed by "Android" (because that's the phone we have, use "iPhone" for a lightning connector) our name and room number. Then we wait.
20 minutes later there's a knock at the door. A member of staff is there, holding a brown paper bag. On it is a sticker with the emojis we sent, inside is a new phone charger. We may have just parted with $25, but at least our phone is charging before we head out for the night.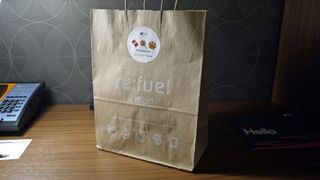 3am: Sooooo hungry
WE'RE BACK! And we may be a little merry. More importantly though, we're hungry.
We've not had the foresight to pack snacks for the room, so we're marauding round the bed looking desperately for anything edible.
Then it clicks - the emoji! A grin spreads across our face as we desperately try and locate the Chocolate Bar, Lollipop and Cookie emojis in the keyboard menu of our smartphone.
Around 30 minutes later (though it felt like a lifetime), our $10 bounty arrived - crisps, chocolate bar, brownie and a soda. Smashing. All items devoured, we pass out.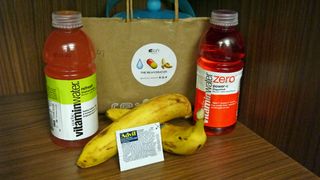 7am: The pain
Okay, in hindsight, perhaps that sixth Vodka Redbull wasn't the best idea. We awake, head pounding, ears ringing and drenched in sweat. Oh god, it's the dreaded hangover.
We fumble for our phone... this is an emergency... Droplet, Pill, Banana *send*
Another $10 lighter (these packages are starting to add up) and salvation arrives at our door. We resist the urge to embrace and plant a kiss on the forehead of the friendly employee, snaffling the bag and downing the two bottles of flavoured water.
Seeing off the banana and then popping the Advil tablet, it was back to bed.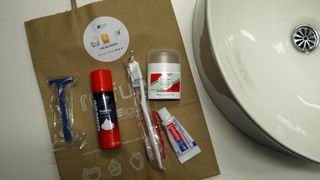 10am: Freshen up
Probably time to get up. After all, we are in the Big Apple - there's plenty to see and do. We head to the bathroom, inspect ourselves in the mirror - we're certainly looking a lot better. Reaching for our toiletry bag we find ourselves grasping at thin air.
Ah... that's the other thing we forgot to pack. No bother though, as we select Bath, Face Massage and Shower from the emoji list and pop them in a text to reception.
Minutes later our 're:fresh' package arrives complete with toothpaste, toothbrush, razor, shaving cream and deodorant. It's another $10 to add to the room tab, but it's certainly worth it.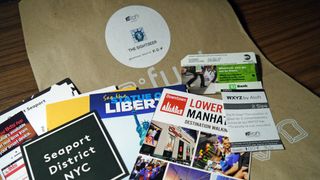 11am: Ready for the world
Right, we're feeling a lot better and it's time to go and see the sights - but we're not exactly sure how to get around.
That's where the 'Sightseer' package comes in useful. A simple Statue of Liberty emoji gets us a $10 metrocard, city map and two drinks at the hotel's W XYZ bar.
Hair of the dog, we sneak a drink downstairs with our voucher and then jump aboard the train and head off into the city, map in hand.
This is the most expensive package at $30, but considering you can pick pretty much any drink at the bar (spirits included) it's pretty decent value.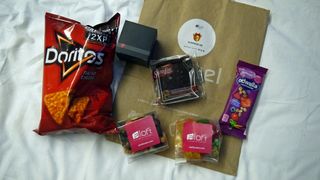 4pm: Holiday treat
After a solid five hours of sightseeing we return to room 1007 for a rest. Our smartwatch tells us we've smashed the step goal for the day and we've rinsed the $10 credit on our metrocard.
Feeling a strong sense of accomplishment we feel like it's time for a treat. We had been intrigued by the 'Surprise Me' package and its claim of "fun swag & cool stuff", since we first laid eyes on the TiGi menu.
At a cost of $25 we were hopeful of something at least half decent turning up as we selected the Wrapped Present emoji and hit send. Unfortunately what arrived was a little disappointing.
More crisps, another brownie, sweets, trail mix, superfood bar and a rubix cube - it's not exactly an inspiring collection of items.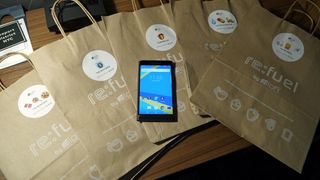 Check out
Our 24 hour room service binge cost us $110, but after tax was added on checkout the total came to $119.77 (around £80). That's pretty steep, but you're unlikely to be quite so frivolous - or forgetful - as we were during your stay.
The Text it, Get it service was fun, quick and easy to use, with most of our orders delivered to our door in 20 minutes or less.
We did find the packages offered relatively decent value for money (for room service at least), although the phone charger and gift packages could leave you feeling a little short changed.
Here's hoping the menu offering increases over time - a Pile of Poo emoji during a toilet roll emergency would be highly useful.