Apple's annual worldwide developer conference – best known as WWDC – was back with a bang for a bumper in-person 2022 edition held at Apple Park in Cupertino, California. It was more of a hybrid event, with Apple CEO, Tim Cook, presenting via livestream to attendees.
Nonetheless, stacks of stuff was announced: on the software front, iOS 16 was detailed, along with watchOS 9, iPadOS 16, macOS 13 Ventura; while on the hardware front we were treated to the next-gen Apple Silicon, called M2, featuring in a new MacBook Air design (the MacBook Pro will also receive an M2 option). No sign of an M2 Mac Mini, though, so that was all just rumours.
If you want to jump to the biggest announcements from the opening keynote, we've got links to all our main news stories below, or scroll down to see the news as it happened from our original live blog.
Original live blog follows below:
It's Apple Day! The company's annual worldwide developer conference – best known as WWDC – is back for 2022. And it's expected to be a bumper one complete with iOS 16, MacOS 13, watchOS 9, and rumours of new Apple M2 silicon in Mac Mini and MacBook Air 2022 hardware.
So strap in for the ride, as T3 takes you through the event day, before WWDC 2022's keynote kicks off. What time does WWDC start? It's at 6pm BST / 5pm CEST / 1pm EDT / 10am PDT and hosted by Apple head honcho Tim Cook and a raft of company execs. It's a partially in-person event for the first time since 2019, too, with a handful of media in attendance at Apple Park in California.
Refresh
WWDC 2022: What to expect?
First thing's first: just what is likely to arrive at WWDC 2022? There's been a lot of speculation, as nothing ahead of the keynote has yet been confirmed. Being a developer's conference, however, expect it to be software heavy: detailing new advances in iOS 16 for iPhone, iPadOS 16 for iPad, watchOS 9 for Apple Watch, and MacOS 13 for Mac.
While all of those software types are for specifc hardware, this isn't the show where we'll see the new iPhone 14 or Apple Watch 8 – you'll need to wait until September for those, we suspect.
But that's not to say that hardware isn't expected. There's an increasing rumour of Apple's MacBook Air getting a 2022 design overhaul. Furthermore it's thought to host Apple's M2 silicon inside, marking the next step in the company's chip progression.
We'll be following the news live throughout the WWDC keynote, bringing you the action as it happens, confirming what's new and what's coming in the near future.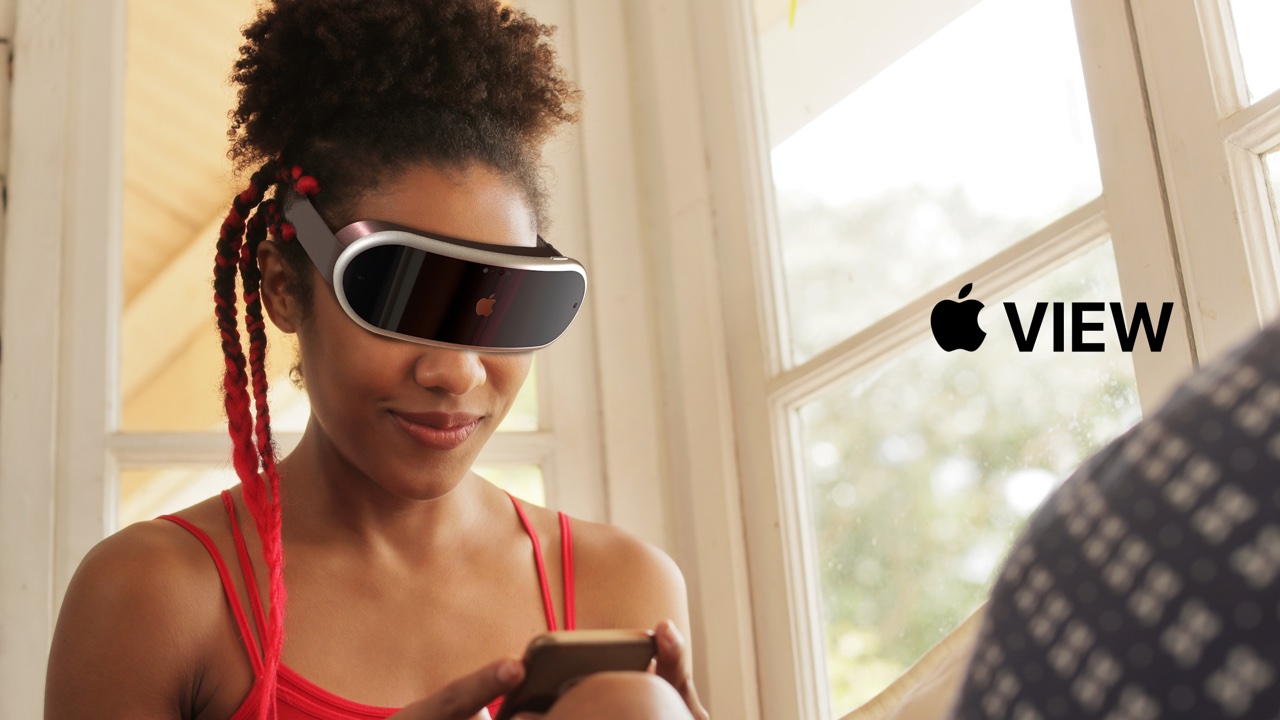 Among all those hardware rumours is a major product that we're not expecting to see at WWDC: Apple's VR headset (whatever it's to be called).
Respected analyst Ming-Chi Kuo doesn't even expect the headset to appear at one of Apple's major conferences (Tweet embedded below): instead, it's more likely to receive its own launch event. As the most important new hardware launch since the iPhone, that sounds logical.
But this is WWDC, a conference where Apple loves to push all things VR/AR, so you can surely anticipate some advances in those technologies being on display, however cryptic that may be.
Another reason. Suppose AR/MR headset is Apple's most important product since iPhone launch. In that case, AR/MR headset & rOS deserves an independent media event that can ensure enough time for a complete introduction and keep the audience focused throughout the event. https://t.co/v5zpBYPPvfJune 2, 2022
See more
Is an M2 Mac Mini incoming?
More rumours! A large US retailer listed a Mac Mini M2 and Mac Mini Tower over the weekend, adding fuel to the fire that WWDC 2022 will be the moment Apple uses to reveal its next-gen M2 silicon.
So what the heck is that all about? Well, it could be genuine, it could be a naming slip-up, or it could be a total hoax. There's never been mention of a Mac Mini Tower before now, so maybe it's best to be treated as a placeholder for a new Mac Pro instead.
That new Mac Mini would be less of a surprise, though, especially if M2 does surface. Just how powerful this new platform will be is perhaps the bigger question. Which, hopefully, will be answered in today's keynote...

The Apple Store is down!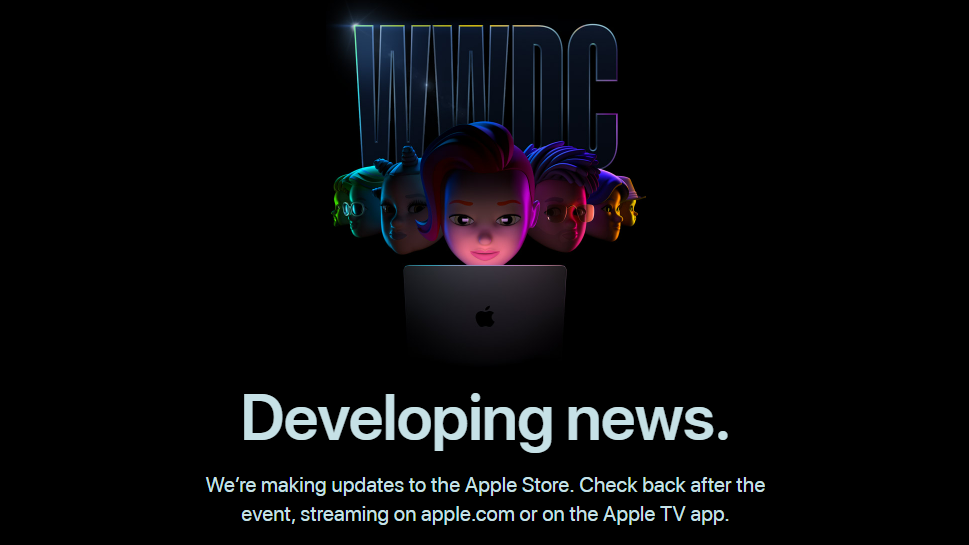 Anyone who's familiar with Apple's process will know that the Apple Store goes down ahead of the company announcing new hardware at a launch event. And the Store is down right now!
Therefore this is as good as confirmation that WWDC will present us with new kit, not just software. It looks as though the MacBook Air 2022 and Mac Mini M2 are very likely to be on the cards.
What about the new Apple Watch?
So new hardware is all but confirmed already – see the neighbouring Apple Store Down! post – but what exactly will that mean?
WWDC 2022 is expected to reveal iOS 14 and watchOS 9, but don't expect any new iPhone or Apple Watch to go with those new software updates.
Interestingly, the forthcoming Apple Watch 8 is rumoured to debut a temperature sensor, to add yet more to its array of possible readings.
Beyond that, there's a whacky patent that suggests a future Apple Watch could even have a camera integrated into the Digital Crown. Doesn't seem hugely likely, but you never know... Anyway, now isn't the time to worry about the Apple Watch, as we won't be seeing one at the keynote.
Instead it's going to be all about M2 and MacBook Air by the looks of things. Which also means that macOS 13 should carry more weight this time around, so we'll be covering the new features of that as and when it's revealed.
Cook is on the case
The Apple CEO is front and centre – as you can see from the Tweet embedded below, where Tim Cook's Memoji is in front of that MacBook...
...which, presumably is the new MacBook Air M2 for 2022? It seems increasingly likely that's what we'll be seeing revealed on stage at the WWDC 2022 keynote.
Developers assemble! It's going to be a great day! #WWDC22 pic.twitter.com/OZvER1gIiNJune 6, 2022
See more
Shot on iPhone
Security at Apple Park is apparently checking-in camera kit that's larger than a phone. Sounds as though any WWDC snippets you see from its attendees will be directly from their iPhones then.
If you're media going to #WWDC2022 this morning, save yourself some hassle: security is making us check in any camera larger than a phone. So just bring your phone pic.twitter.com/a2midFo3qlJune 6, 2022
See more
Garden party
It's almost time for WWDC 2022 to kick off. Guests are taking their seats out in the open air. Good job it so rarely rains in California, right? This really is going to be a 'Dub-Dub' unlike any other.
Looks like we're doing this lawn party style for the WWDC keynote. pic.twitter.com/AMFl3y4USWJune 6, 2022
See more
And we're off!
The stream begins, looking very colourful indeed. Audrey Nuna & DJ Snake's Damn Right is blasting out first, followed by the more epic sounds of Odesza's Behind The Sun. Not sure if there's any cryptic clues in from those tunes or not.
iOS 16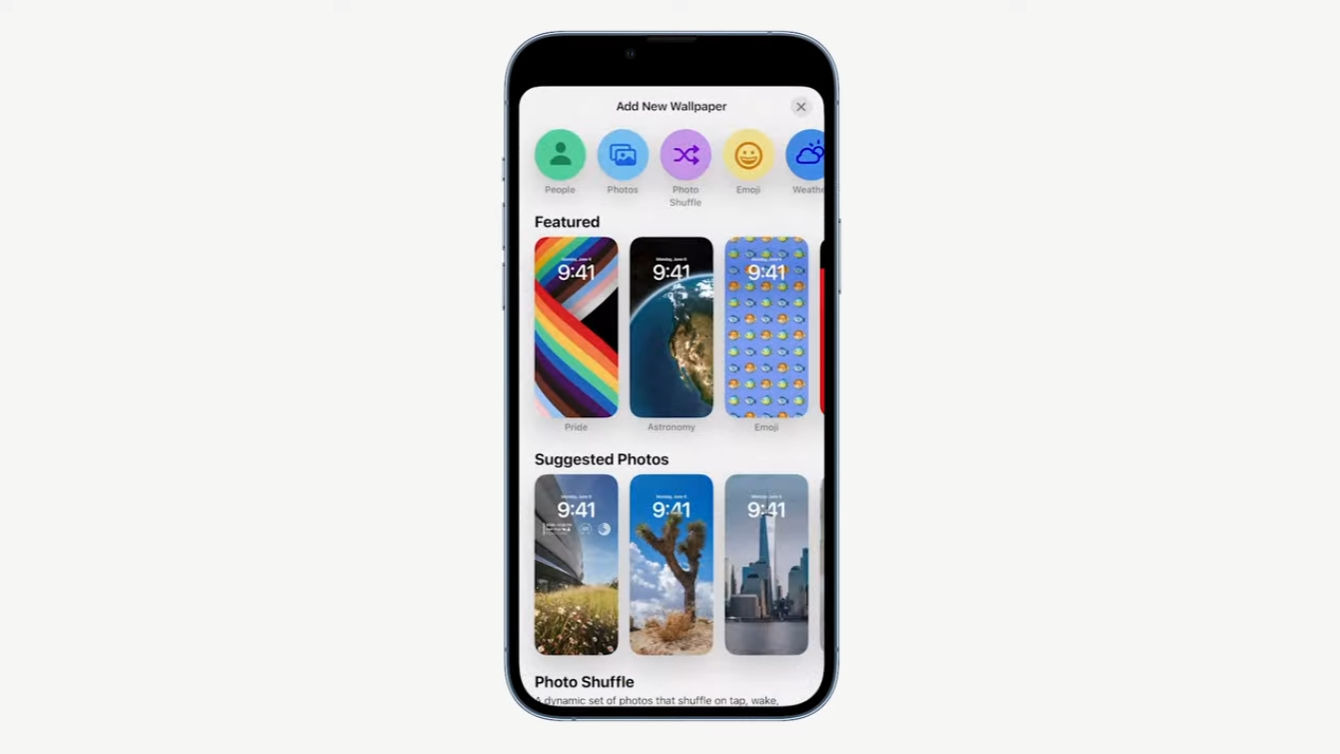 Craig Federighi, Apple's senior vice president of Software Engineering, enters the live stream like an episode of Men In Black. He's here to talk iOS 16.
It's all about the Lock Screen: offering customisation options through a press-and-hold to swipe between different styles. You'll be able to choose different colours and different fonts.
It'll also be possible to add new widgets to the Lock Screen. Add Calendar, Activity Rings, live Weather, and more.
Live Activities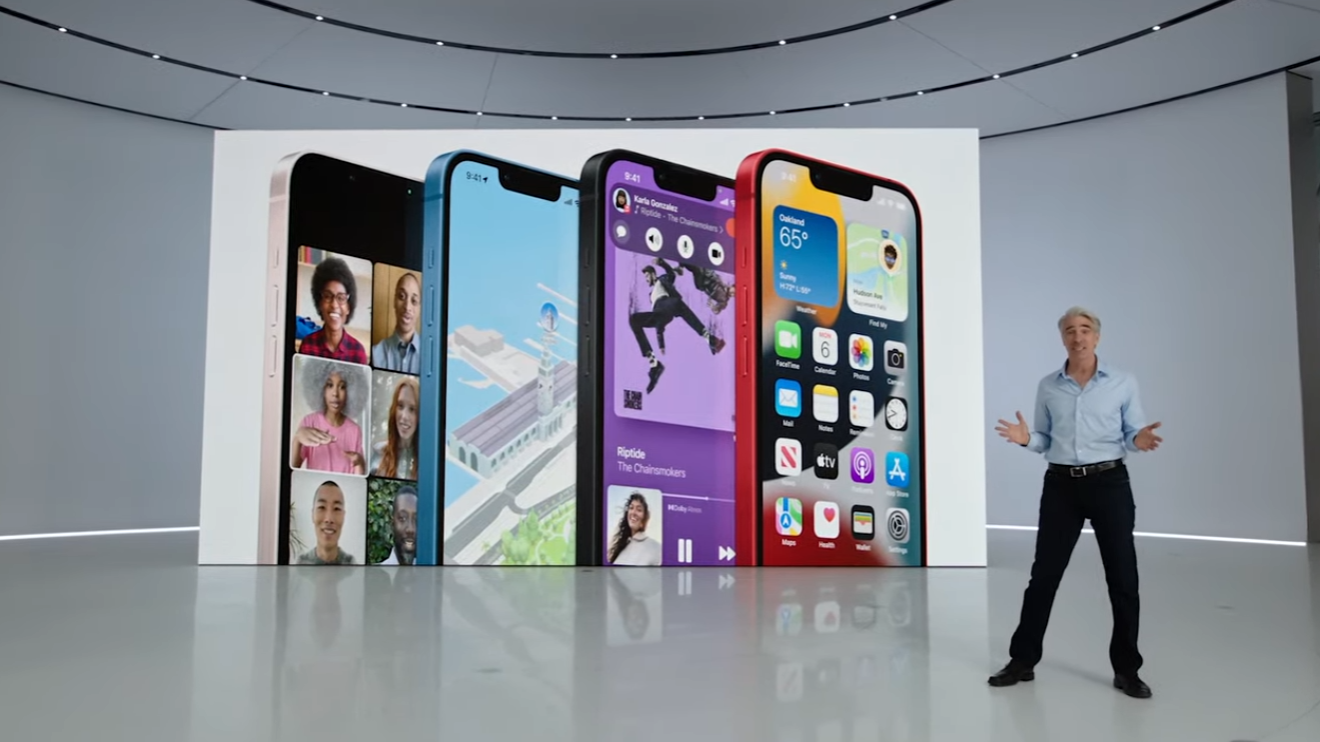 Federighi goes on to introduce Live Activities, which he says will "make it easier to stay on top of things happening in real time".
That's because notifications now roll in from the bottom of the screen, you can control how you see or hide them during the day.
There's also Focus, meaning you can divide which notifications present depending on which Focus setting you're in - so work or personal or whatever else can hide specific apps for certain times.
Messages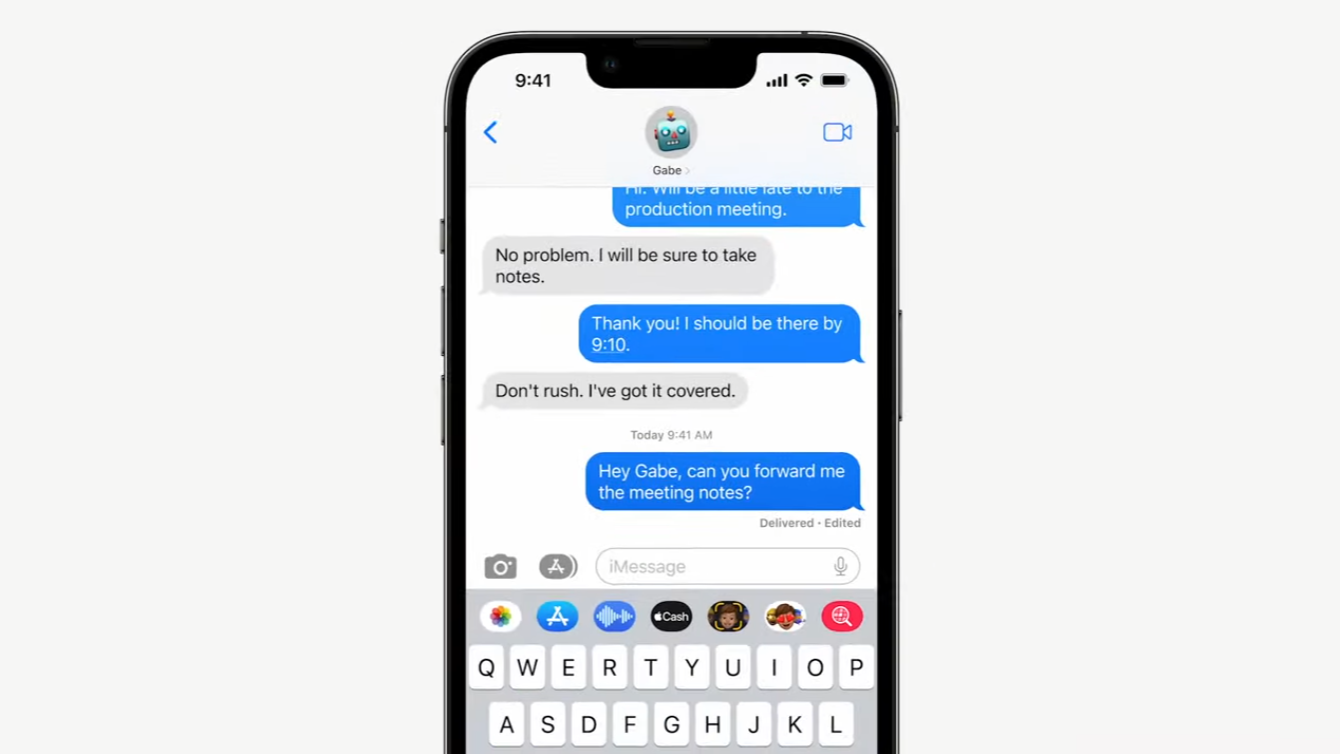 Apple's Messages app gets a boost too: you can now undo send and mark any thread as unread. Nice!
Apple's SharePlay also integrates with Messages, so you can comment in real-time while watching content in sync with others.
Dictation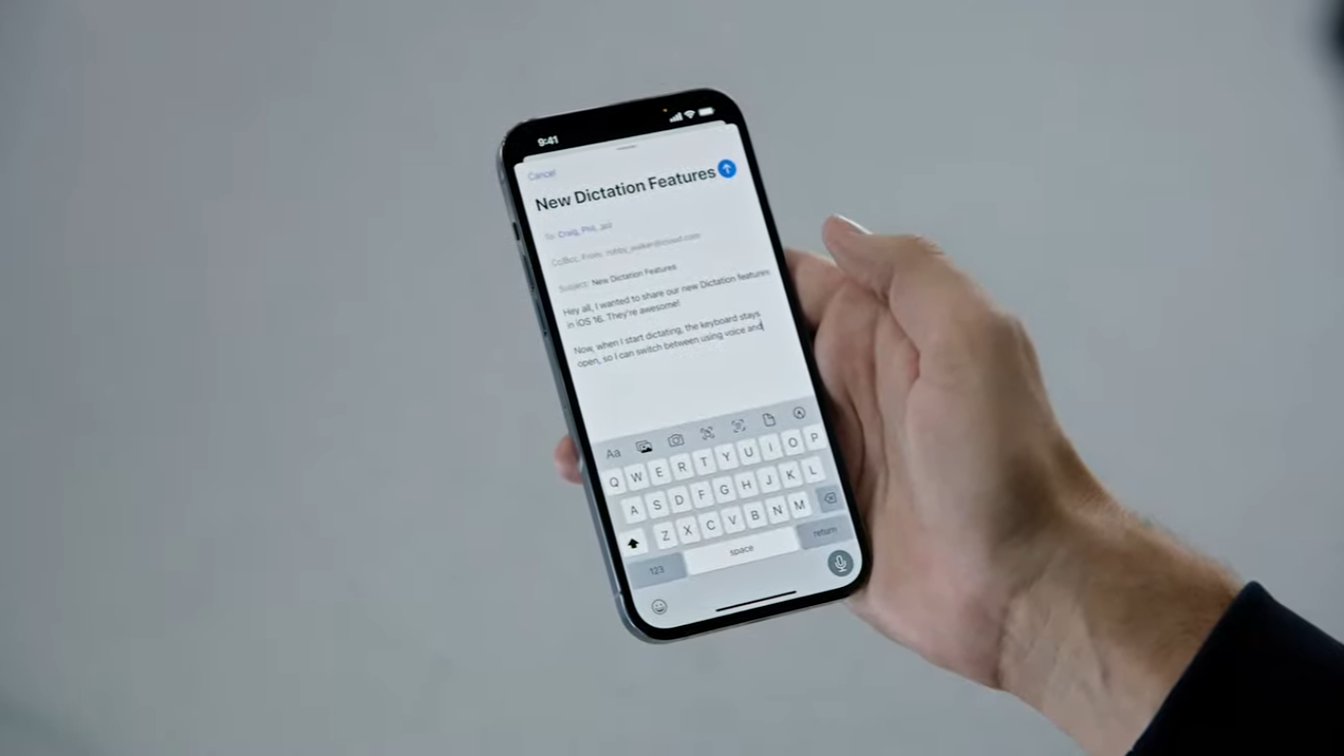 There's a bunch of massive changes to voice dictation too: it's now possible to integrate it with touch, so you can make quick edits, even move to a section of text, select it, then replace by voice. The keyboard stays open during dictation to make this far easier.
Apple Wallet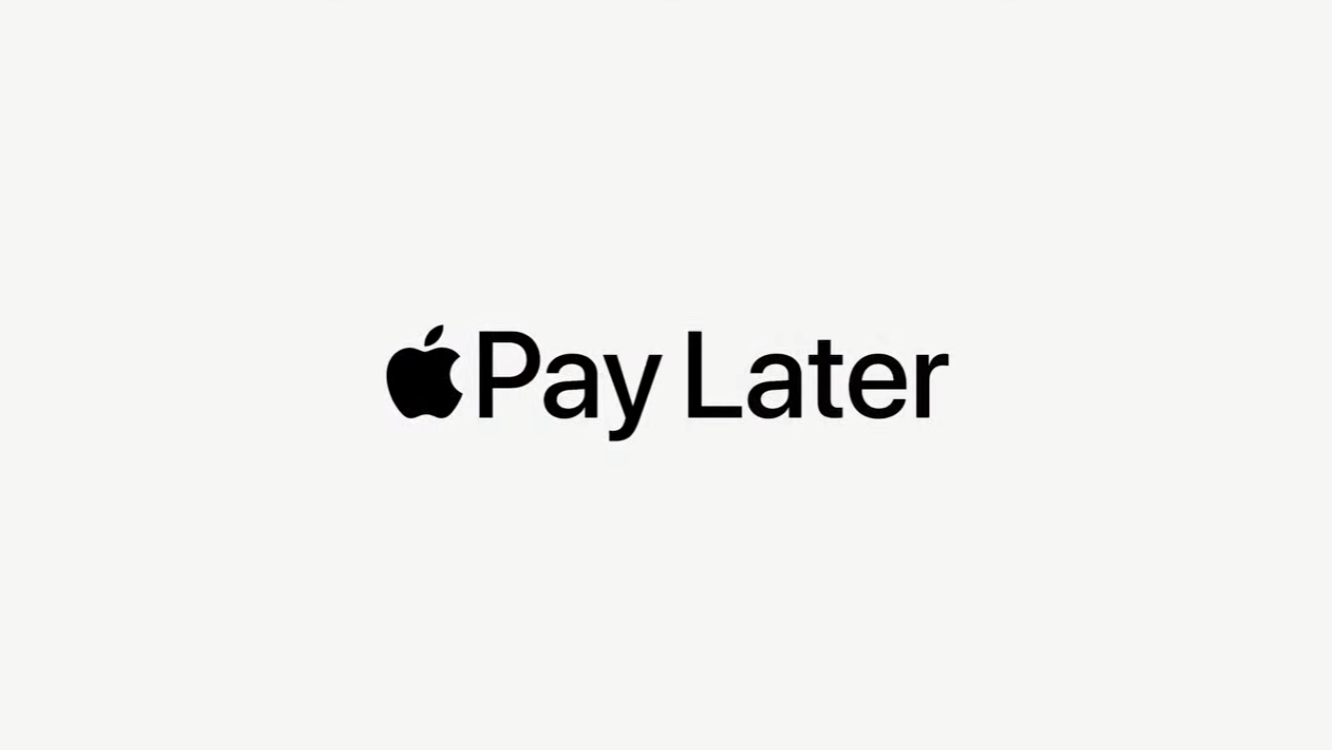 The big new feature here is Apple Pay Later. It's as it sounds: Apple Pay, except you can split the payment into four equal payments, month by month, with 0% interest. That's a huge change. Upcoming payments are managed through Apple Wallet, too, so you can always see what's forthcoming.
Apple Maps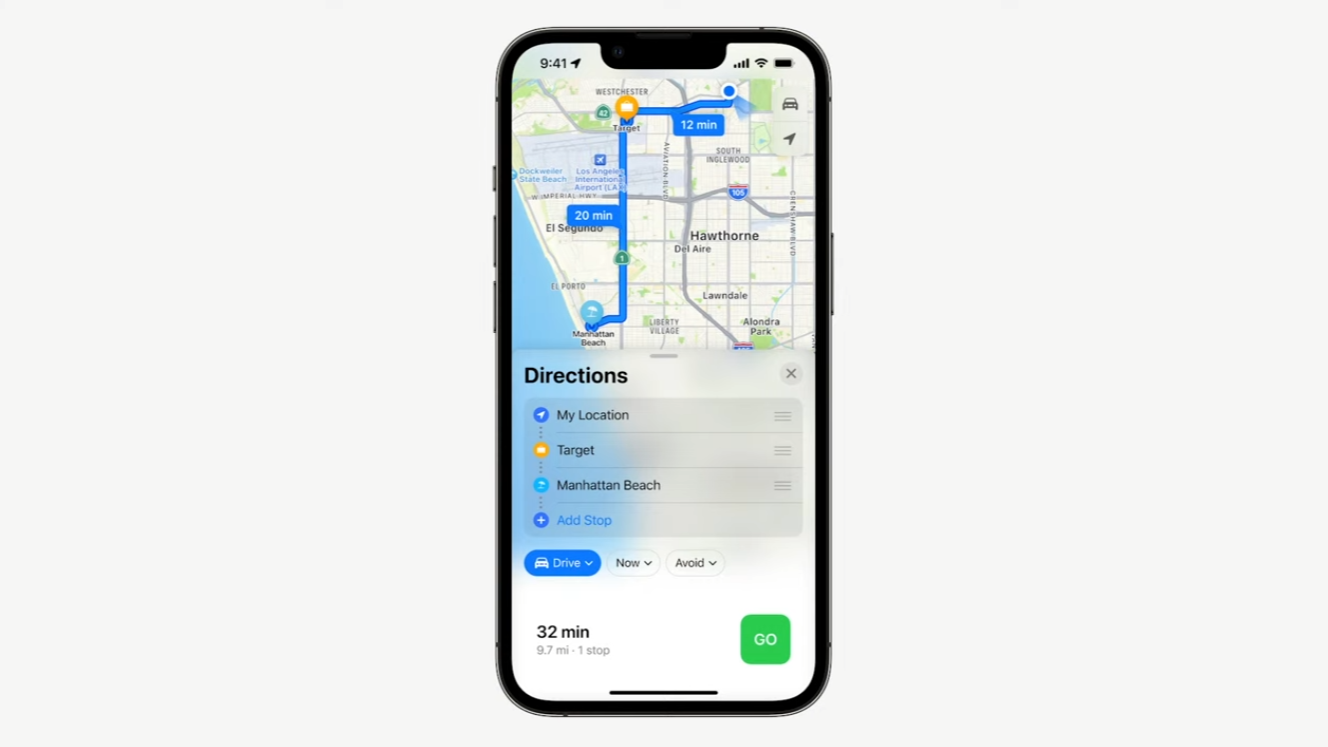 Finally! Apple is adding multi-stop routing, so you can plan up to 15 stops in advance. It'll even save routes in recent, so you can go back to frequent routings, while Mac can add multi-stop markers before sending to iPhone. Want to make edits whilst on the way? Siri can help you do that by voice.
My Sports
Apple News is adding My Sports, bringing Scores, Schedules, Standings and Highlights for your favourite sports teams. There's also premium content if you subscribe, sourced from top-tier media outlets.
iCloud Shared Photo Library
Want a better way of sharing photos with your family? Apple Photos will add iCloud Shared Photo library so you can do just that. So if there are photos on one device that you want everyone in a family group to have then you can share them.
It's even possible to share automatically, with an auto-upload to Shared Library. This can be controlled by geo, too, so when taking photos with family and friends nearby it'll share into their library right from the off.
Everyone given permissions in a group can edit, caption and delete anything in the Shared Library, thanks to equal permissions.
All-new Home app
Rebuilt from the ground up, the new Apple Home app has a new look enabling you to see your entire home's connected products in a single view.
New categories, such as Lights, Security, and so forth, are broken down so you can access by accessories type as applicable.
Those new Lock Screen widgets are also available, so you can integrate Home right there for quick glance.
Apple CarPlay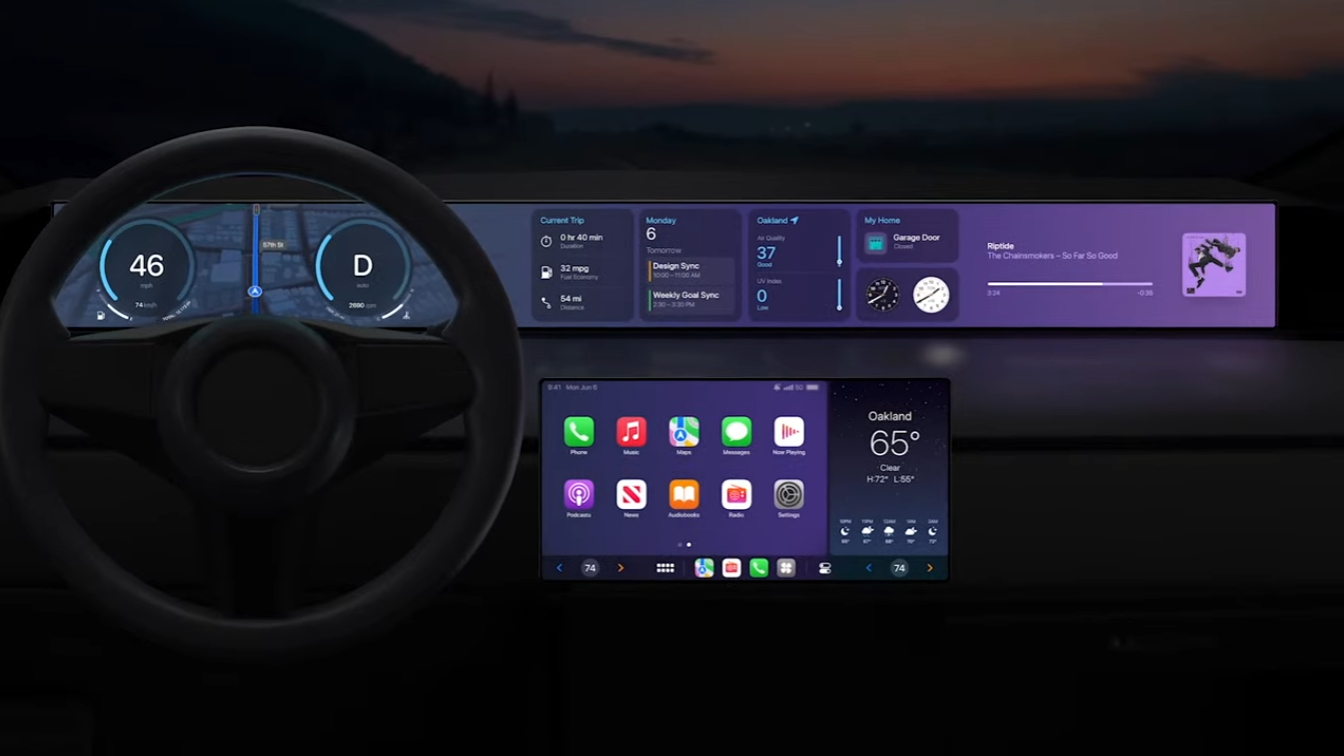 Well hello there redesign. CarPlay is getting a fresh new look.
The latest CarPlay will provide customisable content for all available in-car screens, which is important given just how many of those you'll find in some vehicles - such as the Honda e.
Next-gen CarPlay can power your entire instrument cluster, too, syncing with instruments and enabling you to select what you want to see and where.
It's not coming that soon though: "later next year". That's quite a wait.
watchOS 9
The Apple Watch 8 isn't likely to be revealed at WWDC, but that hasn't stopped Apple from showing off watchOS 9 - which will feature on the next Apple Watch.
It's got new watch faces - Astronomy, Lunar, PlayTime, Metropolitan - along with new banner notifications and pinned apps to top for better ease of use.
Run, run run!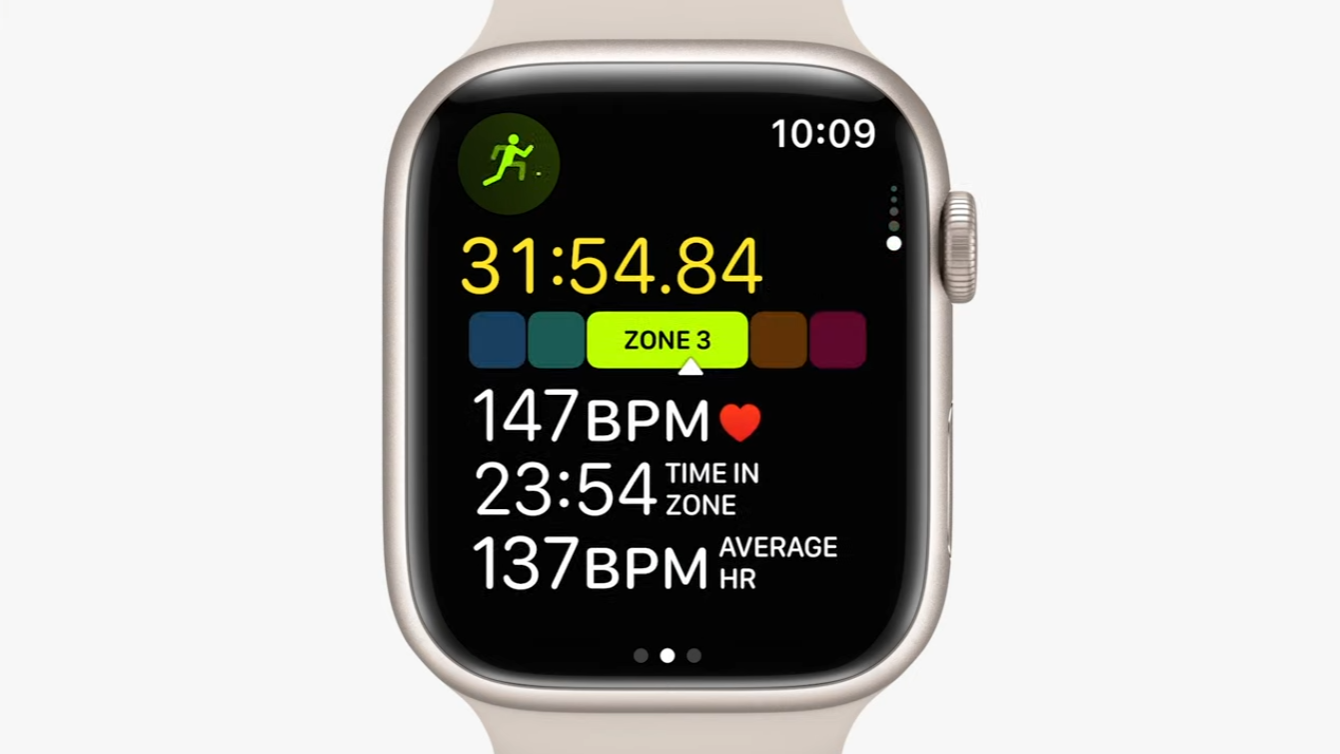 It's ok, stay here. But Apple is adding new features for runners: watchOS 9 will use the Apple Watch sensor's to read vertical oscillation, stride length and ground contact time (GTC).
There's also an introduction of heart rate zones. About time! You can real-time view these too, to target specific training. And new custom workout functionality means you'll be able to add reps or targets in specific zones.
Sleep!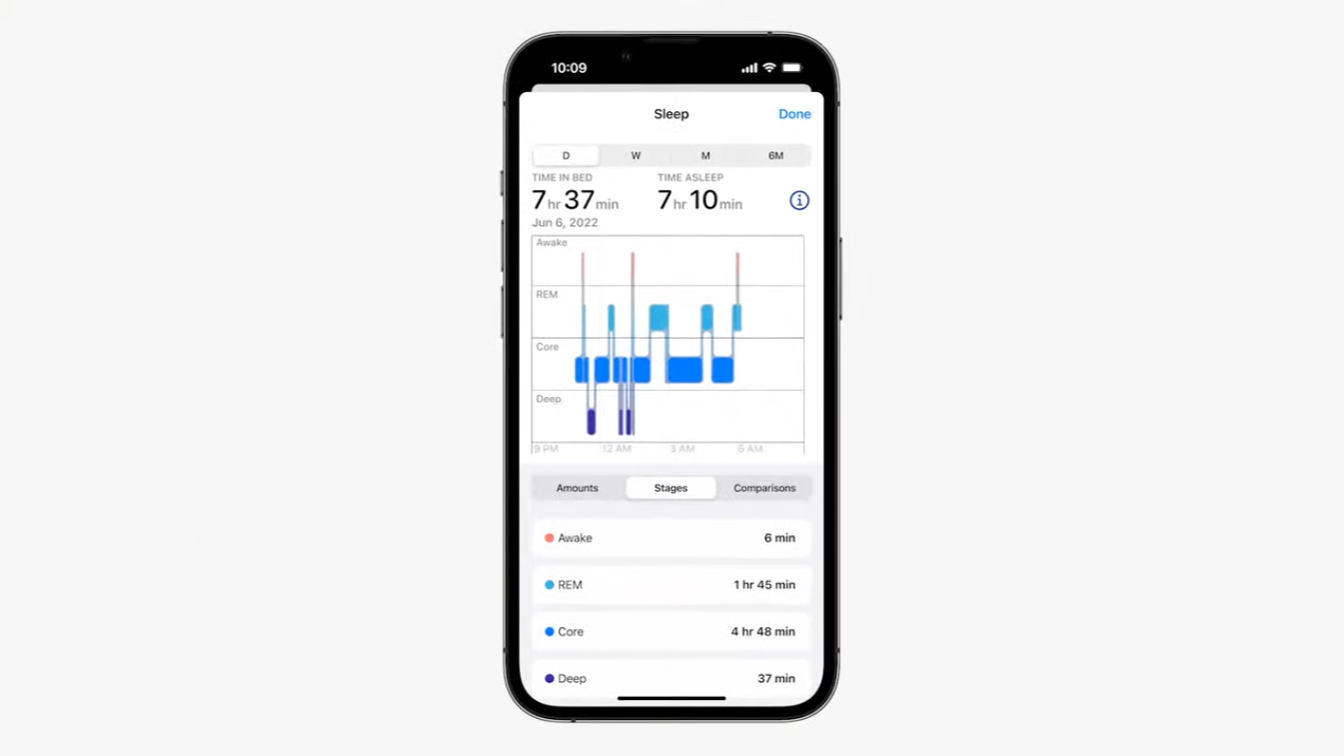 No, don't, there's too much good new Apple stuff to get your head around. But know this: watchOS 9 will introduce sleep stage data.
You'll also be able to track Afib History, and log Medication data to integrate with rich notifications (including critical interactions to avoid any potential issues).
Mac attack: M2 is official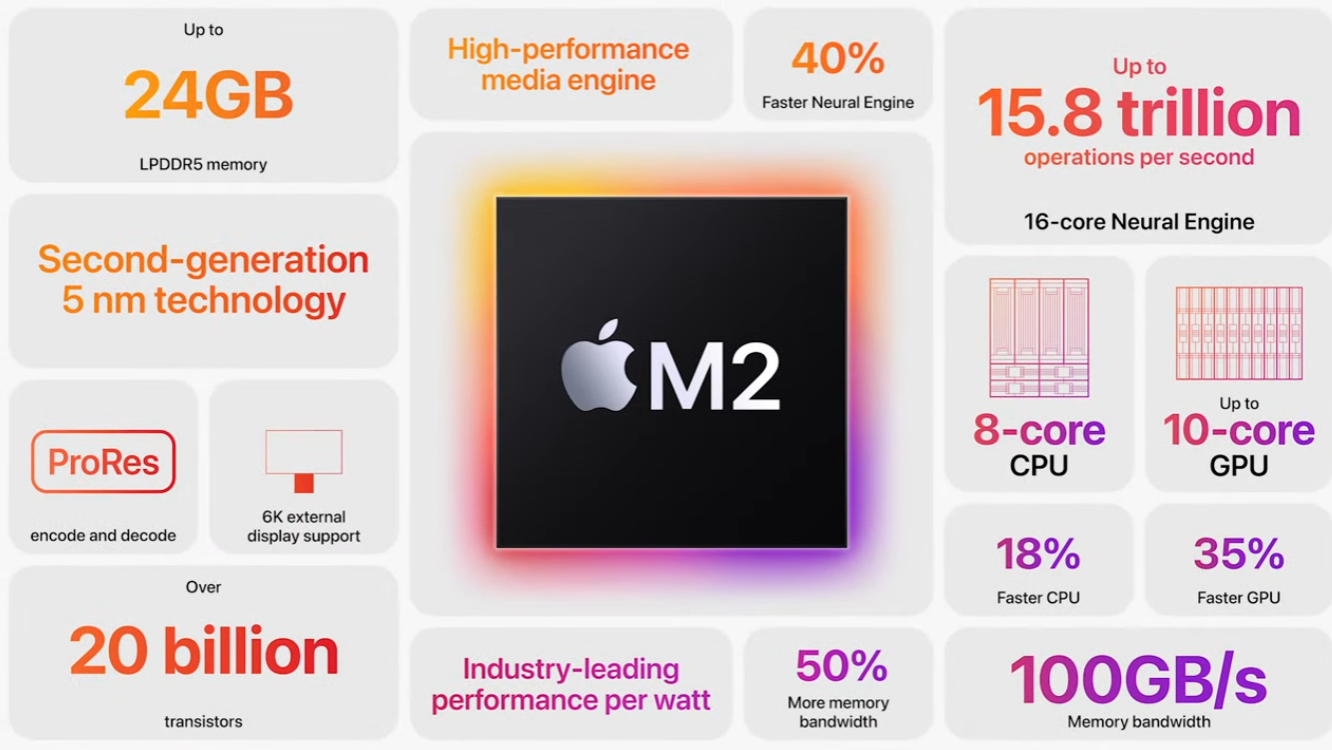 Here it is! Next-gen Apple silicon: M2 is here.
It's all about power-efficient performance. So while there's 100GB/s unified bandwidth - which is a 50 percent bump over M1 - with up to 24GB unified memory, it's all about delivering with lower power for enhanced battery life.
M2 has an 8 core CPU, with faster cores, and the GPU can host up to 10 cores for a big graphics boost of up to 35 percent.
All-new MacBook Air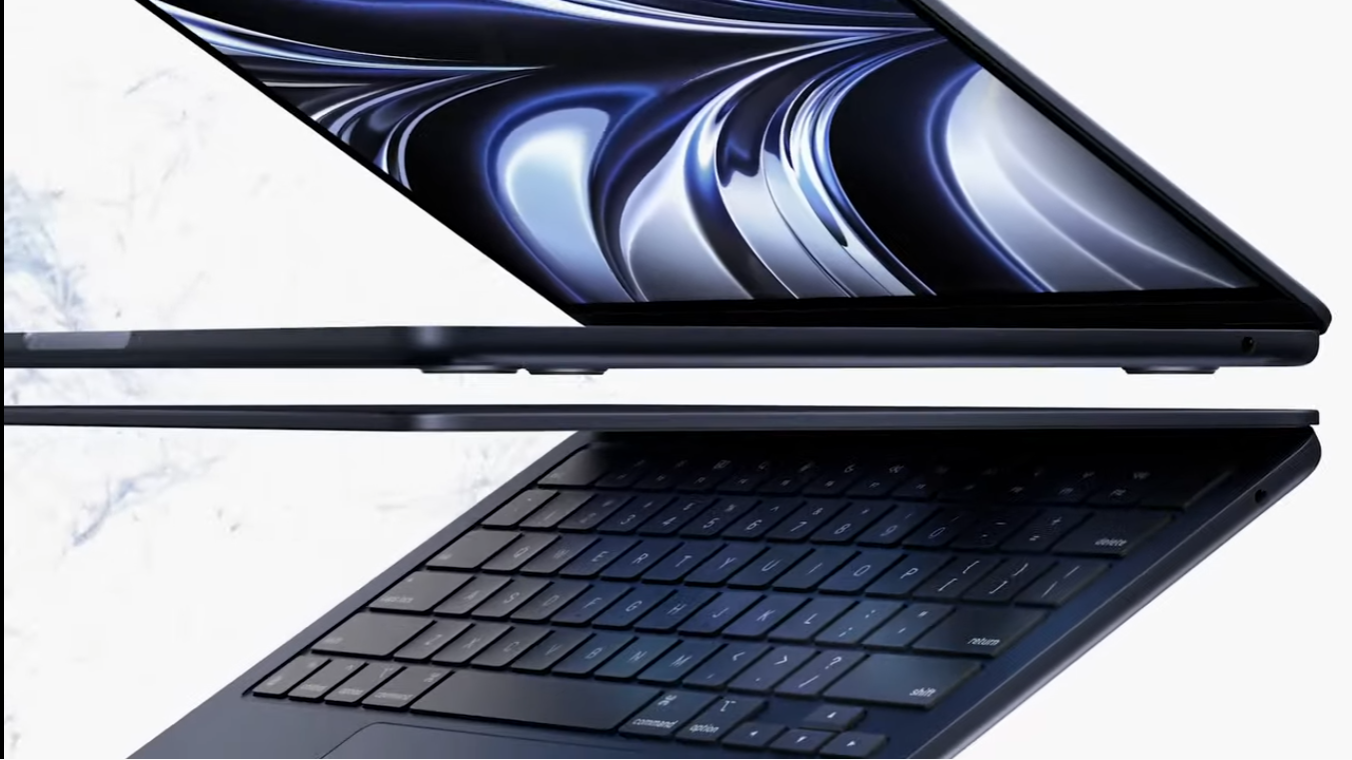 The rumours weren't wrong: there's an all-new MacBook Air, which has been built around the M2 silicon - delivering up to 18 hours of battery life.
It features a Liquid Retina Display, at 13.6-inches, complete with screen notch, but with smaller bezel to the edge. It's also 25 percent brighter than the outgoing MacBook Air. The camera in that notch is 1080p, too, finally!
The all-new Air is super thin and light too: there's a 20 percent reduction in overall volume in the unibody design, while the 11.3mm thickness and 1.2kg weight of that aluminum frame ensure it's easily portable.
The 2022 MacBook Air will be available in Space Grey, Starlight, Midnight Blue, and Silver. Not the flurry of colours that was rumoured, but they all look smart.
MacBook Pro gets M2 too
Said it was a 'Mac attack': M2 is getting the wider treatment, as it'll also feature in MacBook Pro.
That means 8 core CPU with up to 10 core GPU to give more power than the M1 equivalent. It won't rule out the M1 Pro or M1 Max options that will be a better fit for some professionals though.
macOS 13 gets its new name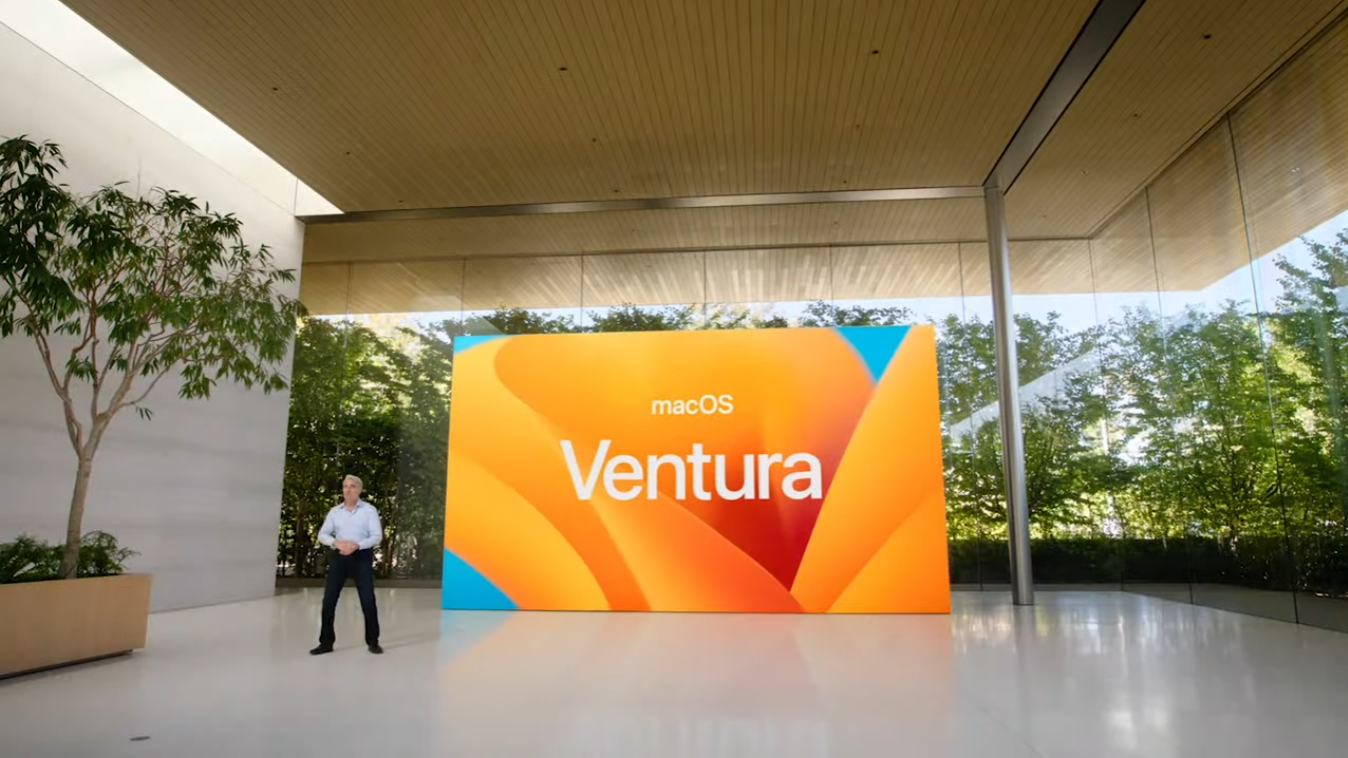 The name might be more interesting than the updates. Monteray's follow-up is called... Ventura. That's a way better name than the rumoured Mammoth.
Ventura new features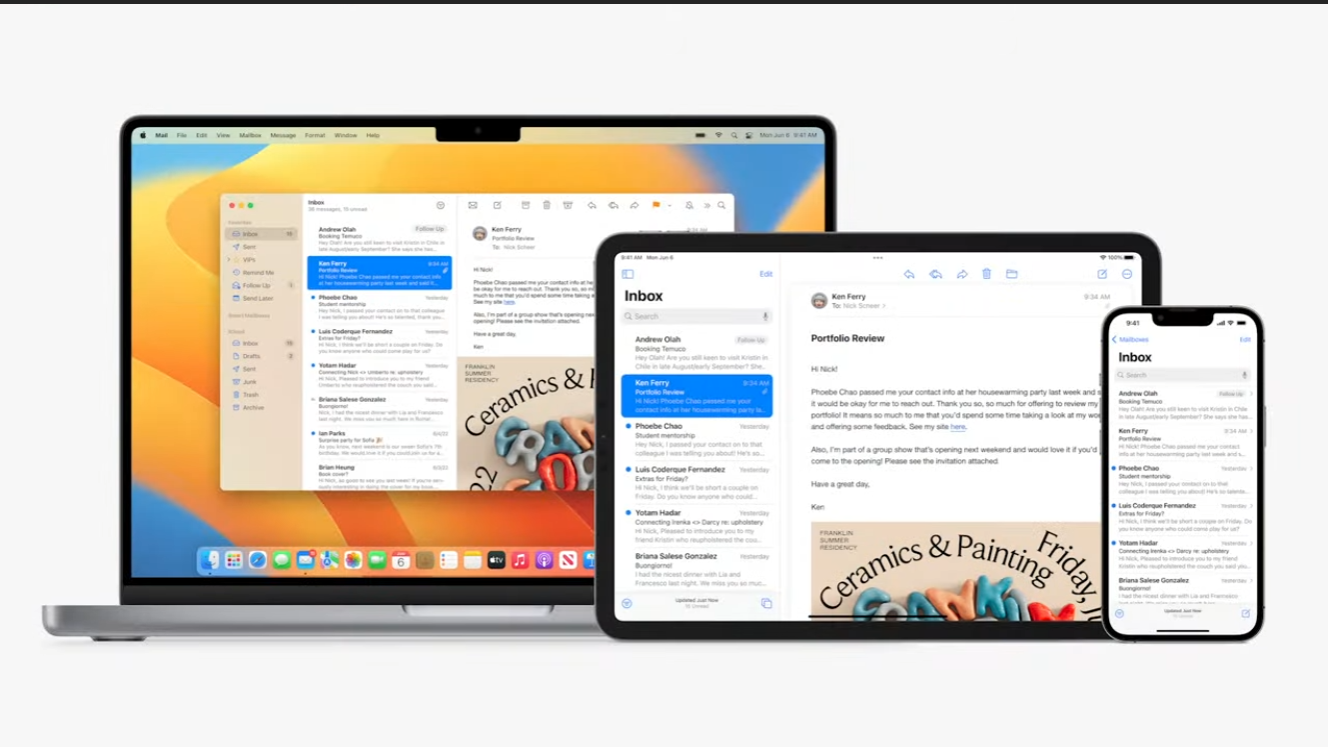 The new software adds Stage Manager, which can be activated to bring the current app front and centre - all other apps sit off to the side, ready to be clicked on and brought back into play.
Mail adds undo send, among other features. Search within Mail gets an overhaul, highlighting recently surfaced attachments and files. These features will also arrive in iOS and iPad OS.
Passkeys: secure passwords designed to work for specific websites or apps only. It's the first step in the move away from traditional passwords.
Continuity
Hand-off is getting extended to FaceTime. So you can move an iPhone call straight over to iPad or Mac for a larger screen view, should you prefer.
Continuity Camera is also revealed: so you can use your iPhone's camera as a webcam to display on your larger Mac screen. Or, you know Apple, you could just make MacBook cameras much better?
There is one cool new feature from Continuity Camera: it's called Desk View, which uses image processing to present a top-down-like view of what's on your desk. Interesting, assuming it works seamlessly...
iPadOS 16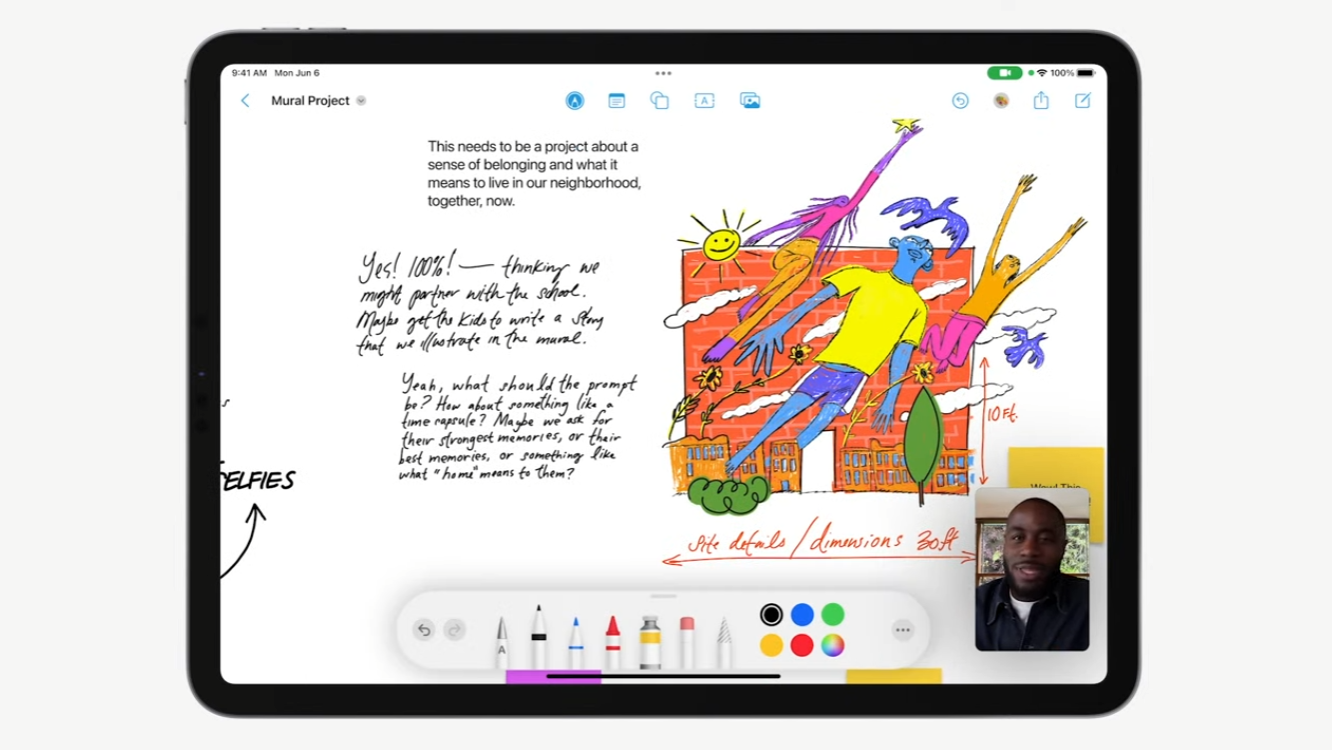 The Apple iPad's software gets its update in iPadOS 16.
Headlined by Weather for iPad. No, really. Weather hasn't been available for iPad before - which is pretty crazy if you think about it.
Collaboration is a new feature that connects a shared document with communication. Sync Messages or FaceTime to an assigned collaboration group.
Coming later in 2022 is Freeform: it's a brainstorm board where you can add whatever you please in a Collaboration session. Basically a big whiteboard that makes best use of Apple Pencil - which is something MacBooks cannot benefit from.
iPadOS 16 also adds a bunch of more Mac-like features: Undo/Redo, Find and merge cards in Contacts, change file extensions, view folder size, a redesigned Find and Replace that works in-line, and customisable toolbars so you can add that tools that matter to you most.
If you have an M1 silicon iPad then virtual memory swap can deliver 16GB memory to the most demanding apps. Clearly Apple is pushing to get iPad aligned as a true Mac alternative. It even offers some macOS 13 features, such as Stage Manager.
That's a wrap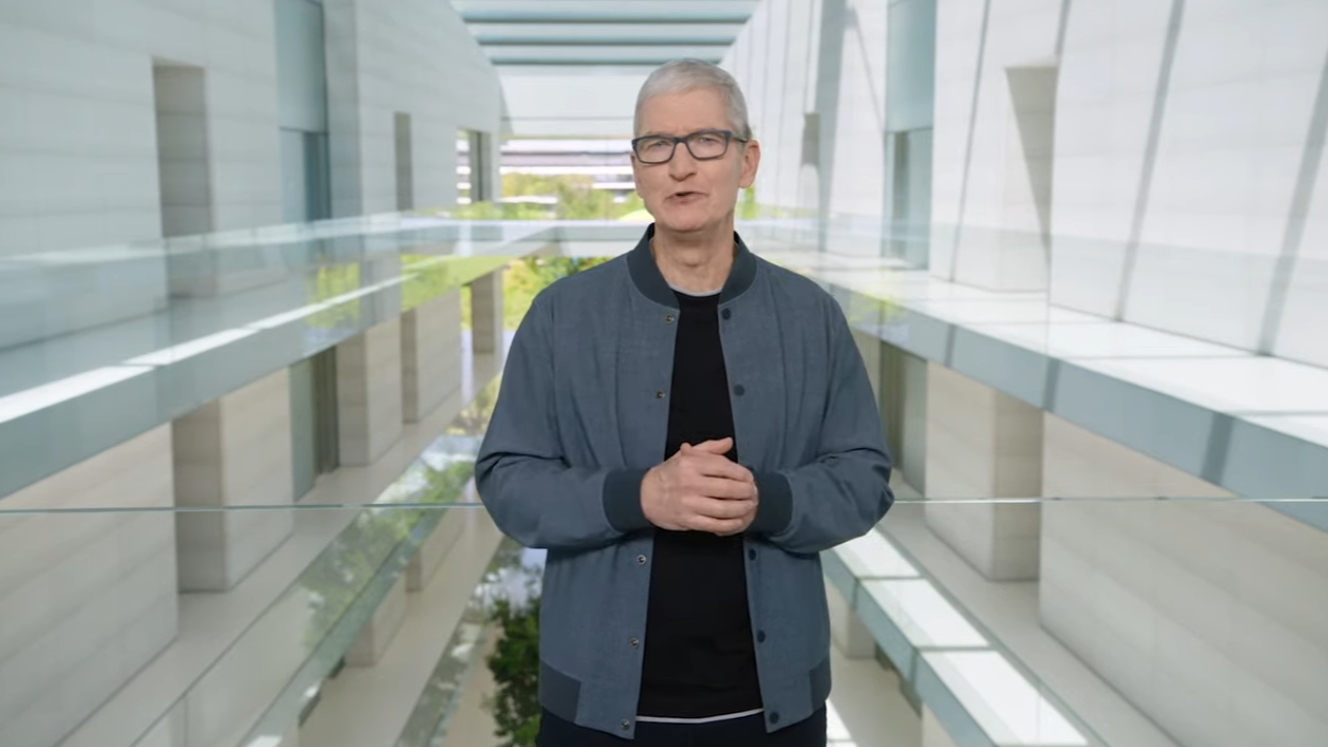 That's WWDC 2022's opening keynote over. It's been a bumper one with a heap of software update information - all of those will be available in beta for developers from today, while the public will receive release versions "this Fall".
That's an important timescale because it links with the September time-frame for the iPhone 14 and Apple Watch 8 launch. Maybe we'll even see an M2 iPad Pro at the same time.