There are probably two different reasons why you may be reading this article. You're either in the market for a new deep floor cleaner, or you're just a huge fan of cleaning in general and any new innovative product gets you excited. No? Okay, only me then. Well, maybe I'll be able to change your mind when you hear about this one.
This morning, Bissell unveiled its latest innovation, the Little Green HydroSteam Pet. It's the only portable deep cleaner that features HydroSteam Technology, making it easier than ever to clean messes on carpet, upholstery, auto interiors and even tile and grout.
The Little Green HydroSteam Pet is actually the third cleaner from Bissell to feature HydroSteamTechnology. Following the launch of the hard surface cleaner CROSSWAVE HF2 and the ProHeat 2x Revolution Pet Pro carpet cleaner earlier this year, BISSELL is continuing its commitment to revolutionising home cleaning for every surface.
Before you find out more, why you don't you have a look at our best cordless vacuum cleaners or our best robot mops if you're looking for something a little different?
BISSELL Little Green HydroSteam Pet: Price and availability
The Bissell Little Green HydroSteam Pet is currently only available in the US and can be purchased from the BISSELL website for an RRP of $229.99. However, there is currently a sale on, making the deep cleaner $199.99. Take a look: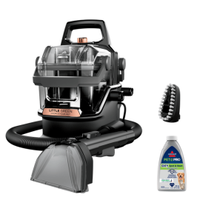 BISSELL Little Green HydroSteam Pet: Features
3 different cleaning modes
The Little Green HydroSteam Pet machine features three cleaning modes to tackle any kind of stain, from sticky, stuck-on food messes, to pet-related messes and accidents. The SteamWash mode is designed for stuck-on, sticky, oily messes and oxidizable stains. Wash mode is specifically formatted for enzymatic stains, such as pet accidents, and Steam-Only mode is ideal for refreshing upholstery and cleaning tile, sneakers and more.
Fast drying capability
It dries upholstery in about 25 Minutes so you can enjoy clean, dry furniture quicker. Perfect for having a quick refresh before any guests come over!
Multi-surface versatility
The machine is also perfect for tackling tough stains on soft surfaces – such as carpet, upholstery, stairs and auto interiors – with the 5" Tough Stain tool. It also works really well on as hard surfaces, including tile, grout and even sneakers, with the Multi-Surface tool.
Permanent stain removal
The machine comes with Bissell PET PRO OXY Spot & Stain Urine Eliminator with StainProtect Formula, the company's most powerful portable stain removal formula.
Dual tank system
The dual tank system helps keep clean water and formula separate from dirty water, pet hair, dirt, and debris.
BISSELL Little Green HydroSteam Pet: Design
When designing the Little Green HydroSteam Pet, Bissell actually enlisted Barbara 'Brunch with Babs' Costello, TikTok's favorite grandmother, to put the machine to work. She tested the machine as she fearlessly developed holiday entertaining recipes and décor tips that embrace the wonderful memories and messes the season can bring. With the product being the newest addition to the TikTok-famous Little Green lineup of cleaners, it is bound to become a hero in the home this holiday season.
The Little Green HydroSteam Pet portable deep cleaner also doesn't just clean up after pets, but it helps save them as well. When you buy a Bissell product, the company donates to Bissell Pet Foundation, a non-profit organization dedicated to reducing pet homelessness.
Looking to do a bit more research? Check out our full reviews of the Bissell PowerClean and the Bissell MultiReach Active to find out more.