Bang & Olufsen have a few great deals floating around this Prime Day, but few have blown us away as much as this one - the Bang & Olufsen Beoplay Portal gaming headphones are just £164 right now.
To put this into perspective, this is the gaming headset we use on an almost daily basis and it usually costs £449. That means it has a massive 63% off.
That's for the model best suited to Xbox Series X/S and Xbox One - it's part of the "Designed for Xbox" official series of accessories. However, it can also be used with your mobile phone and even a Nintendo Switch, with excellent Bluetooth 5.1 connectivity.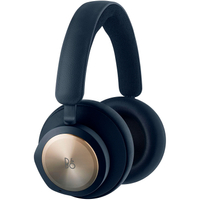 Bang & Olufsen Beoplay Portal for Xbox (navy): was £449, now £164 at Amazon
The Bang & Olufsen Beoplay Portal isn't just a conventional gaming headset, it is designed to look and feel like traditional B&O headphones, so can be worn for everyday use too. The beam-forming microphone is hidden, while the premium style is B&O through and through.
Check prices: John Lewis £449 | Fenwick £449
The Bang & Olufsen Beoplay Portal headphones are also available in black anthracite and grey mist colourways.
Why choose the Bang & Olufsen Beoplay Portal gaming headset?
We can't stress highly enough, the Bang & Olufsen Beoplay Portal headphones are a great all-rounder for gaming and outdoor use.
Designed to look like classic B&O over-ears, they are made from premium materials and look as far removed from conventional gaming headsets as you can get.
They can be used wirelessly with the Xbox Series X, Xbox Series S and Xbox One, thanks to built-in 2.4GHz connectivity that works seamless with the consoles. Add an optional Xbox dongle to your PC and they'll connect to that too.
You can also connect them to any Bluetooth device, such as an iPhone or Android handset, for more general use.
There's Dolby Atmos support and active noise cancellation on board, so you won't be distracted by ambient sounds while you game or listen to music on the train. And, it includes a beam-forming array of microphones to talk to fellow gamers as you play - there's no mic boom to get in the way.
Battery life is claimed to last up to 12 hours when playing wirelessly on an Xbox, up to 24 hours if you are using Bluetooth with ANC switched on.
Remember, you will need to be an Amazon Prime member to get this great deal. However, it's free for new subscribers for 30-days.