If like me you now spend a large proportion of your time working from home, you've bound to have come to recognize the importance of a decent monitor. I like working from a laptop but when you're staring at a screen for hours on end, a 13-inch display is just too small.
Pairing with an external monitor changes the game, to the point where I now struggle without one. The size of monitor that works for you will depend on how much space you have in your home office. However, I wouldn't go any smaller than 24-inches and beyond 32-inches gets a bit silly.
So when I spotted this Samsung deal (opens in new tab) among the best Prime Day Deals, it looked just right for my needs. At 28-inches, it's on the larger side without taking over my desk. It also offers a 3840 x 2160 4K resolution, to deliver excellent detail.
There's no high refresh rate here (just 60Hz), but as I'm not much of a gamer – at least not on my laptop – that's no real concern. There's two HDMI ports and a display port, so I can easily plug in my work and home machines.
Of course, the biggest pull is the price. for one of the best 4K monitors, you would be paying over £500 but this one with its current discount is under £200. At that price, I can forgive its lack of USB ports and slower refresh rate.
If you really want to go larger, there is a 32-inch version (opens in new tab) that is just £30 more. As tempting as that it though, it's just a bit too big for my desk right now.
Update: if you are looking for a gaming monitor, this Samsung 32-inch 165Hz model (opens in new tab) is even cheaper at £189.99.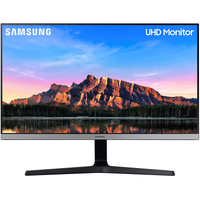 (opens in new tab)
Samsung 28-inch 4K monitor: was £249.99, now £199 at Amazon (save £50) (opens in new tab)
This 28-inch Samsung monitor provides an ideal size for most desks and an excellent resolution. The current savings take this price below £200 and make it an easy choice.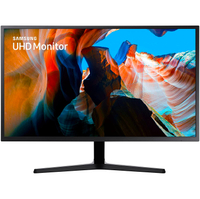 (opens in new tab)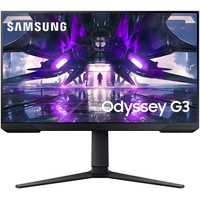 (opens in new tab)
Samsung Odyssey 32" 165Hz gaming monitor: was £299.99, now £189.99 at Amazon (save £110) (opens in new tab)
This 32-inch gaming monitor has a 165Hz refresh rate and 1ms response time. With the huge £110 discount, it's a real bargain right now.