Bad news: whether you clean as you go, or are the type of masochist who prefers a big clean at the weekend, you'll still spend at least five hours a week cleaning your home. And yet even after all that effort, there are still bits that remain untouched, collecting dirt, and making you feel guilty and bad. Wouldn't it be better to clean more efficiently?
That's why we've teamed up with AO.com to put together this handy list of cleaning shortcuts, using your trusty dishwasher to cut the time you spend cleaning.
If you thought your dishwasher lacked versatility, think again: from bathroom hacks to washing fruit and veg, here are seven ways your dishwasher can save you precious time. And you can even clean dishes with one, believe it or not!
About AO.com
Offering next day delivery on a wide range of products and an unbeatable 5-star rating on TrustPilot (from over 100,000 customers!) AO.com is the go-to for all your electrical needs. Keeping its customers' needs in mind, AO.com are proud to stock Beko's range of dishwashers and can guarantee price matching with other retailers, so you'll never be left out of pocket…
1. Use it to clean the kids' toys
Toys are a breeding ground for germs and young children in particular seem to love nothing better than to put bacteria-ridden items in their mouths at the best of times. In many case, however, a quick spin in your dishwasher will remove dirt and kill bugs on plastic toys. Some baby toys are even specifically labelled dishwasher safe. If not, wash on the lowest temperature setting. Please don't put battery operated toys in the dishwasher, though, and tether smaller toys in the utensil tray or rack to avoid losing them.
The other great thing about cleaning this way is that the toys will come out dry. And less drying time = fewer tantrums. That's just basic science.
2. Find a dishwasher that takes care of itself
One day, someone will invent a self-filling and self-emptying dishwasher. Until that happy day, there's Beko's new AutoDose Dishwasher. This saves you time by holding up to a month's worth of gel detergent, and saves you money by decanting the perfect quantity of gel or liquid for your wash every time. All you have to do is fill it up, turn it on and go about your day.
What's more, the AutoDose Dishwasher is smart and Wi-Fi connected. Download Beko's own HomeWhiz app and you can control it from anywhere. You can also order more detergent direct from the app, when it runs low.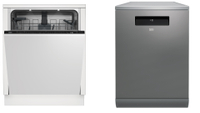 Buy Beko Autodose Dishwasher from AO.com for £399
Many smart dishwashers carry a premium price but the Beko Autodose Dishwasher is as affordable as it is feature-packed.
You won't need to order more detergent for it for a while as right now, the Beko AutoDose Dishwasher comes with six months of Finish Gel detergent, if you order it from AO.com before August 28.
3. Disinfect makeup sponges and hairbrushes
This dishwasher hack could not only save you time, but also save you from breakouts caused by dabbing away with dirty sponges. At least once a week, just whack them in the dishwasher and voila: the job is done. The same goes for hairbrushes and combs.
Avoid using the dishwasher on brushes with natural bristles, or those fixed with glue as the high temperatures could unset the glue, causing the bristles to fall out, and much unhappiness.
4. Clean your cleaning tools
Who watches the watchmen? We don't know, but we know what cleans our cleaning tools: the dishwasher.
Cleaning is even more arduous when the very things you are try to clean with are themselves caked in filth.
You can save both time and money by putting sponges, scrubbing brushes and non-powered vacuum cleaner tools and vacuum filters in the dishwasher.
5. Get rid of grime from bathroom accessories
Alas, you probably can't cram your bath, shower try and toilet into the dishwasher, although feel free to try. However, your shower head, toothbrush holder and soap tray can get horribly coated with soap scum and limescale which can take ages to scrub off, but should all be dishwasher safe.
And while the dishwasher is sorting them out, you can turn your attention to the floors, sink and shower screen. Sorry about that.
6. Clean your oven and hob
Nobody likes cleaning the oven. Burnt-on food is notoriously hard to clean off but done regularly, your dishwasher can save you from hours of scrubbing with unpleasant chemicals.
To kick things off, put your oven shelves in a large plastic bag and pour in vinegar and baking powder – it might be advisable to do this in the bath. This solution will start to fizz away baked-on dirt. Leave for half an hour, then put them in the dishwasher to finish the cleaning process. You can also put hob pan supports and hob burner caps in the dishwasher.
7. Use it to batch rinse vegetables
This is an unusual one, but a real time-saver if you have a load of fresh produce to wash.
Obviously, don't put any detergent in, and don't use a heated programme unless you also want to partially cook the veg. Switch your dishwasher to a cold rinse, and pack the veg close together to reduce movement and prevent bruising.
This is a particularly great tip if you have lots of potatoes or other root veg to clean as they are hardier – brush off any loose soil beforehand to prevent damage to your machine.
Ready to speed up your spring clean?
With Beko's new hassle-free AutoDose function, you can fill your machine with a month's worth of gel detergent and let the machine do the rest. As it decants the perfect amount each time by cleverly sensing how dirty your dishes are, you also get cleaner dishes and less waste.
Europe's first connected dishwasher, the Beko Autodose can also be controlled via the HomeWhiz app from anywhere you may roam. There's also Alexa compatibility, so you can use your Amazon Echo-compatible speaker to control the Autodose Dishwasher with your voice. Just order it to wash your dishes, then kick back and relax.
• Purchase either the Beko DEN59420DA Freestanding Autodose Dishwasher or the Fully Integrated AutoDose model DIN59420D before August 28 at AO.com and get a free six-month supply of Finish Gel dishwasher detergent.