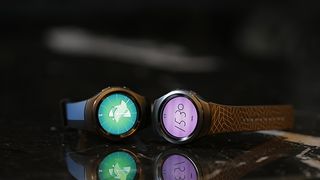 Intro
Berlin's is known as techno city, although that's usually more down to its boshing electronic clubbing scene. However, during its big tech show IFA, it takes on another meaning. The show proper kicks off today, but we're already on our way home, having spent this week previewing, scoping out new tech and seeing the sets being built by highly efficient Germans armed with cordless drills and spirit levels, in the magnificent Berlin Messe halle ("big hall" in German).
IFA is mainly known as a home AV showcase and we did have some fears that, post-Apple Watch, we had reached 'peak wearable' and that, as a result, IFA would be decidedly lacking in smartwatches and fitness trackers, but it seems we were wrong.
What came through is how little any of them deviate from certain set templates: keenly priced Android Wear watches; more expensive watches that are near identical to the cheap ones in terms of software but which have been designed to look more like a decent, mid-range watch (the Apple Watch's influence was obvious); and fitness trackers that have evolved a little since 2014, usually by becoming thinner, often more smartwatch-like, and by adding heart-rate tracking.
If there was a disappointment it was that there was less in the way of solar-powered jackets, lapel badges to detect UV and other more esoteric gear.
Although, to be fair, there was this.
And this.
And these…
What follows is our pick of the more regular wearable bunch, anyway.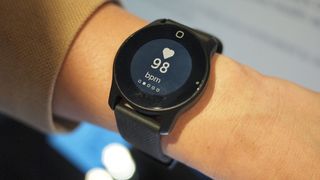 Philips Health Watch
Philips is a new name in wearables, but this move is no surprise. The brand's biggest money-spinner is actually medical products, so launching a connected home health range to challenge Withings, Homedics et al makes perfect sense.
So as well as a blood pressure monitor, body fat monitoring scale, and, er, in-ear thermometer, there's the Health Watch. This includes a 'proprietary' optical heart rate sensor and an accelerometer. What's interesting here is that Philips dresses this up in more 'medical' language, but essentially it's a fitness tracker, with 24/7 heart rate monitoring,step counter and sleep tracker.
Despite this, Philips claims it is 'unique in that it is being designed as a medical device to help prevent or mitigate lifestyle-induced chronic conditions'. Details on this are scarce so far, but its HealthSuite app not only tracks your 'health biometrics' it also offers 'a personalised health programme.'
This could mean anything from Jawbone UP-style advice to eat more veg and go to bed earlier to the type of advice you'd get from your GP. Our money's on somewhere in between, but there's potentially a leap forward in the offing here.
The device will also offer smartphone notifications, and hits the UK in April 2016.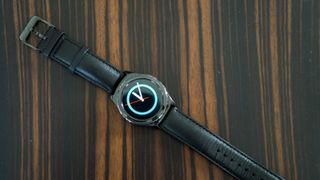 Samsung Gear S2 and S2 Classic
The Gear S2 Classic was one of the most attractive watches at IFA. We'd say it was more attractive than Samsung's previous smartwatches, but that would be like damning it with faint praise as they were impressive in tech terms, but hideous.
Arguably, Samsung has outdone Apple in the looks stakes here, and its 'rotating bezel' controller steals the interface crown from Apple's Crown. There are also two buttons and a 1.2-inch, 360x360,AMOLED touchscreen.
Inside there's a dualcore, 1GHz processor,512MB of RAM and 4GB of storage to acommodate some of the 1,000 apps on offer.
The device runs on Tizen rather than Android Wear. That's a bit of a gamble on Samsung's part as it means certain key apps are probably less likely to appear on it. However on the plus side, this slimmed-down OS is less power-hungry, which means a battery life of several days rather than the 'one, just about, if you're careful' that was standard for smartwatches until recently.
Samsung has also put out this, the Gear S2. Presumably aimed at a techier audience, it's considerably uglier (though identical in terms of internals). Sales so far suggest there isn't much of a market for smartwatches that look like gadgets rather than watches but maybe Samsung thinks, 'Hey, compared to the last Gear S it's pretty sexy so perhaps it'll fly…'
Intriguingly, the non-Classic S2 will also come in a 3G version (the release of which looks a little way off) that can operate without a smartphone. Who needs phones anyway, right?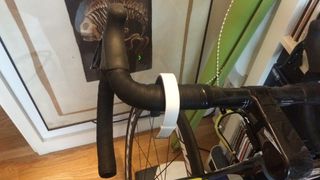 Sony SmartBand 2
Sony's lifestyle tracker is now compatible with iOS as well as Android. However, its Lifelog app, which really makes the most of the SmartBand, is NOT on iOS yet. So that's a, er, partial success.
The SmartBand 2 is an almost totally standard lifestyle tracker, with monitoring of sleep, steps and other activities. But mainly steps and sleep. It's made of a soft plastic that's slightly reminiscent of Haribo, charges easily via microUSB - so bonus points for that - and via Lifelog on your Android device, it also tracks where you are on a map, which is something you may or may not feel happy about.
We've had one for a week now and it's quite frustrating in that sometimes it detects activities very cleverly and shows you them in LifeLog - cycling for instance, or travelling on a train. But sometimes, it totally fails to. In a way, it might be better if it always failed, rather than tantalising us like that.
Even so, if you're in the market for a tracker with heart rate monitor, this is one of the cheaper options available.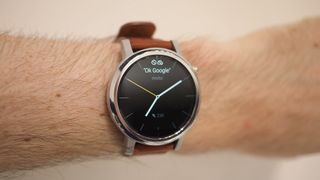 Moto 360 (2015)and Moto 360 Sport
Arguably the best smartwatch on show at IFA, though it was already announced before it, is the Moto 360 - read Spencer Hart waxing lyrical about it here.
The new 360 is customisable in terms of colour and straps, and it comes in three sizes - 46mm, 42mm and a smaller one, 'for women'.A Qualcomm 1.2 GHz quadcore CPU and 512 MB RAM mean it's nippier than the original and battery life is said to be 1.5 to 2 days. There's still a heart rate reader monitoring your pulse 24/7.
Yes, the display is in fact not quite circular - the 'flat tyre' effect persists from the first Moto 360 - but the watch as a whole is better looking than its predecessor, more comfortable to wear and IP67 water resistant.
According to Motorola, the 360 was the most successful Android Wear to date and this new version looks set to continue that. Whether that means it'll shift volumes comparable to Apple Watch very much remains to be seen, mind.
Yes, Android Wear is now iOS-compatible, but there are so many features missing from the Apple-friendly version at present that we almost wonder why Google bothered.
Similar to the Gear S2 and the Apple Watch, the Moto 360 also comes in this cheaper, more plasticky Sport version. The look is still quite strong, however, and unlike its plusher big brother, the Sport has GPS built in. The Sony Smartwatch 3 also has GPS and was previously the most convincing smartwatch for runners, cyclists and the like, but this looks more robust and comfortable, and so could easily take its crown.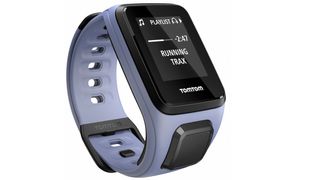 TomTom Spark
TomTom deserves two slight booby prizes for its IFA running- and multisport-tracking watch launch.
One is for Most Bewildering Product Range 2015, with the range including a fitness watch, a fitness watch with heart rate monitor, a fitness watch with heart rate monitor and music playback (there's 3GB of storage for about 300-500 songs depending on what quality you have them at). Then there's a music watch with bundled Bluetooth speakers. And a cardio watch with bundled Bluetooth speakers. That can play music. Got that? No, us neither.
The other prize must go to this for Weirdest Promo Image of the Week. She looks a bit like the worst super-villain ever.
Even so, TomTom's last generation of fitness watches were generally very good, though its app lacked some of the detail of rivals Garmin and Polar, and GPS could be slow to lock on. The Spark range looks like it improves on them in every way, being slimmer, faster and offering music playback without the need for a phone (on the models that do, anyway).
We're also promised smartphone notifications via a firmware update at some point later this year. Get in!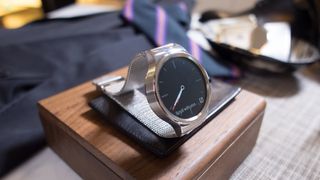 Huawei Watch
This is where Samsung's decision to use Tizen rather than Android Wear starts to look like a canny one. There's really very little visual difference between Samsung's Gear S2, this, the Huawei Watch - how's that for a nice, non-obscure product name? - and the Moto 360. Oh, and, to a lesser extent, the LG Watch Urbane.
The thing is, the latter three are all-but identical in terms of what they do and how they perform because they all use Google's wearable OS. Unlike with Android proper, Google is very strict about not allowing a lot of customisation or skinning of Android Wear, hence devices are almost indistinguishable except in terms of how they look. And these devices are really NOT very distinguishable in terms of how they look.
Still, this is thinner than the 360, and has a very crisp, 1.4-inch, 400x400 screen. That screen is also fully round, unlike Motorola's offering which has a funny little black bar at the bottom that some reviewers absolutely hate (although we can't say we're all that fussed, ourselves).
With three watch face variants - stainless steel, black or rose gold - and a selection of straps, there are at least ways to make the Huawei Watch stand out further from the pack.
It's another cracking looking watch, but Android Wear watches really need either more differentiation, or perhaps, perverse as it may seem, fewer brands making them. Given how sluggish sales have been so far, that may happen soon anyway.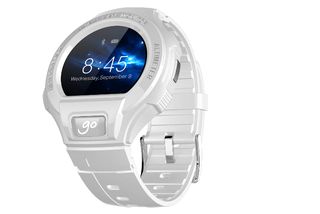 Acatel OneTouch Go Watch
Thankfully, Alcatel has unveiled something rather different to the prevailing "round, finely-crafted, running Android Wear" IFA smartwatch cliché. It uses Alcatel's own OS, the same as its OneTouch Watch from earlier this year, and it can't be accused of looking finely crafted, being as it is a big, chunky lump of G-Shock-resembling plastic.
The Go works with iOS and Android and does notifications and fitness stuff as you'd expect, but also holds out the tantalising promise of "Emotionpulse measurement". This basically seems to entail creating a random graphic based on the watch's sensors that you can share or use as a wallpaper.
You know what? We don't think that's going to be a big selling point.
Additional details are lacking, but this is sure to be cheap by smartwatch standards, so if you want a really chunky, waterproof, ruggedised bit of tech and are on a budget, dive right in, we say. Just look how massive it looks on Spencer's puny wrist!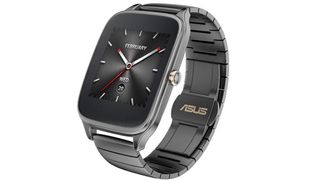 Asus ZenWatch 2
Another nice looking Android Wear watch? Why yes! Hey, at least the ZenWatch 2 isn't round, and with pricing from €169 for the smaller of the two models on offer, it's a bit of a bargain.
Two days of battery life is claimed, the screens are perfectly passable at 320x320- or 280x280-pixel resolutions, depending on which screen size you go for, and it does all the usual Android Wear things that we love so well.
And, uh, that's all we have to say on this one.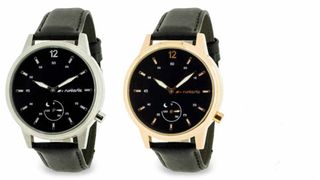 Runtastic Moment
This is the follow-up to the pretty excellent Runtastic Orbit fitness-trackin' runner's pal. But more than that, it's an attempt to put tanks on the lawn of Withings' Activité watches. Like that, the Runtastic Moment comes in two variants: one quite posh as pictured above and one rather more plasticky, as modelled here… Which to be honest felt pretty cheap and nasty to us at IFA.
However, having made one of the most successful run-tracking apps in the world, Runtastic's guys know what they're doing, and the more expensive variant (neither has a name yet) looks much better.
Made of stainless steel and waterproof to 300ft, it'll supposedly run for 6 months on a standard watch battery. There's enough storage to mean you only need to sync via Bluetooth once per week - although why you'd want to do it that infrequently, we don't know.
Like the Withings watches, the Moment will have a stab at tracking more than just steps, active minutes, calories burned and sleep. But unlike the Withings watches it'll probably make a pretty good job of it, because it does so by interacting with the Runtastic app. Start a run or other activity in the app, and the Moment's minute hand starts showing the distance covered in metres or feet, while the hour hand tracks kilometres or miles.
Pricing starts at £99, with availability from 'later this month'.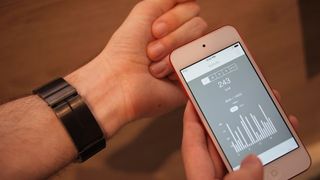 Sony Wena
Hoohoo, they said Wiener (for that is how Wena is pronounced). Mmmmmph! Pfffffft! LOL. We got hands on with Sony's Wena here. And its weiner.
This is an odd device in several ways. It was crowd-funded, despite being made by Sony, and it's only compatible with iOS, despite being made by Sony. But look beyond that and we have another Withings Activité rival, with step counting, sleep tracking and - unlike the Activité - basic smartphone notifications, under a chic face made with assistance from the experts at Citizen.
Here, the fitness tracking and message/call alerts are actually done by the strap. This means said strap is a tad chunky, though not unbearably so, but it also means you can swop out the watch face if you want and replace it with one of your own. So you can have a step-counting, vibro-alerting Rolex. If you like.
It's also water-resistant, and there's NFC so it could potentially be used for contactless payments. It's a cool thing, which may or may not come to the UK.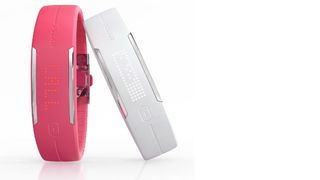 Polar Loop 2
This actually wasn't at IFA, but it's a nifty thing, so bear with us. Polar make cracking running watches and the first Polar Loop was a strong enough fitness tracker, even if it was nothing earth shattering. Version 2 comes in black, white and pink and keeps Version 1's dot matrix display for smartphone notifications and updates on your step progress.
What's exciting for us is that the Loop 2 looks just that bit smarter than most fitness trackers, as befits Polar's hardcore fitness background. You can sync it with its H7 heart rate strap for more accurate calorie counting, and daily fitness goals are based on your age, gender, weight and personal preference rather than being one-size-fits-all.
Tracked activity is separated into five intensity levels: resting, sitting, low, medium and high. Conceivably, the steps, distance, calories and sleep tracking might be more accurate than most too, thanks to 'highly accurate and individualized algorithms based on thorough research conducted by Polar.' Well, they do know their stuff.
The Polar Flow mobile app for iOS and Android allows comparatively detailed analysis and, if you're using a personal trainer, they can actually connect to you via the app and share workout info. The app can also suck fitness data from MyFitnessPal, Apple Health and Google Fit.