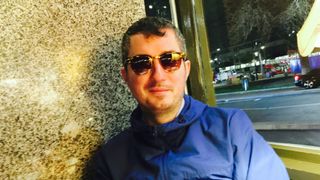 The best sunglasses for all budgets this summer
Sunglasses are one of the best things about summer. The last few years, the trend has been massively towards mirror shades, but there are also still plenty of brown and black tinted options out there for those who prefer not to rock the "sadistic prison warden" look.
Not only do they protect your eyes from the harshness of the sun, they also give men a rare opportunity to buy an accessory, to go alongside your watch and, er, your laptop bag.
In short, get yourself a decent pair of sunglasses and your eyes will stay safe, you'll be able to see where you're going, and you'll look (more) like Steve McQueen (a bit).
With sunglasses from the high-end likes of Persol and Gucci, people's favourite Ray-Ban, and one fairly outrageous-but-cheap pair from John Lewis, it's fair to say there's something for every face here.
Prices vary from as little as £15 all the way up to £200+, with looks from techy to edgy, from cool to classic.
If you're serious about eye protection, look out for filtering of UV-A and UV-B rays. Most of the glasses in this list boast both. Just want to look like a rock star? Choose based on looks and price, bearing in mind that you WILL eventually sit on them or leave them in a bar.
If you require prescription lenses, you'll need Rx compatibility, which involves paying more, on average. Them's the breaks.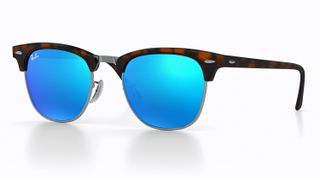 Ray-Ban Remix Clubmaster
Always the most under-rated of the Ray-Bans, Clubmaster is all about American-meets-Euro chic. Think The Talented Mr Ripley - but you don't have to be a sociopathic murderer to wear them! We hope!
The reason these ones look a tad odd is that we knocked them up using Ray-Ban Remix. This brilliant system lets you easily customise your own specs. Frame choices include Aviators, all the Wayfarer variants including folding, Clubmasters, obviously, and go all the way up to the techier Lightray frames, as seen here (this would set you back £198). Mmm, blue on blue.
You can choose from a range of lens colours (including reflective), temples (arms) and temple tips (the bits on the ends of the temples that go over your ears) and even have them engraved, in a choice of three fonts.
Prices vary, model shown £153 | Ray-Ban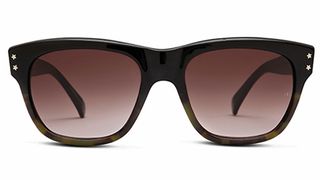 Oliver Goldsmith Lord
Oliver Goldsmith more or less made glasses fashionable by outfitting the likes of Peter Sellers in the them during the 1960s. This sunglasses style was the model worn by Michael Caine in the David Bailey shoot that led to that genuinely iconic image.
Look closely on this updated version and the lower rim of the frame is ever so subtly camouflaged on this version.
£275 | Buy Oliver Goldsmith Lord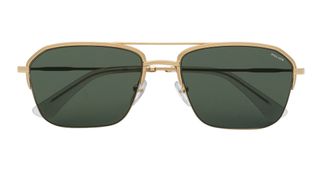 Police Highway Zero 1
Police has dragged Dolce & Gabbana bad boy Enrico Furlan in for questioning, and in return for all charges being dropped, he's designed this for the quintessentially 80s/90s Italian Paninaro brand.
Although there's still a distinctly 1980s vibe to Highway Zero 1, from the name upwards, they are lot more elegant than many recent efforts from Police, which have tended to be about as subtle as being pepper-sprayed in the face.
So the styling is more classic, the branding is toned down, there's a choice of tints – although obviously, you want the mirrored ones – while, as Police would have it, "angular frames add definition and intrigue to the style".
Now officer, do your duty and take down our particulars.
From £100 | Buy Police Highway Zero 1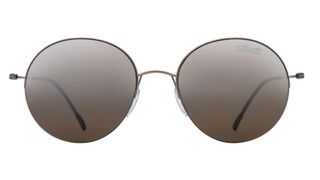 Silhouette Adventurer
Silhouette makes amazingly thin and flexible frames - these on-point rounded ones are so lightweight you may forget you're even wearing sunglasses.
Of course, being flexible they have the added benefit of being harder to destroy, as they sproing back when sat on or dropped. Or the frames do, at any rate.
From £156 | Buy Silhouette Adventurer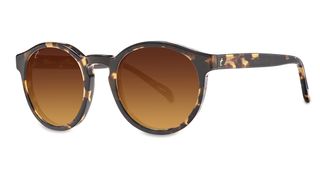 Tens Tortoise 'Bailey'
This pair of trend-hugging round specs is from a bunch of spunky kids who ran a successful Indiegogo campaign to get their range off the ground.
As well as offering a choice of very decent styles, there's a USP to Tens: the sunnies act as a sort of Instagram filter for your eyes, boosting colour and light and letting you see the world afresh.
So, in other words, they're fashion sunglasses, with sports sunglass lenses. Well, that's a great idea, so we've no problem with that.
£80 | Buy Tens Bailey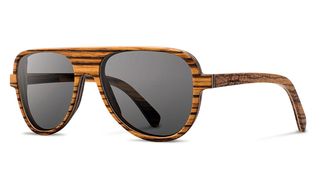 Shwood Medford
Yes, it's yet another Aviator style - a classic, if hardly an original choice. But look closer and this version cuts against the standard technical, tool-like aesthetic by being made of wood. So simple and yet so clever.
More precisely, they're made of zebrawood, together with a birch core and Carl Zeiss lenses - it's still sadly impossible to make lenses out of wood.
The advantage of this: over time wood will develop its own unique patina, so a pair become more and more yours, the more the sun shines.
£160 | Buy Shwood Medford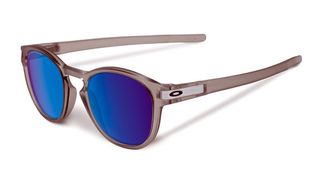 Oakley Latch
This range of sunglasses is built for skateboarders, but fine for you, and has a very interesting USP: a clip that holds them securely in your shirt pocket when not on your face. So they won't fall off when you bend over to tie up your shoelaces.
They're also a great-looking batch of sunnies, with numerous frame and lens colour options. The one above (matte, grey ink frame with iridium lenses, since you ask) is perhaps our favourite.
Oakley's usual non-slip nose pads, precision optics and lightweight/tough build are all present and correct, as you'd expect.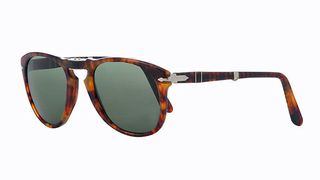 Persol Aviator 0714
Ultra-retro, super-luxe, folding sunglasses for the man who would be Steve McQueen. These heavy, classic shades are polarised and offer 100% UV filtering. They also fold at the bridge and temple, so you can origami them away somewhere discreet when not required.
Offering elegance and sophistication by the tonne, Persol is one of those brands you just can't really go wrong with.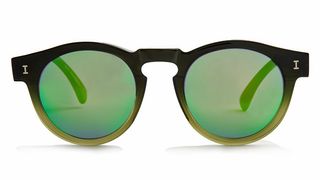 Illesteva Leonard
The past is so bright, you have to wear shades - specifically, if it's the 40s or the 80s making a comeback, ones with coloured lenses.
Giving everyone you see an alien, post-party palor - they really should get some more sun - this style sets green lenses into acetate faux-horn frames. And since they're mirrored, they won't know you're staring at them.
£140 |Buy Illestava Leonard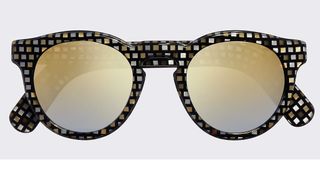 Cutler & Gross Cubist
Unlike optical frames, which become part of your face, there is a strong argument for pressing at the limits of taste and conservatism when it comes to sunglasses. That needn't mean crazy colours, however.
With the Cubist, Cutler & Gross keeps the shape classic and the tones muted but play with pattern within the acetate frame.
£310 | Buy Cutler & Gross Cubist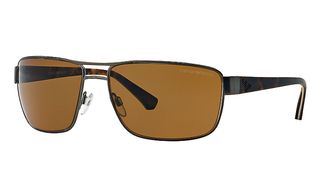 Emporio Armani EA2031
Absolutely fantastic, classic Armani sunglasses. Polarised brown lenses, just the right amount of rectangular-ness (excuse the overly technical language), steel frame.
And where some premium brands layer on the luxury with a trowel, leaving you with a pair of heavy, over-specced specs, these Emporio ones are relatively youthful and light, with a big EA eagle on 'em… Textbook.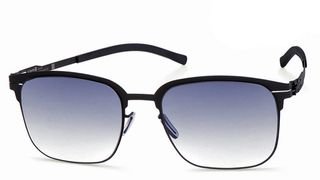 IC! Berlin Mathias B
IC! Berlin is an awesome brand, doing a genius mix of classic and very avant garde designs. Somehow, the results are nearly always very stylish and very intelligently manufactured.
IC! Berlin's signature specs are largely made of laser-cut steel, held together with a patented, one-of-a-kind screwless hinge system. Combined with the high-quality materials used, these glasses are hence virtually indestructible. As they should be, given a lot of the pricing.
This season, we're digging these Mathias B frames in black… Although rather more off the wall colour combos are available. Every pair has the brand's CEO's mobile number printed on them, should you have any complaints.
£370 | Unfortunately, IC.Berlin is so exclusive, you will have to look for them at an actual shop made of bricks.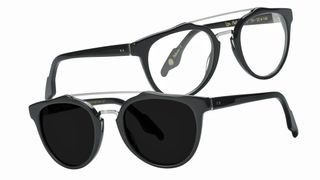 Vinyl Factory Philippakis x Transitions
Transitions lenses, available in green, brown or grey tints, go from clear when you're indoors to dark in sunlight, in seconds, with various shades in between in middling light. As a result, you get optimal vision at all times, and always look at least somewhat cool. They can be done to a prescription or au naturel.
They are arguably best known for tie-ups with Nike but Transitions optics also turn up in more style-oriented offerings such as this pair from Vinyl Factory. Well, obviously you can put them in any glasses, but this is a specific cross-brand synergy type scenario.
Vinyl Factory's frames are all named after legendary rockers, but also more pleasingly obscure ones, from Kate Pierson of the B52s to Yannis Philippakis of Foals, who lends his name to these.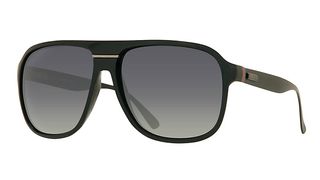 Gucci Aviator GG1076
Want to rock the West Coast (as in America, not the Bristol channel) retired gangster/film producer look? Get these nylon-framed Guccis with black gradient lenses. They're more lightweight than they look, and highly sporty, edgy and Italian.
First you get the money, then you get the power… And then you buy the Gucci sunglasses.
£120 | Buy Gucci Aviator GG1076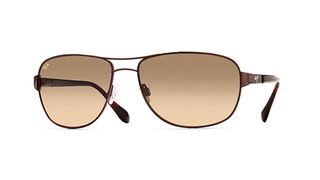 Maui Jim Sand Island
Named after a small island at the entrance of Honolulu Harbour, these Sand Island glasses offer wearers a strong combination of classic style and modern technology. What makes Haui Jim exciting as a brand is their advanced lenses, which fuse the best properties of SuperThin glass and polycarbonate to create a high-performance optic. The company claim their PolarizedPlus2 lenses wipe out 99.9 percent of glare and 100 per cent of harmful UV light.
They also look great and absolutely reek of luxury and excess.
From £200 | Buy Maui Jim Sand Island