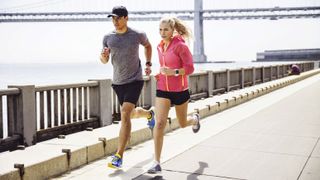 Top watches - not stopwatches - for runners
Whether you're going from couch to 5km, training for your first half marathon or planning on going the full marathon distance, a GPS running watch can seriously help you improve your performance. They're a real step up from most fitness trackers, which tend to be more about tracking steps walked and hours slept, neither of which are going to exactly push you to Olympian heights.
We've streamlined and improved our best running watch list, and it's now in order from best to worst. Of course, what suits us best might not be right for you, but we reckon these are the best running watches available, many of them packing GPS and heart-rate monitors.
From the Garmin Forerunner series to watches from Polar, Suunto and TomTom, these run-tracking watches put all your vital stats right where you can see them. Everything from pace and distance to heart rate, cadence and even altitude are made easily accessible to help you fine tune you run whilst you're on the move.
So if you want an extra scientific edge to your training, you've come to the right place. Many-time marathon finisher and ultra runner, Kieran Alger has put the latest GPS running accessories through their paces out on the pavements.
GPS Running Watch vs Smartphone Running Apps
While there are plenty of smartphone running apps like Nike+ Running and Endomondo, there's a real benefit to having your real-time stats where you can keep an eye them during your run.
Online tools for deeper stats and analysis
Almost all of these watches sync with online tracking tools that let you dig deeper into the details, create and download pre-planned coaching lessons and set up goal-specific training plans to help you achieve that running aim.
Prices vary, with some coming in at under £100, though if your looking for top drawer tech, you can end up spending upwards of £400.
Many of the watches here have pulse monitoring built in. Wrist-based heart rate sensors are adequate, but we'd generally recommend a strap-on, chest mounted heart-rate monitor if you want reliable accuracy at all times,and less frustration.
• The best running shoes should be your next port of call
• Followed by the best headphones for running
These are our favourite running watches, starting with our pick of the bunch, the Garmin Forerunner roughly in order. We've also indicated what type of runner each one is 'best for'.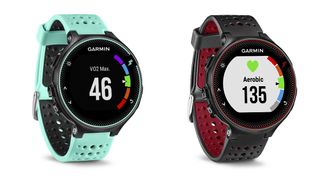 Garmin Forerunner 235
The successor to Garmin's impressive Forerunner 225, this GPS running watch with built-in heart rate monitoring is a mid-range option for people who want more than just pace, distance and time but aren't quite looking for the more elite level insights that come with the top end running watches.
In other words, we'd guessit's for most runners reading this.
For all your outdoor pursuits the Forerunner 235 hooks up GPS and GLONASS satellites for a quick location fix while a built-in accelerometer takes care of distance and pace when you're running on an indoor track or treadmill.
Its optical heart rate sensor measures your heart rate 24/7 on the wrist, but also powers the colourful heart rate zone training features that let you monitor your BPM in real time. Like all wrist HR monitors, it's not perfect, but Garmin's is better than many rivals.
For those who want to delve a little deeper into the fitness, training and run performance data, there's also a VO2 Max estimator that keeps tabs on your fitness levels, a recovery advisor that tells you how long to rest before your next workout and a race predictor to give you an idea of how long that 10km, half or full marathon is going to take based on your recent run stats.
For those keen on tracking outside of running the Forerunner 235 also has all-day activity tracking, calorie burn and movement reminders. All of your stats can be synced to the recently refreshed although still not amazing - Garmin Connect app and fired directly into a range of other running apps like Strava.
Garmin's running watches are not without their flaws - the app in particular needs a rethink, and we'd question the usefulness of the daily step tracking stuff - but they are the best you can get, and this is one of the cheapest ways to get a big chunk of Garmin functionality, whilst excluding some of the more niche elements of its more expensive watches.
A big 11 hours of battery life in GPS mode with HR monitoring isn't bad at all either.
Best for recreational runners
T3 rating 5/5
£223 | BuyGarmin Forerunner 235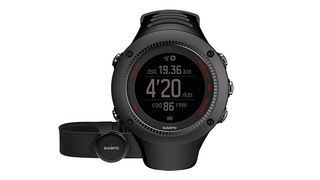 Suunto Ambit3 Run GPS with HR
This doesn't have HR built in to the watch, but rather comes with a chest strap HR monitor thrown in. That's less convenient than wrist-worn pulse tracking, but also more accurate.
Suunto is probably best known for its very capable outdoors and adventure watches, like the Ambit3 Sapphire. The Ambit3 Run HR is a pared down version designed for everyday runners, as opposed to mountain men.
Thankfully it keeps the hard-wearing rugged design of its pricier siblings and it still offers a decent selection of the key features. There's the aforementioned heart rate tracking with a chest strap for a start, feedback on your running performance and route guidance so you can mix up your runs.
With the Movescount app you get access to a range of training programmes. It's ideal if you're eyeing up a particular race and just like the Garmin watches the Ambit3 Run will tell you how long it'll take you to recover from your most recent lung-busting pavement pounding.
Best for everyday runners who occasionally go 'off road'
T3 rating4/5
From £166 | Buy Suunto Ambit3 Run GPS with HR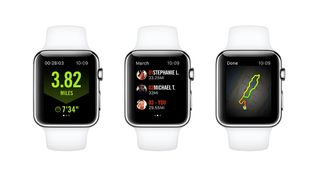 Apple Watch
The running smarts of the Apple Watch were more than a little maligned when it first launched but subsequent OS updates and a wider range of third-party running apps on offer means it's now much improved.
In T3's own tests the built-in heart rate tracker proved to be one of the most accurate and while it's not necessarily the ultimate running watch, for people who want a smartwatch with running capabilities it's now a really solid option. The fact that it's also a proper smartwatch means it's also far more versatile than its rivals.
Best for style and versatility
T3 rating4/5
From £259 | Buy Apple Watch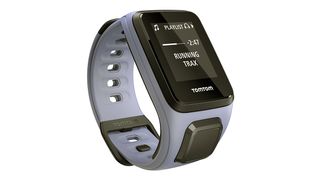 TomTom Spark Cardio + Music
The TomTom Spark is the ideal option for runners on a smaller budget who love listening to music but hate carrying a smartphone.
That because, not only is it broadly comparable to a Garmin watch but - thanks to savage price-cutting - much cheaper, but it's also got an integrated music player with 3GB storage. That's enough for around 500 of your favourite power songs, and it comes with a Ministy of Sound Running Trax mix pre-loaded that you can blast over your Bluetooth headphones.
The built-in heart rate monitor isn't bad at all, and lets you build BPM-based zone training into your running so you can spot your fat burning miles from your aerobic capacity building runs. There's general activity tracking too for those who want to keep tabs on their movements outside of running.
Best for VFM
T3 rating4/5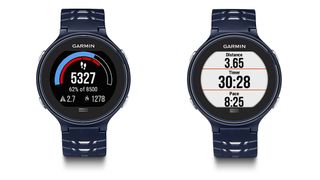 Garmin Forerunner 630
The daddy of Garmin running watches, the Forerunner 630 is a serious piece of kit for serious runners. Behind a well designed colour touchscreen there's a range of running features to match any run tracker on the market.
Heart rate is captured via a chest strap rather than a the built-in optical sensor you get on the 235, and that means better accuracy. It also gives you access to a set of Advanced Running Dynamics that can help you improve your running form. You get stats for cadence, vertical oscillation, stride length and ground contact time, all of which are the signatures of good technique.
The 630 also uses heart rate data to learn your lactate threshold - the point at which your muscles start to fill with lactic acid - which you can then apply to your heart rate training sessions. There's also overall training load to help you avoid overtraining and give you a better idea of what days you should aim for a tough workout or use as a recovery day.
Just as with the Forerunner 235, the 630 also features VO2 Max estimator, recovery advice and a race predictor with all of your data wirelessly fired to the Garmin Connect app and to selected third party running apps. The battery lasts for a whopping 16 hours in training mode.
You get what you pay for, here, but make sure you actually need the functionality you're paying a premium for. Most runners will be better served with a simpler watch.
Best for serious runners in search of better form
T3 rating 4/5
From £238 | BuyGarmin Forerunner 630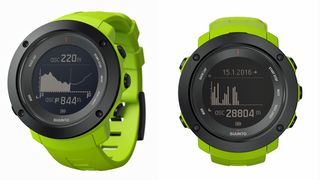 Suunto Ambit3 Vertical
A multi-sport GPS watch for runners with a particular fondness for slopes, the Ambit3 Vertical is designed to help you plan and track how much altitude you've conquered. It's probably a bit over-engineered for most runners' needs, but if you have a need to track runs over hilly terrain reguarly, it's fantastic.
It monitors the elevation gain of individual runs with the option to follow the altitude profile of your route while working your way up mountains and you can also keep track of your total vertical gain over the weeks, months and year.
For those of like to combine running with cycling and swimming, there's the option to log multiple sports in one session and the partner Suunto chest strap will, unusually, track your BPM in the water.
As with the Ambit3 Run HR, you can plan your training with the Suunto Movescount app and vibrating alerts help guide you hit the right pace, beats and distances during your workouts. And if you're the kind of runner who likes to share their trail conquests, there's a killer feature that lets you create a Suunto movie complete with a 3D map overlaid with all your vital stats and any photos you've snapped along the way.
With a battery life of 15 hours, the hills will be alive with the sound of panting for quite some time, too.
Best for hill runners\
T3 rating 4/5
From £260 | BuySuunto Ambit3 Vertical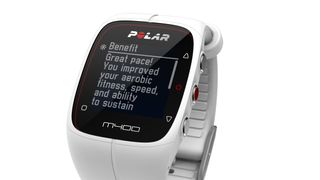 Polar M400
Polar's old stager has proven itself reliable, rugged and a great running companion. It tracks steps, calories and your runs through GPS. Set-up is easy and the Smart Coaching features are great for getting a summary of how well your run went.
The chunky, sporty design means it's not something you'd wear to the office or a bar, but that's fine by us. The battery lasts about eight hours if you're using GPS, while a microUSB charging port makes it super easy to juice up - no pesky charging cradle here.
It's not the very best running watch there is, and if it was a dog, it'd have been put to sleep by now, but it's still out there, cheap, and comes with a big recommend from us on every front except fashion.
Best for longevity
T3 rating 4/5
From £100 |Buy Polar M400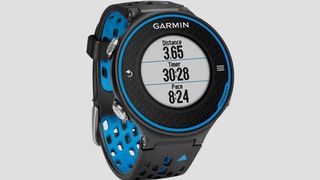 Garmin Forerunner 620 with HR strap
Garmin's Forerunner range of GPS sports watches have been lapping the pack longer than Kenyan distance runners. However the 620 series took things to the next level when it launched and still impresses today. Yes, it's now been overtaken by the Forerunner 630, but given you can now pick one up for just £185 with an HR strap thrown in, it remains worthy of consideration, for bargain hunters.
This stylish wrist piece boasts a touchscreen with a high-resolution colour display, which keeps you abreast of your progress in real time. Beyond harnessing your core stats, the 620 wristwatch wants to assist you in realising your potential. When combined with a heart rate monitor, it brings together key data points to estimate your VO2 max (the maximum volume of oxygen you can consume in a minute, per KG of body weight at your max performance).
In turn, that enables you to set proper time targets for upcoming races. It'll also help estimate your advised recovery time between runs and races, and even helps track your running form, albeit in a more primitive way than its replacement, the 630.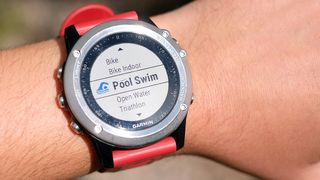 Garmin Fenix 3
Another very in-depth Garmin sports watch, this trumps even the same brand's Forerunner 920XT for versatility. Another interesting point about it is that, with the launch of the Fenix 3 HR Steel range, it's also become a bit of a style icon.
Admittedly, this hulking, do-everything watch is probably over-priced and over-specced for a lot of users, however if you enjoy hiking as much as running, and sea kayaking to work as much as a cycle commute, it's an excellent, rugged wearable.
GPS is about as good as it gets, battery life is also very strong and the build suggests it could survive nuclear assault. The price, feature list and size are probably too much for most users but if you're a serious outdoorsman and worshipper at the shrine of fitness, you should dive, run, swim or ramble right in.
NB: we weren't too impressed with the reliability of the Fenix 3 HR, so our advice would be to stick to this one, with a chest strap if you want to see your cardio activity.
Best for those who do every form of exercise known to humanity
T3 rating 4/5
From £300 (from Fenix 3 Steel from £420) |Buy Garmin Fenix 3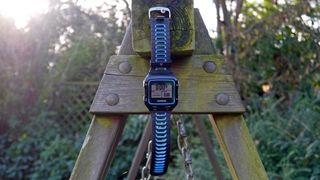 Garmin Forerunner 920XT
Whether you prefer swimming, cycling or running - or, preferably, all three - the 920XT provides specific features to cater for each sport.
This includes keeping track of your swim metrics and elevation, speed and distance when biking and a vibrating alert to let you know it's time to eat when you're running. The wristband is comfortable, the display easy on the eyes and Virtual Racer tech adds in an element of competition.
This is a complex and expensive device, for sure, but it's among the best fitness wearables you can buy, letting you dive deep into every imaginable fitness stat, including VO2 Max. If you're not a big swimmer, we'd always recommend the 630 over this, mind you.
Best for triathletes
T3 rating 3/5
From £300 | Buy Garmin Forerunner 920XT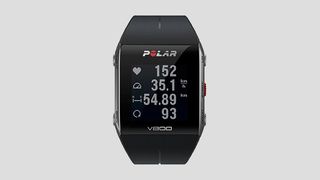 Polar V800
Polar's top of the line fitness watch is more than double the price of the excellent M400.
The problem is, though it boasts an even wider feature set, including easy profile switching depending on your activity,beefed up smart coaching features, support for swimmers and a nifty Recovery mode that'll tell you how long to wait before getting back on the track again, it's debatable that the extra is worth it.
There is, of course, GPS for accurate run tracking, and you can buy with or without an HR monitoring strap. It's also not as peculiar looking as the M400, should you be looking for a further excuse to spend the extra dollars on this.
Best for Polar fanatics
T3 rating 3/5
From £200 |Buy Polar V800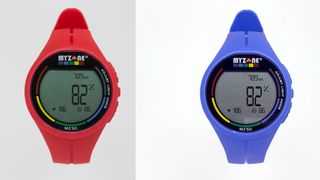 MyZone MZ-50
Not unlike the Nike Fuelband Fuelpoints concept, MyZone aims to create a level playing field and put a competitive social spin on your running.
It does this by converting your heart rate stats into an effort score (MEPs) that rewards how hard you're working rather than how fast you might be able to run. In this world a couch-to-5km newcomer can perform just as well as a seasoned marathoner, at least in theory.
To get the most out of the MZ-50 you'll also need to invest in the MyZone MZ-3 chest strap (£130). This does all the heart rate work and fires it wirelessly to the watch.
What that means is that the watch really just serves as a display for the stats being captured by the belt, putting all of the heart rate zone training features right where you can see them in real time. It's also water resistant and has some simple features like a stop watch and interval timer built in.
However, with the real skills coming from the belt and the partner MyZone app, the value of this is slightly debatable. The fact it looks plasticky and crap doesn't exactly help, either.
Best for gym runners
T3 rating 3/5
£99 | Buy MyZone MZ-50