Customise your Windows 10 desktop with new themes and more
Make radical changes to the way Windows 10 looks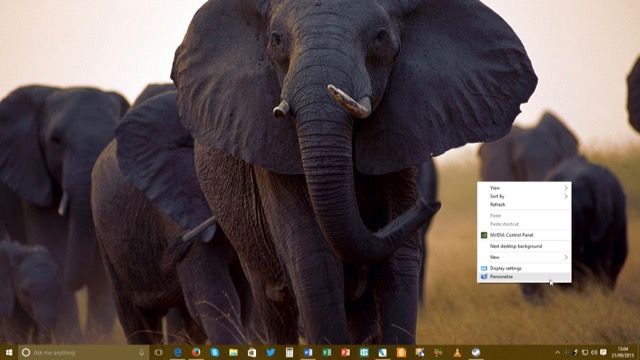 1/9
Transform your desktop
Imagine having to stare at the same boring old desktop day in, day out. Just think if you couldn't cope with the colour scheme Windows 10 chooses for you. What would you do if the default notification sounds drove you to distraction? Thankfully, Windows 10 remains as customisable as previous versions, and what better way to quickly stamp your personal mark on your PC than by letting its look and feel reflect your personality?
We've split this tutorial in two. In the first half we'll reveal where all the settings are that allow you to make changes to one or more aspects of your desktop, then in the second half we'll introduce the concept of 'themes'. Windows wraps up its various visual and audio settings in 'themes', and you can both save your own changes as a theme plus download and apply more from the Microsoft website. Read on to discover how.
2/9
Change desktop background
Right-click on some empty space on the desktop and choose Personalise to get started. First, choose the type of background you want: a single picture, solid colour or slideshow. If you want to choose a different picture, try one of the selections offered, or click Browse to pick your own from your hard drive. Click 'Choose a fit' to change how it's placed on your desktop.
3/9
Set up a slideshow
Alternatively, pick a solid colour from the list, or choose 'Slideshow' to set up a slideshow. By default, your Pictures folder is chosen, but it's better to place a choice of images in a single folder, then select that. Once done, choose how often the photo is changed (anything from once a day to once a minute) and again select how it should fit on-screen.
4/9
Change colour scheme
Next, select the Colours section. You'll notice that the colour of windows and dialogue boxes change automatically to complement the background image – flick the first switch to 'Off' to prevent this, then choose your own colour scheme. By default the Start menu, Taskbar and Action Centre use a black colour scheme – flick the second switch to 'On' to have them use your background's scheme.
5/9
Customise your lock screen
You can also change the picture that appears on the lock screen. Again, you have a choice of a single image (click 'Browse' to select one if the five suggestions don't appeal) or a slideshow: if you choose the latter, select an album or folder, then click 'Advanced slideshow settings' to include your camera roll, plus choose to show the lock screen during periods of inactivity.
6/9
Work with desktop themes
Themes comprise various desktop settings, including sounds, icons and pointers. Select 'Themes' and you can access the various Control Panel applets that control these, allowing you to further customise your desktop. Looking for more sounds? Visit winsounds.com where you'll find both individual samples and entire schemes to download (extract zip files to C:\Windows\Media, then add them one at a time).
7/9
Manage themes
Click 'Theme settings' and you'll find yourself at the theme management screen. Start by clicking 'Save theme' to store your personal settings permanently. Give it a suitably descriptive name and you'll see it appear under 'My themes'. You'll also notice additional themes are provided here – click one, and your desktop automatically changes. Don't like it? Select your own theme to switch back.
8/9
Download more themes
Click the 'Get more themes online' link and you'll be taken to a web page containing hundreds more themes – select 'Compatible with the new Windows' to view all those that will work with Windows 10. Click 'Details' next to one to preview it in more detail. When you've found one you like, click 'Download theme' and save the .themepack file to your hard drive.
9/9
Apply new theme
Once downloaded, click 'Open' in your browser or navigate to the file and double-click it. It'll automatically appear under 'My themes' in the Theme settings window and you'll automatically be switched to it. You can switch back to your previous theme if you wish, or return to the web page to browse and download more themes to pick and choose from.