If you clicked on this article, there's a high chance you're in the market for a new hair removal device. Whether you're looking for the best option to buy a loved one or just feeling like treating yourself, you've absolutely come to the right place.
Braun are known for manufacturing some of the best electric shavers, best IPL hair removal machines and the best epilators out there, often receiving top ratings in product reviews. Whilst they're not some of the cheapest on the market, the quality and design of each product is excellent. It's no surprise really that Braun's products occupy top spaces in many of our buying guides!
Well, we've spotted today that Braun are actually holding an end of summer sale, with up to 60% off many electric shaves, IPLs and epilators. It has announced that the offers are only on for a limited amount of time so we're unsure how long the sale will last, but a small number of their products have sold out already so it's probably best to get a wriggle on if you're interested in purchasing one! We've also collected some of the best deals available which you'll be able to find below, including some the products that have received a top review from us. Make sure you check out the full Braun sale as well.
Unsure whether you should go for a Braun or Philips shaver? Have a look at our comparison guide before you start browsing.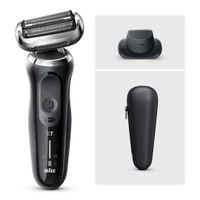 Braun Series 7 Shaver with Precision Trimmer: was £269.99, now £134.99 at Braun (save £135)
The Braun Series 7 Shaver is an electric razor with 360° adaptation for a smooth shave, even in tricky areas. Its AutoSense technology reads and adapts power to beard density, shaving even dense beards with full effect. Its Li-Ion battery lasts for up to 3 weeks of shaving and needs just a 5 min quick charge for one full shave.
Check out our full review to find out more!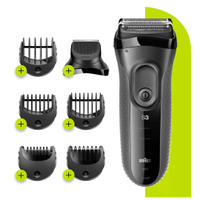 Braun Series 3 3000BT Shave&Style 3-in-1 Electric Shaver: was £129.99, now £49.99 at Braun (save £80)
Save 62% with the Braun Series 3 3000BT Shave&Style 3-in-1 Electric Shaver. Choose between clean shaving or precision beard trimming and styling by simply switching the head of the device and adding one of the 5 comb attachments to achieve your desired stubble length.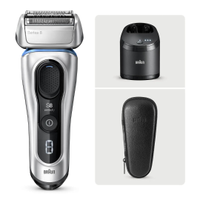 Braun Series 8 Shaver with SmartCare Centre: was £419.99, now £189.99 at Braun (save £230)
The Braun Series 8 8391cc Electric Shaver is the next generation electric shaver from Braun, for precise closeness and skin comfort. It intelligently adapts to your beard density and shaves precisely even in the trickiest areas. It can be used wet or dry and its 10,000 Sonic vibrations glide over your skin for maximum skin comfort.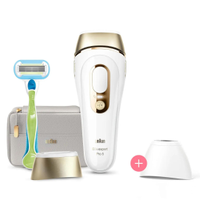 Braun IPL Silk expert Pro 5: was £599.99, now £369.99 at Braun (save £230)
Save 38% with the Braun IPL Silk expert Pro 5. Known for being fast, powerful and gentle on skin, it's the world's most efficient IPL. Giving visible hair reduction for 1 year, it's also clinically accredited by the Skin Health. It comes as
a corded/cordless version and is available in a white/gold mix.
Have a look at our full review for more information. We gave it 5 stars if you didn't know!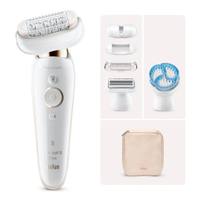 Braun Epilator Silk-épil Series 9 Flex 9010: was £349.99, now £174.99 at Braun (save £175)
The Braun Epilator Silk-épil Series 9 Flex 9010 is the world's 1st epilator for women with a fully flexible head, for easier hair removal. Its Micro-Grip tweezer technology (40 tweezers) provides smooth skin for weeks, not days and its ergonomic handle with anti-slip grip makes it perfect for epilating in the shower.
Interested in more? Check out our thoughts on Electric shavers vs manual shavers and which option is better.