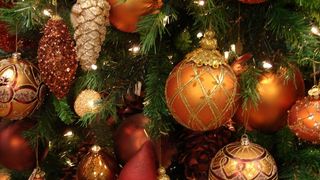 Introduction
Everyone could use a helping hand over Christmas, it's great seeing the family but sometimes the kids get overexcited and someone has to wake up nanna because she's fallen asleep with a glass of sherry in her hand, again. So how do you keep your head above the mountains of wrapping paper, egg nog and Christmas pudding piling up around you? With apps of course! Technology is here to ease the stress and make it, guess what...fun again!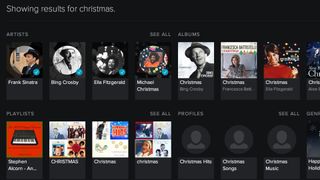 1. Spotify (OS X and Windows)
Just search for the word Christmas and you'll be treated to Yule log's worth of festive tunes. There are stacks of fantastic playlists that music-loving Spotify users have made. If you're looking for something different tucked away amongst Bing, Bieber and Boney M then look no further than this gem, Steve Alcorn's An Arp Odyessy Christmas. An entire album of traditional tunes made only on a 1976 analogue synthesizer. Spotify is still free (with adverts of course) plus there's a special offer now until the New Year where you get the first three months for just 99p!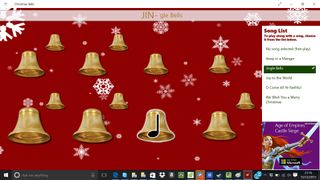 2. Christmas Bells (Windows)
Nothing quite sounds like Christmas like brass bands and bells. The former is a little tough to emulate, but bells, that's a lot easier. Christmas Bells sets out a scale of bells which you can chime creatively yourself or follow a set tune on using the onscreen instructions. It's an app made more with children at mind and works great with a touch screen. However UK users will find the American version of Away In A Manger a little disorientating.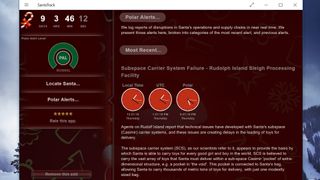 3. SantaTrack (Windows)
It's estimated that Father Christmas travels at 1,800 miles per second on Christmas Eve and covers a distance of around 320,000,000 miles. As mind boggling as that is you can track his lightning fast movements using SantaTrack. Mainly text-based, the language used will appeal to more geeky kids fascinated by the logistics of one man delivering millions of presents in a single night. There's talk of Supply Chain Disruptions and how solar activity affects Santa. That might sound a little dry, it's really isn't and the whole family will enjoy this fun and well-written app.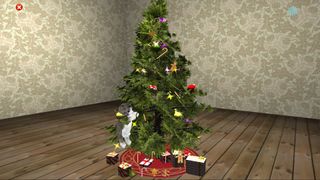 4. Christmas Tree-d (Windows)
What could be more cute that helping a kitten decorate a christmas tree? Your furry friend waits patiently as you hang baubles, candy cane and twinkly lights. Actually she doesn't, she'll climb the tree and run around generally causing mischief. This cute app will keep the little ones amused and be sure to click on the icon in the top right to let it snow, let it snow, let it snow.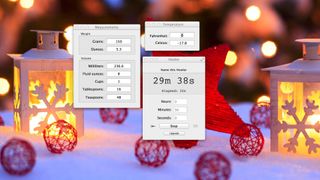 5. Howler Timer (OS X)
Nothing says Christmas like a howling wolf… OK bear with us here, this is a timer that howls when the time is up. It's compact and takes up very little resources, it's also free. But not only can you time the turkey with it, it includes an incredibly useful thing for festive cooking, a weight and volume convertor. Recipes on the internet are shared internationally but cooks in Europe and US use very different measurements, so being able to convert both from cups to grams and centigrade to fahrenheit means you can use any recipe you like on Christmas day. Howler certainly isn't barking up the wrong tree.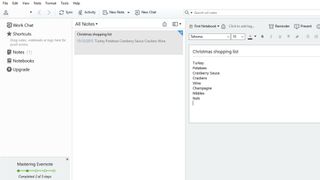 6. Evernote (Windows and OS X)
THE note-takers' app, it's available on just about every platform with a special touchscreen version available to Windows users in the store. Non-touchscreen Windows users should pop along here. Unlike Google Keep (which is very good too, just not available as an OS X app yet) Evernote is upgradable via in-app purchases. Premium offers more cloud space, offline access and privacy, although if you're only compiling Christmas shopping lists you probably won't be needing this. The obvious advantage of it being cross-platform means that everyone in the family can add to it, be it present requests, menus or letters to Santa.7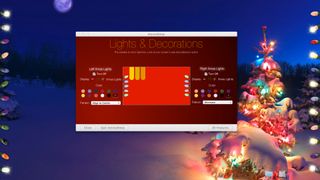 7. InerziaXmas (OS X)
Christmas is about bling, and what could be more bling than flashing festive lights around the edge of your screen? InerziaXmas is a full-on Christmas app with a countdown to the big day, an Advent Calendar with inspirational quotes from Bob Hope and Zooey Deschanel amongst others and you can upgrade to include gift lists. It also has interesting seasonal facts to look up on the internet. The lights themselves have over ten different settings from 'Elegant Classic' to eyeball-melting Xmas overload.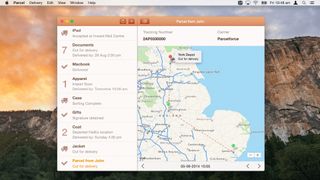 8. Parcel Delivery Tracker (OSX )
A Santa tracking app for adults! Just pop in a tracking code and it will automatically work out the courier and let you know where your presents currently are. Parcel supports 265 different delivery services, no matter how obscure your courier. The premium edition is a measly £1.49 a year. There's a similar app for Windows called Package Tracker which works in much the same way.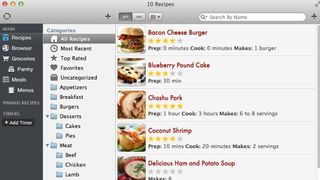 9. Paprika Recipe Manager (OS X and Windows)
Pricey at £14.99 but well loved by all of its users. Download 100s recipes at a single tap and then sync them between your various Apple devices. So plan Christmas dinner from the sofa in the front room and let the elves in the kitchen cook up the seasonal fayre on Christmas Day. It's also available for Windows as a download, it's not currently in the Store.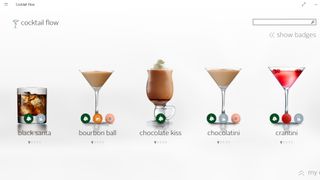 10. Cocktail Flow (Windows)
Cocktail Flow is a visual and very clean cocktail recipe app. It's free and there's a whole section on Christmas with traditional recipes such as Irish coffee alongside the more adventurous ones like the cranberry and Champagne based Poinsettia. It's an app to use on Christmas day to show off your newly cultivated mixology skills to your friends and family.