For us, these are the top sub-£1,000 laptops on the market at the moment. We've deliberately chosen a selection of different types of laptop below — from Macs to ultrabooks and hybrids.
Now it's your turn to choose how to spend your money.
However, if you just want to know what's best and aren't interested in looking further, then we'd direct you to the MacBook Air.
Apple's ultraportable might seem like it's ageing, but it's still a superb machine for just shy of £1,000. Fast, reliable and worth every penny.
The 13-inch MacBook Air measures 1.7cm at its deepest point and weighs an astonishingly light 1.35kg making it ideal to take with you wherever you need to go. And there's 128GB of fast flash storage on board, too!
How to buy the right sub-£1,000 laptop for you
Buying a laptop has become something of a maze.
Products with almost identical names are put out at different prices and with wildly different performance, and fighting your way through the nomenclature to the raw specifications is tough.
And then you have to work out what the specifications mean. What's the difference between an i5 and and i7? Between various integrated graphics chips? Well, worry no more.
What you can do with a £500 laptop has now changed drastically. And if you're willing to spend up to £1,000 then you're looking at getting a pretty powerful machine for your money.
If you're willing to spend that much, there's plenty of new thin and light laptops that aren't so interested in offering value.
But they often sport all-metal construction, wafer-thin designs and internal guts that can chew through demanding tasks. So what's best?
The best sub-£1,000 laptops you can buy today
For under a grand, these are the best notebooks to buy, in order of preference.
1. 13-inch MacBook Air (2015)
Sterling battery life and fast storage
CPU: 1.6GHz dual-core Intel Core i5 | Graphics: Intel HD Graphics 6000 | RAM: 8GB | Screen: 13.3-inch LED-backlit glossy display (1440 x 900) | Storage: 256GB SSD
Excellent battery life
Nippy storage
Dated design
Low-res display
The Asus ZenBook UX305 may have stolen the MacBook Air's thunder, but this is still a delightfully slim machine with good performance from a powerful CPU – if you must buy Mac, then this isn't a bad choice.
The display isn't brilliant and the design is a bit dated, but its touted 13 hours of battery life and fast storage are killer features for some. While we love the Air, it's in severe need of a redesign.
Read the full review: MacBook Air 13-inch
2. Dell XPS 13
Probably the best sub-£1,000 laptop ever made
CPU: 2.2GHz Intel Core i5-5200 | Graphics: Intel HD Graphics 5500 | RAM: 8GB | Screen: 13.3-inch 3,200 x 1,800 UltraSharp QHD+ touch display | Storage: 256GB SSD
Gorgeous display
Super lightweight
No Ethernet port
Off-centre webcam
There are plenty of thin and light laptops around, but few as well designed as Dell's XPS range. The XPS 13 has a nearly borderless touch display that runs at QHD resolution and somehow crams 13.3-inches into an 11-inch laptop frame.
Despite the grunt required to drive that screen, it runs smoothly and stably, for as long as you need it to – and this notebook doesn't break the bank either. We think it's the best Windows laptop, the best Ultrabook and probably the best overall laptop for the money.
Read the full review: Dell XPS 13
3. Dell Inspiron 13 7000
A smart and nicely priced well-built hybrid
CPU: 2.4GHz Intel Core i7-5500 | Graphics: Intel HD Graphics 5500 | RAM: 8GB | Screen: 13.3-inch 1,920 x 1,080 IPS touchscreen | Storage: 256GB SSD
Attractive and sturdy design
Speedy powerful performance
Lacklustre battery life
A little hefty
For an all-round more traditional laptop, you can always trust Dell, even when you're looking at a laptop-tablet hybrid. Away from the sometimes scarily thin Ultrabook market, this Inspiron 13 has a metal chassis coated in soft-touch rubber for a non-bank-breaking price.
And it also turns into a perfectly serviceable 1080p tablet when you flip the screen back, without any worries about anything breaking – it feels very solid. This machine's only flaws are its weight – 1.67kg – and its rather poor battery life.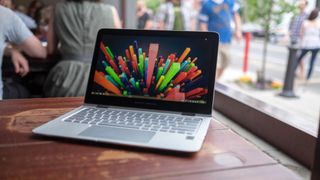 4. HP Spectre x360
A nifty 2-in-1 offering great performance and battery life
CPU: 2.2GHz Intel Core i5-5200 | Graphics: Intel HD Graphics 5500 | RAM: 8GB | Screen: 13.3-inch 1,920 x 1,080 Radiance LED-backlit touchscreen | Storage: 256GB SSD
Superbly thin
Excellent performance and battery life
Too heavy for easy tablet usage
Weirdly wide trackpad
The Spectre is a pleasant 2-in-1 laptop with an excellent 1080p screen, solid performance, good battery life and sturdy build quality. Oh, and it also turns into a tablet, should that feature be on your wish-list.
Its specifications are almost identical to those of the Dell above, though it's 200g lighter and has much better battery life – and that's the difference in cost in a nutshell. This HP offering also has its own flaws, though – that weirdly wide trackpad – but that's pretty much it. If that's about all we can find to complain about, then it must be pretty good...
5. Microsoft Surface Pro 3
An excellent hybrid offering plenty of power
CPU: 2.4GHz Intel Core i5-6300U | Graphics: Intel HD Graphics 520 | RAM: 8GB | Screen: 12.3-inch 2,736 x 1,824 pixels | Storage: 256GB SSD
Sharp display
Perfect as laptop and tablet
Mediocre battery life
Runs hot at times
Microsoft's poster child for the hybrid laptop, this device is cheaper than an iPad Air and MacBook Air combined, though more expensive than many other mid-range laptop-tablet combos.
That said, it's also more powerful than most other mid-range laptop-tablets, not to mention being delightfully light at just 800g, and the best device that Microsoft has ever made.
It honestly does work well as both a laptop and tablet, except for the four hour battery life which is no good for either. Finally, we still think it's mad that they sell the Type Cover separately.
Read the full review: Microsoft Surface Pro 3