If you're looking for the best Bluetooth speaker for really good audio indoors (mainly, although a number of these are battery-powered and so can go outside), then we have the cure for your Bluetooth blues.
Our current favourites are the (all of the new Cambridge YoYo range looks good, actually) and the .
The YoYo M because it offers full stereo (remember that, old timers?) and the Kilburn because it absolutely rocks.
How to buy the best Bluetooth speaker for you
The great thing about Bluetooth is that it is compatible with just about everything short of your garden shears.
Pairing is far than with Wi-Fi-based wireless speakers, too. It's simple, quick and practically always painless, these days. It's also platform agnostic. Google Music, Apple Music, Spotify, Tidal… It makes no odds.
These are the best Bluetooth speakers for phones, tablets, PCs and Macs that money can buy. Pricing is from about £100, because to be honest, if you want seriously good sound quality, you won't find it at a sub-£100 RRP.
This is a very diverse branch of tech, so there are also picks at different price points and for different musical styles and settings.
And let us tell you, readers, the number of truly dreadful Bluetooth speakers you have to listen to, in order to pick out the 10 best ones, is quite something.
If you want CD-quality audio from Bluetooth, theoretically you should opt for a speaker with support for the Apt-X codec.
However, a lot of devices don't actually support Apt-X. For instance no Apple mobile devices do, yet it's perfectly possible to get decent sound via Bluetooth from an iPhone.
This leads us to think Apt-X is desirable rather than essential.
The overall audio quality of Bluetooth speakers seems much more influenced by how well they process and amplify your music files, than the state they arrive in, so long as they're reasonably high bitrate (obviously, rubbish in, rubbish out).
Despite not being hi-res or even CD quality most of the time, when put through a speaker made with mad skills and top-drawer components, music beamed via Bluetooth can sound great.
Some other issues to be aware of: you'll probably want to take your phone out of your pocket for uninterrupted streaming – your body can block the signal if you're moving around.
And if someone calls you on your phone while you're streaming from it, the music is gonna stop. There's no way around that.
The best Bluetooth speakers to buy today
1. Cambridge Audio YoYo M
Best Bluetooth speaker/s you can get
Power output: Not quoted | Battery life: 24 hours | Apt-X: Yes
Brilliantly punchy audio
Proper, wide stereo 'sound field'
Very attractive styling
Kinda pricey
Have to pair it every time
In our brave new world of one-box, wire-free audio solutions it's easy to forget that music is still generally recorded in stereo.
A lot of wireless speakers make a decent fist of giving a wide 'sound field' (apologies for the use of a term redolent of too many nights spent listening to Yes whilst overly relaxed, there) but Cambridge Audio's splendid YoYo M doesn't have to try too hard, because it's a pair of stereo speakers.
You can use just one of them if you like, but that's a bit like buying a pair of chopsticks and only employing one. Fire them both up, by pressing the Pair button on the second unit and you get a brilliantly big, w-i-d-e, musical performance.
The only problem is, you have to do that every time you use the YoYo M, which is a bit irritating, for the reason mentioned above – there's no reason to buy a pair of speakers if you only intend to use one, so why can't you turn them both on with one button? No doubt some nonsense to do with, "You can't do that via Bluetooth, so you'd have to use a wire and then they wouldn't be wireless, you idiot." I dare say.
That aside, the YoYo M is a nigh-on perfect (pair of) Bluetooth speaker(s), and devilishly handsome to boot, dolled up as it is in Marton Mills' worsted wool, Birds Eye fabric. This is acoustically transparent, and resistant to dirt, water and 'unnecessary' wear and tear, whatever that means.
2. Marshall Kilburn
Best Bluetooth speaker under £200
Power output: 70W | Battery life: 20 hours | Apt-X: No
Great sound with rock, hip-hop and dance
Long battery life
Audio lacks subtlety
…As does the look
This speaker is badged as a Marshall, but obviously it doesn't come direct from the same sweat-stained factories as its legendary guitar amps. But my gosh, it still rocks.
Audio is loud and proud, rich and powerful with plenty of bass, and cleverly processed with a strong 'faux-analogue' sound. Built as a compact speaker for small to medium rooms, it is nonetheless still battery-powered, and portable via a natty strap.
Pairing is swift and the audio, while coloured so as to sound 'rocky', can be tweaked all over the place using the old-skool tone knobs.
Clearly the looks won't be to non-rockers' tastes, and the audio is not subtle by any stretch of the imagination. However, for the price there's nothing to beat the Marshall Kilburn for sheer room-filling oomph.
3. Monitor Audio AirStream S150
Best Bluetooth speaker under £150
Power output: 40W | Battery life: N/A | Apt-X: Yes
Superb sound from a small box
Excellent value
Questionable looks, especially in faux gold
No battery option despite size
This one sits around the midpoint between the booming Marshall and the more audiophile KEF, but is cheaper than both.
The sound quality, bolstered by Apt-X, is truly excellent for the price, and pairing is easy.
Monitor Audio's wonky funnel of a speaker is also highly portable. However, despite having a USB input that I initially assumed was for charging its batteries – oops – the S150 turned out to actually be mains powered only.
The look is just not great, let's be honest, especially in the gold finish. Other than that, it's an impeccable Bluetooth speaker.
4. Kef Muo
Best 'audiophile' Bluetooth speaker
Power output: Not quoted | Battery life: 12 hours | Apt-X: Yes
Sophisticated audio
Sophisticated style
Sophisticated price
Too sophisticated to ROCK
After the exact opposite of the Marshall? This looks gorgeous, has far more subtle, nuanced sound and less shit-kicking bass. It's also more expensive, but there we go.
One for the connoisseurs, the Muo is a solid yet sinuous, metal speaker in a choice of five colours. Able to stand upright or on its base, the Muo offers less bottom-end oomph than similarly priced rivals, but compensates with a more melliflous mid and treble.
It's not true to fair that it *lacks* bass as such, so much as it can't really pump it out. Therefore, if you're a lover of more accoustic sounds, classical and spoken word, this is a fine choice. If you want to rock party jams and are big into dub reggae and EDM, maybe not so much.
With Bluetooth speakers this small, such attention to sonic detail seems beyond the call of duty, but those who want the best sound from the smallest and most convenient receptacle should look no further. If you want to go really mad, you can also shell out for two and use them as a stereo pair.
5. Ultimate Ears UE Boom 2
Best Bluetooth speaker under £100
Power output: 9W | Battery life: 15 hours | Apt-X: No
Super portable and waterproof
Very involving sound for the size
Outgunned sonically by its pricier rivals
Available in umpteen attractive colour combos, this is what most people probably think of as a classic Bluetooth speaker. It's battery powered, compact, can go anywhere and sounds suitable bright and breezy.
The Boom 2 is resistant to shock, and can be immersed in water up to 1m for 30 minutes. It's about the size of a can of Tennant's Super, and weighs just 55g. However, the styling is actually pretty attractive, and doesn't scream, "Outdoor use only! For god's sake don't let it in the house!" in the way that some ultra-portable speakers do.
In a crazy, recent twist, a software update means you can now link up to 50 of these (and other compatible UE devices) together, which should overcome any concerns you might have about lack of volume. I have no idea what that would sound like, but I'm assuming loud.
The UE Boom 2 is no audiophile's delight, but it is a great little portable speaker.
6. Ruark R1 Mk III
Best Bluetooth speaker with a DAB radio
Power output: 9W | Battery life: N/A | Apt-X: No
It's also a DAB and FM radio
Looks and sounds timelessly elegant
Rocking parties not part of its remit
Despite looking portable, it's not battery powered
It's probably fair to say this is pitched at a more mature clientele. Check out its Amazon reviews and you'll find a number of people who don't even appear to know what Bluetooth is.
That's fair enough, as this is primarily a high-class, walnut-clad DAB radio. However, it also performs creditably with Bluetooth music sources.
For gentler sounds in the kitchen or bedroom, it's nigh on perfect, although clearly you're not gonna be wanting to rock Skrillex through it.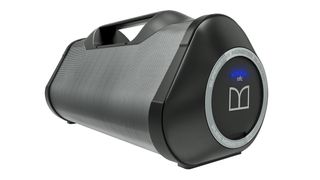 7. Monster SuperStar Blaster
Best Bluetooth speaker for party-rocking
Power output: Not quoted but presumably quite a lot | Battery life: 8 hours | Apt-X: Yes
Ridiculously loud and bassy sound
Quirky, retro-futuristic styling
Lovers of Bach's string quartets won't be enthused
Portable in that it's battery powered, but my gosh it's hefty
After that brief diversion into understated tastefulness, we're back in crazy town with Monster's contemporary twist on the ghetto blaster. And it is indeed a monster.
With self-explanatory "indoor" and "outdoor" modes, this thing generates an awe-inspiring racket with rock, hip-hop, dance and Wagner. Lovers of anything more subtle than that need not apply. It's the kind of speaker that leads to neighbourly feuds.
Hilariously, it is, however, available at John Lewis. Where all the old skool electro breakdance warriors and bloodclaat dancehall yardies head to for their shopping, no doubt.
Seriously, if it's power with portability (as long as you have strong arms and/or a car) you're after, nothing else comes close to this.
8. Bose Soundlink Bluetooth Mini II
Best Bluetooth speaker for Bose lovers
Power output: Not quoted | Battery life: 10 hours | Apt-X: Yes
Excellent sound for the size
Typically solid Bose build
Battery life is a little disappointing
Not waterproof
This is the UE Boom 2's main rival for the crown of "small portable speaker you can also use at home."
It wins at home, quite easily, as the sound is really incredible for such a compact, light (68g) speaker. You get more bass, more detail, more everything than the Boom 2.
When out and about it is inferior to its can-shaped rival, however. It's not as rugged, not waterproof, and you can't link up to 50 of them together to create an impromptu rave. We also prefer the styling of the Boom 2, and it's a good few quid cheaper, but this Bose is a class act.
9. Riva Turbo X
Sounds better than it looks
Power output: 45W | Battery life: 13 hours | Apt-X: Yes
Very good sound quality
Good mix of portability and power
Rather boxy and dull
Riva Audio isn't exactly a well-known marque, but we were really impressed by this boxy style bypass of a speaker. It thankfully sounds vastly better than the bland look would suggest.
The Turbo keeps things musical, neutral and well balanced, but it's not fearful of louder volumes. In fact, it can blast it with the Marshall, with no distortion, even as the decibels rise.
It's waterproof and will run for half a day on its batteries but be warned: although the size is fine to carry, the 1.6kg weight may give you a bit of arm ache.
It's also pretty pricey, especially when considering the 'quality' of its 'design' and the largely non-existent recognition factor of the Riva brand.
Even so, if you value audio quality - and maybe just a bit of high volume - above all else, the Turbo X is a fine option.