If you're looking for the best Bluetooth speaker for really good audio indoors (mainly, although a number of these are battery-powered and so can go outside), then we have the cure for your Bluetooth blues.
These are the best Bluetooth speakers for phones, tablets, PCs and Macs that money can buy. Pricing is from what we'd call budget (£120-ish) to about £300. There are no cheapo speakers here, because to be perfectly honest, if you're even remotely serious about sound quality, you won't find it at sub-£100 prices. Yes, we are MASSIVE musical snobs. Deal with it.
The great thing about Bluetooth is that it is compatible with just about everything short of your wind-up gramophone. Pairing is far easier than with Wi-Fi-based wireless speakers, too. It's simple, quick and practically always painless, these days.
The not-so-great thing about Bluetooth is that it's never going to sound really amazing. On the other hand, these days Bluetooth speakers hardly ever sound bad, either, and the ones here all wring the best possible performance from the format.
If you want CD-quality audio from Bluetooth, opt for a speaker with support for the Apt-X codec. However, if the device you're playing from (all Apple mobile devices, for instance) doesn't support it, then that won't help much.
But never mind; as long as its processed and amplified with skill, even vanilla Bluetooth can sound great; we'd describe it as comparable to high bit-rate MP3. Obviously if the tunes you're playing are LOW bit-rate MP3s, they're going to sound crap. But we can't help you with that.
In short, all of these Bluetooth speakers will all do an excellent job, especially in smaller rooms.
• The best AirPlay, Spotify Connect, UPnP and multi-room systems.
• Want to get more personal? Try the best Bluetooth headphones instead.
• These are the best rugged, battery-powered Bluetooth speakers, for outdoors.
Still with us? These are T3's best Bluetooth speakers, in approximate order of preference…
1. Marshall Kilburn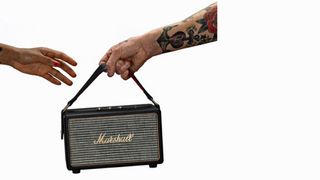 Power output: 70W | Battery life: 20 hours | Apt-X compatible: No
Great sound with rock, hip-hop and dance
Long battery life
Audio lacks any subtlety
…As does the look
This speaker is actually the work of Marshall Headphones, rather than coming direct from the sweat-stained factories of the legendary amp maker itself. Despite that, it does have suitably powerful audio, cleverly processed with a strongly 'analogue' sound. Built as a compact speaker for small to medium rooms, it is nonetheless still battery-powered, and portable via a natty strap.
Pairing is swift and the audio, while coloured so as to sound 'rocky', is rich and powerful with plenty of bass that can be upped further using the dedicated control dials.
Clearly the looks won't be to non-rockers' tastes, and the audio is not subtle by any stretch of the imagination. However, for the price there's nothing to beat the Marshall Kilburn for sheer room-filling oomph.
Price: £190 | Buy Marshall Kilburn
2. Kef Muo
Power output: Not quoted | Battery life: 12 hours | Apt-X compatible: Yes
Excellent audio
Very attractive look
Highly expensive for a Bluetooth speaker
Not one for bass addicted party animals
After the exact opposite of the above? This looks gorgeous, has far more subtle, nuanced sound and less shit-kicking bass, and is pitched at a considerably less VFM-oriented kind of punter.
One for the connoisseurs, the Muo is a solid yet sinuous, metal speaker in a choice of five colours. Able to stand upright or on its base, the Muo offers less bottom-end oomph than similarly priced rivals, but compensates with a more melliflous mid and treble.
It's not true to fair that it *lacks* bass as such, so much as it can't really pump it out. Therefore, if you're a lover of more accoustic sounds, classical and spoken word, this is a fine choice. If you want to rock party jams and are big into dub reggae and EDM, maybe not so much.
With Bluetooth speakers this small, such attention to sonic detail seems to almost miss the point, but the select few who want the best sound from the smallest and most convenient receptacle should look no further. If you want to go really mad, you can also buy two and use them as a stereo pair.
Price: From £275 | Buy Kef Muo
3. Monitor Audio AirStream S150
Power output: 40W | Battery life: N/A | Apt-X compatible: Yes
Superb sound from a small box
Excellent value for money
The look is rather questionable, especially in faux gold
It's not battery powered despite looking like it ought to be. Oh well…
This one sits around the midpoint between the booming Marshall and the more audiophile KEF, but is cheaper than both.
The sound quality, bolstered by Apt-X, is truly excellent for the price, and pairing is easy.
Monitor Audio's wonky funnel of a speaker is also highly portable. However, despite having a USB input that we initially assumed was for charging its batteries - oops - the S150 is actually mains powered only.
We're really not sold on the look, especially in the gold finish. Less tacky colour options are available, however.
Price £149 | Buy Monitor Audio S150
4. Riva Turbo X
Power output: 45W | Battery life: 13 hours | Apt-X compatible: Yes
Excellent sound quality for a Bluetooth speaker
Good mix of portability and power
Rather boxy and dull
Feels kind of pricey for a brand nobody's heard of
Riva Audio isn't exactly a well-known marque, but we were really impressed by this boxy style bypass of a speaker. It thankfully sounds vastly better than the bland look would suggest.
The Turbo keeps things musical, neutral and well balanced, but it's not fearful of louder volumes. In fact, it can blast it with the Marshall, with no distortion, even as the decibels rise.
It's waterproof and will run for half a day on its batteries but be warned: although the size is fine to carry, the 1.6kg weight may give you a bit of arm ache.
It's also pretty pricey, especially when considering the 'quality' of its 'design' and the largely non-existent recognition factor of the Riva brand. Even so, if you value audio quality - and maybe just a bit of high volume - above all else, the Turbo X is a great option.
Price £230 | Buy Riva Turbo X
5. Ultimate Ears UE Boom 2
Power output: 9W | Battery life: 15 hours | Apt-X compatible: No
Super portable, waterproof and stylish
Very decent sound for its size
Not much cop for classical music
For obvious reasons, not much bass either
Available in 8 attractive colour combos, this is what most people probably think of as a classic Bluetooth speaker. It's battery powered, compact, can go anywhere and sounds suitable bright and breezy.
The Boom 2 is resistant to shock, and can be immersed in water up to 1m for 30 minutes. It's about the size of a can of Tennant's Super, and weighs just 55g. However, the styling does not scream "for outdoor use only!" in the way that the BeoPlay A1 or Libratone One Click do.
In a crazy, recent twist, a software update means you can now link up to 50 of these (and other compatible UE devices) together, which should overcome any concerns you might have about lack of volume. We have no idea what that would sound like, but we're assuming LOUD.
This is no audiophile's delight, but it is a great little portable speaker.
Price From £130 | Buy Ultimate Ears UE Boom 2
6. Bose Soundlink Bluetooth Mini II
Power output: Not quoted | Battery life: 10 hours | Apt-X compatible: No
Excellent sound for the size
Typically solid Bose build
Battery life is a little disappointing
Prone to scratching and not waterproof
This is the UE Boom 2's main rival for the crown of "small portable speaker you can also use at home."
It wins at home, quite easily, as the sound is really incredible for such a compact, light (68g) speaker. You get more bass, more detail, more everything than the Boom 2.
When out and about it is inferior to its can-shaped rival, however. It's not as rugged, not waterproof, and you can't link up to 50 of them together to create an impromptu rave. We also prefer the styling of the Boom 2, and it's a good few quid cheaper, but this Bose is a class act.
Price £170 | Buy Bose Soundlink Mini Bluetooth Speaker II
7. Cambridge Audio G5
Power output: Not quoted | Battery life: 14 hours | Apt-X compatible: Yes
Great sound
Battery up to 24 hours "at lower volumes"
Posisbly the most boring looking thing of all time
About to be superceded by much sexier new YoYo range
If you can get past its exceedingly boring looks, the G5 is an incredible bit of kit, even at a price that's on the high side for a Bluetooth speaker this size.
This thing may have all the exciting visual flair of a provincial librarian, but the sound it puts out is something else. Take it from us, there is FAR more bottom end and mid-to-treble vibrancy than anything this size has a right to put out.
It's also able to pair with another G5 to give you more volume and depth, although as usual with that kind of setup, you'd really be better off just spending that amount of money on a more "proper" music setup.
Cambridge obviously realises that the G5 is a boring looking thing, because it has a considerably sexier new range incoming shortly in the form of the YoYo S, M and L. However, this will remain on sale for the foreseeable future, and is a great little speaker in its own right.
Price £230 | Buy Cambridge Audio G5
8. Bose Soundlink Bluetooth Speaker III
Power output: Not quoted | Battery life: 14 hours | Apt-X compatible: No
Typically solid Bose sound
Typically solid Bose build
A bit bland in terms of both audio and looks
Slightly 'premium' pricing
Another slightly less attention-grabbing speaker here, although you can add optional coloured covers to jazz it up a bit, this is typical Bose: well weighted, smooth musical performance in an 'affordable premium' package.
The Soundlink III puts in a great performance with most types of music, and our only issue with it is that it looks a lot like the Cambridge Audio G5 (ie: rather dull) but doesn't muster as exciting a sound. It is however, comfortably the second best very boring grey box that puts out music via Bluetooth currently on the market.
Price £300 | Buy Bose Soundlink Bluetooth Speaker III
9. Monster SuperStar Blaster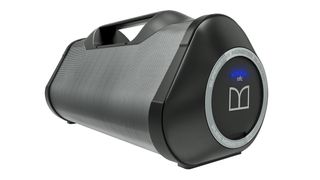 Power output: Not quoted but presumably quite a lot | Battery life: 8 hours | Apt-X compatible: Yes
Ridiculously loud and bassy sound
Quirky, retro-futuristic styling
Clearly, lovers of Bach's string quartets probably won't be that enthused
It's portable in that it's battery powered, but it's a hefty, weighty beast
After that brief diversion into understated tastefulness, we're back in crazy town with Monster's contemporary twist on the ghetto blaster. And it is indeed a monster.
With self-explanatory "indoor" and "outdoor" modes, this thing generates an awe-inspiring racket with rock, hip-hop, dance and Wagner. Lovers of anything more subtle than that almost certainly need not apply. It's the kind of speaker that leads to neighbourly feuds.
Hilariously, it is, however, available at John Lewis. Where all the old skool electro breakdance warriors head for their shopping, no doubt.
Price £300 | Buy Monster SuperStar Blaster
10. Ruark R1 Mk III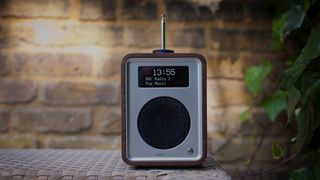 Power output: 9W | Battery life: N/A | Apt-X compatible: No
It's also a DAB and FM radio
Looks and sounds timelessly elegant
Rocking parties not part of its remit
Despite looking very portable, it's not battery powered
It's probably fair to say this is pitched at a more mature clientele. Check out its Amazon reviews and you'll find a number of people who don't even appear to know what Bluetooth is.
That's fair enough, as this is primarily a high-class, walnut-clad DAB radio. However, it also performs creditably with Bluetooth music sources. For gentler sounds in the kitchen or bedroom, it's nigh on perfect, although clearly you're not gonna be wanting to rock Skrillex through it.
Price £200 | Buy Ruark R1 Mk III