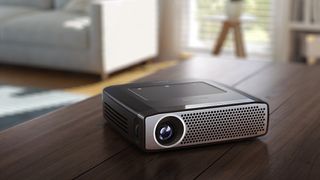 Top projectors for sport and movies
Although the projector market is relatively quiet and under-saturated compared to a lot of tech sectors, there's still plenty of choice and some seemingly daunting complexity to deal with.
Even so, with HD projectors now often highly affordable, Sony's 4K ones coming slowly down in price - Sony has that niche pretty much to itself at the moment - and a massive summer of football and the Olympics looming, now does feel like a good time to consider buying one.
HD and 4K movie streams and downloads, and Blu-ray also means film lovers have never had a better reason to go for a proper home cinema, too.
Especially if you're thinking of getting a projector for occasional, big event usage only, think long and hard about what you buy and where you can set it up.
You'll need a pull-down or fold-up screen or a large expanse of white wall - anything less than a rectangle 80 inches across and you might as well stick to using a telly. You'll also need to either be able to black out the room, or only use it once the sun has gone down, which in summer is not until late.
You'll need to be able to get vision from your source of choice to the projector, and sound to your audio system/soundbar/whatever. For this you'll ideally want several HDMI cables, at least one of which will need to be very long, and an HDMI switching box. Or you could just make do with manually plugging and unplugging sources (Blu-ray deck, Sky box, PlayStation, etc) as required.
Naturally, you'll also need to be able set up the projector far enough away from the screen to throw a large image, and at a height where your head won't block the beam when you sit down.
Lens shift is a hugely useful feature here as it lets you move the image without moving the entire projector.
The other option is to get it properly installed, with the projector on the ceiling and cabling all discreetly tacked to or behind walls. Naturally, that will add hundreds to your overall costs,if not thousands, if you start getting into multi-channel audio custom install type scenarios.
We'll leave that one with you.
What we're certain of is that all the hassle can be worth it, because sport and movies on a truly big screen, with enough smoothness, contrast and definition, is an out-of-this-world experience that absolutely destroys all but the very biggest and most expensive tellies.
• Not convinced? Our favourite HD and 4K tellies await you…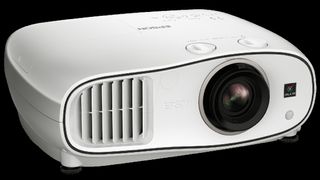 1. Epson TW6600W
This is available in two incarnations: TW6600 and TW600W, which comes with this accessory: a wireless HDMI switching box, which also boasts an optical audio and HDMI output.
To put it in layman's terms, that makes this the perfect occasional projector. It's actually kind of clonky and slow, but it works and it makes sending content to the projector and your speakers so much simpler, as it removes the need for multiple cables, or setting up a TV receiver or other source where the projector is, rather than where the screen is.
If you have no problems with setup, you can buy the cheaper TW6600 and do without the wireless HD. There are speakers built in that might be sufficient for some users, when watching football in particular. Fan noise is low.
The performance of the projector in both incarnations is truly cinematic and involving, and it puts in a really good performance with sport although purists will note that motion smoothing could be better.
TheTW6600W throws a sharp, 80- to 100-inch from about 3m away, is easy to set up visually thanks to versatile lens shift. The price is more than reasonable for the quality you get, sitting in the sweet spot between entry level and rather more serious propositions. If we've got a criticism, it's that standard-def doesn't look amazing on it; you need HD streams as a minimum. Good, HD broadcasts and Blu-ray look absolutely knock-out.
The highest compliment we can pay the Epson TW6600W is this. We stopped using Sony's £8K, 4K one when Sony demanded it back, and had to go back to using this… And after a few days, it didn't feel like that much of a wrench.
T3 rating 5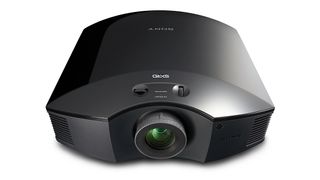 2. Sony VPL-HW65ES
Other than slightly fiddly lens shift wheels, it's hard to fault this full HD projector from Sony. The price is a notable step up from the Epson, but you get a comparable uplift in visual quality too.
What you don't get is a wireless HD transmitter thrown in (Sony does make them, so you can buy seperately). That means you'll need to make sure you have enough HDMI and audio cables of sufficient length for your room, or do a 'proper' install.
Image quality is really fantastic, very bright - you can watch in twilight or even cloudy day time, rather than full blackout - and MotionFlow comes into its own with fast-moving, sporty action. Fan noise is minimal.
Numerous visual settings are available and they make a real difference, but if you don't want to tinker with gamma correction, results are pretty good straight out of the box. A massive recommend from us, in short.
T3 rating 5
Price £2,300 | Buy Sony VPL-HW65ES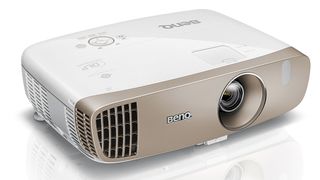 3. BenQ W2000
Given the price is well south of a grand, this is a highly alluring, single-chip DLP projector, particularly if you split your time between movies and gaming.
There's vertical lens shift only, but that's better than nothing, and setup is pretty easy. The Full HD Rec.709 colour standard image (15,000:1 contrast ratio, 2,000 lumen brightness) is vibrant, immersive and balanced - even the 3D thrills if you're still on that particular ride.
The built-in 20W speaker, while no replacement for a decent audio package, is far better than it should be, and the short-throw - 100-inch screen at 2.5m – makes it ideal for smaller living rooms. Add BenQ's Wireless Full HD Kit for £250 and you can stream from any source without a significant drop in quality.
T3 rating 4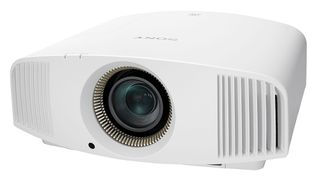 4. Sony VPL-VW520
This is easily the best projector in this list. It's also by far the most expensive. If you have the money, we recommend it without hesitation.
Maybe, if we were quibbling, we'd say that support for HDR would be preferable at this price, and lip sync issues mean you'll need external audio processing. But if you can afford this projector, you can afford to get it properly installed, too.
The 4K images this thing puts out are hugely impressive but perhaps what's coolest right now is how well it upscales decent HD sources. We watched Star Wars from iTunes, which is nobody's idea of a reference-grade source, and it looked absolutely stunning. Sport and gaming are similarly knock-out.
T3 rating 5
Price £7,000 | Buy Sony VPL-VW520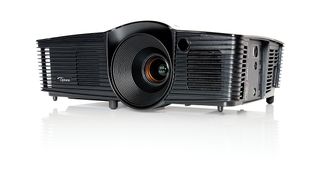 5. Optoma HD141X
This superb value first-time projector gives a genuinely decent, full HD 1080p display at 3,000 lumens with a 23,000:1 contrast ratio.
The 10W built-in speakers are perfectly passable, although you'd be well advised to wire up a proper audio ssytem. For the money, the vivid colours, light and shade detailing are impressive, although you'll want your room properly dark.
Also making this an ideal 'occasional' projector for sporting action and films are super simple setup, two HDMI ports, plus MHL for your smartphone, so you can delight every visitor with hours and hours of family holiday snaps, as well as mobile games and video. If that's what you're in to.
T3 rating 4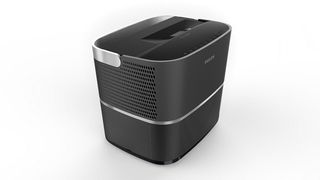 6. Philips Screeneo 2.0
The original ultra short throw Screeneo – 120" screen from just 42cm away, 50" from just 10cm – impressed in virtually every way, but lacked HD.
Updated now and all the better for it, this stylish design now boasts Full HD 1920 x 1080p, 2,000 lumen brightness and 200,000:1 contrast ratio.
More notably, there's a Dolby Digital 2.1, 26W sound system built in, and it's actually really good! The subwoofer packs a room-filling, realistic punch beyond the realm of some soundbars.
As well as HDMI, optical and wired audio there's also Bluetooth, which given the decent sound quality isn't as daft an addition as it first appears.
T3 rating 4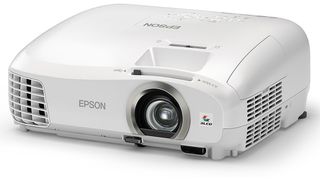 7. Epson TW5300
There's two ways of looking at this more entry-level Epson. Compared to its big brother it's rather disappointing. On the other hand, you're getting a full-HD projector for little more than 500 quid, a feat that would have seen Epson burned for witchcraft just five years ago.
Setup is easy and there's a built-in 5W speaker if you're really in a hurry, though it is a bit crap. You'd be nuts to consider having this installed and using it every night, in our view, but as a projector to whack England's latest plucky defeat on, in the company of friends, it's tremendous value for money.
It doesn't disgrace itself when it comes to movies, either.
T3 rating4
Price £530 | Buy Epson TW5300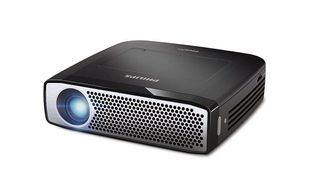 Philips PicoPix PPX4935 Portable Projector
The majority of Pico projectors are barely fit for Powerpoint presentations, but this 11.5 x 11.5cm pocket rocket packs in an impressive 350 lumens and can splash out a 150-inch screen at 720p resolution – more than good enough if your favourite boozer doesn't have a back room big screen on cup final day.
Running on an Android 4.4-based operating system, the PicoPix has 4GB of onboard memory and Wi-Fi, as well as a MicroSD slot, on top of the usual HDMI connectivity, with voice recognition for Google searches etc.
Don't expect silky smooth motion and inky blacks, but it's seriously good fun and can even be run on its internal battery - although two hours of life makes that more suited to Olympic sprints and boxing matches than games of football.
T3 rating 4
Price £450 | Buy Philips PicoPix