Chicago Auto Show is back in its regular spot for 2022, after a delayed event in 2021. The show is the longest-running auto show in the US and both its timing and its closeness to Detroit in terms of geography promises regular big releases.
It's also proving to be a popular date for EV announcements. Last year saw one of the first looks of the Ford F-150 Lightning, the Kia EV6, the Nissan Ariya and a hybrid Jeep Wrangler. This year we're expecting to get a first look at Ram's fully electric truck, something new from Ford and perhaps a few more surprises along the way.
I'm here at McCormac Place in Chicago for the show's preview event and will be updating this blog live as the releases happen.
Refresh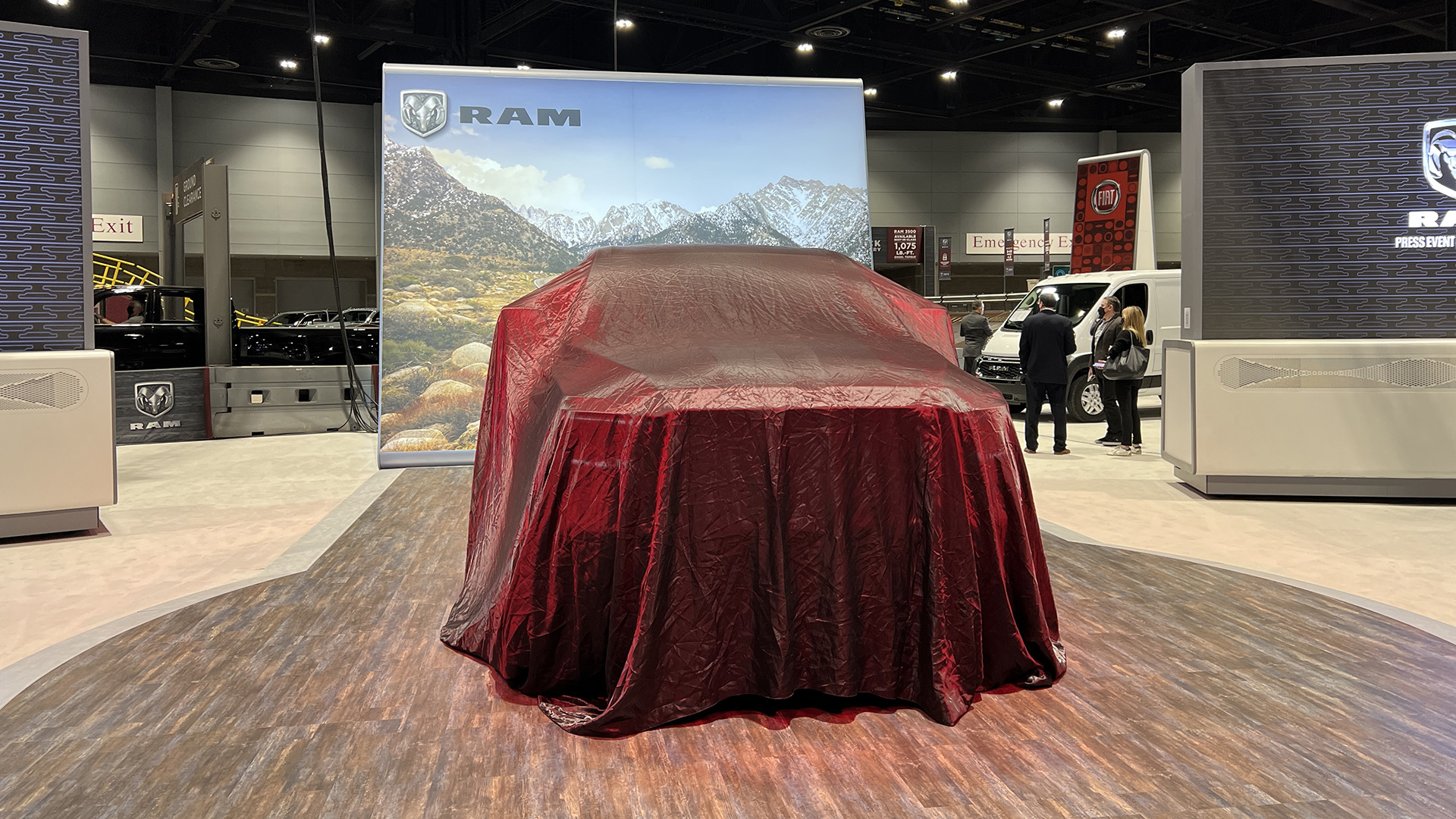 First up this morning is the Ram press conference. We're expecting to hear more about the upcoming Ram electric pickup that was teased earlier this week. This will go head to head with the Ford F-150 Lightning and Chevy Silverado electric (which is sitting just behind me), providing some serious EV options for US truck owners. Unfortunately, neither are likely to make it across the pond any time soon.
Ram has announced that it is entering into a year of conversations with its customers - real world truck owners - to find out what they want an electric truck to be. Ram it seems are treading very carefully moving to EV as I imagine many of its owners aren't ready for battery power. They still promise to have a Ram 1500 fully battery powered truck by 2024, and electric versions in all of its segments by 2025. But we won't be seeing one today.
instead, under the cover is the first of its latest First Responder inspired limited edition trucks. This is the Ram 1500 Firefighter edition, and as you might expect, it's red.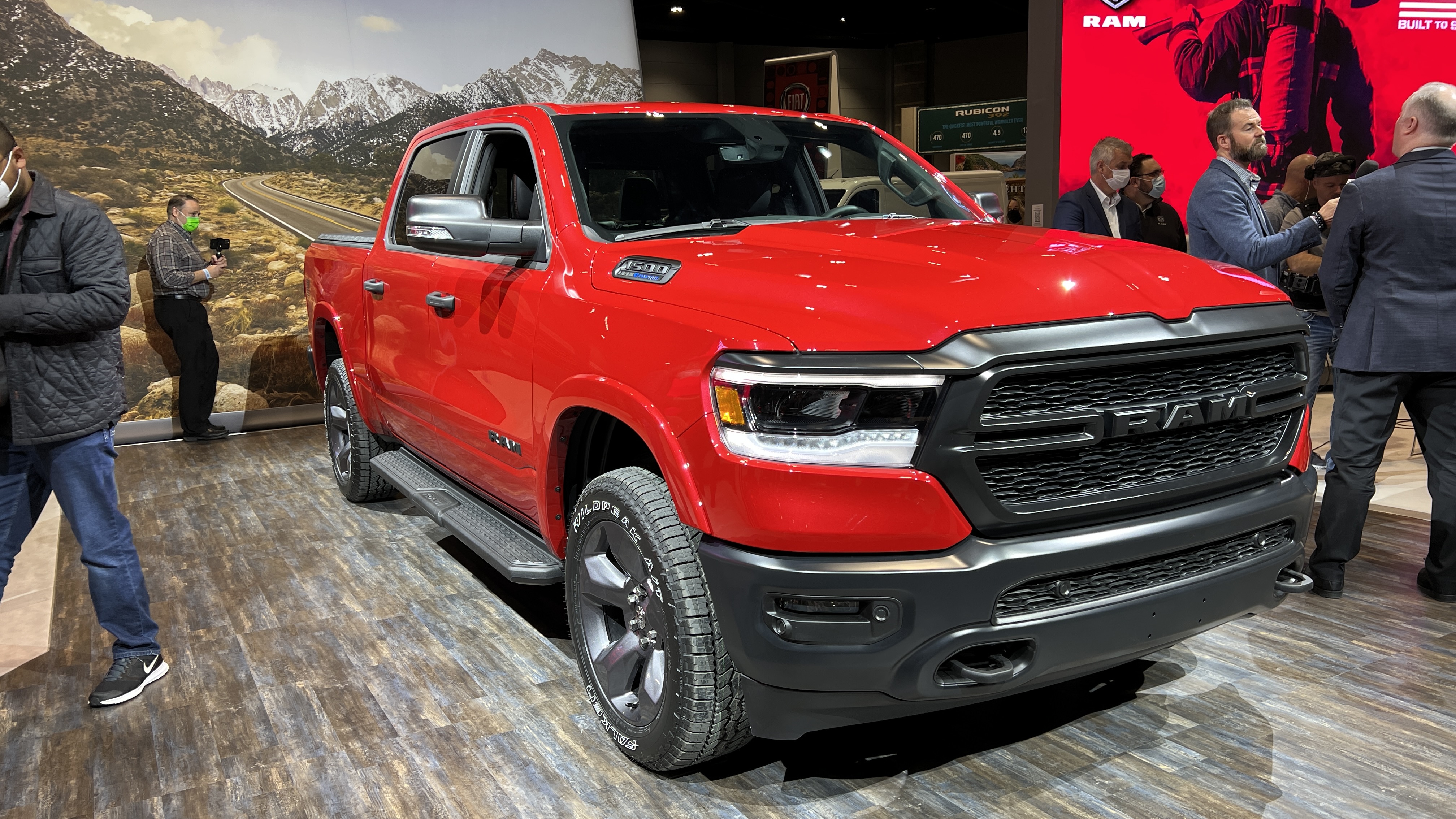 Next up is Hyundai. The Iconiq 5 is already on the stage, so I'm hoping we will see the Iconiq 6 that was spotted in testing last month. The Iconiq 5 has proved hugely popular for its range and price, though has only recently made it over to the US.
Theres no car under cover here, so unlikely that there will be a big reveal but hopefully we'll at least get an idea of when something is coming.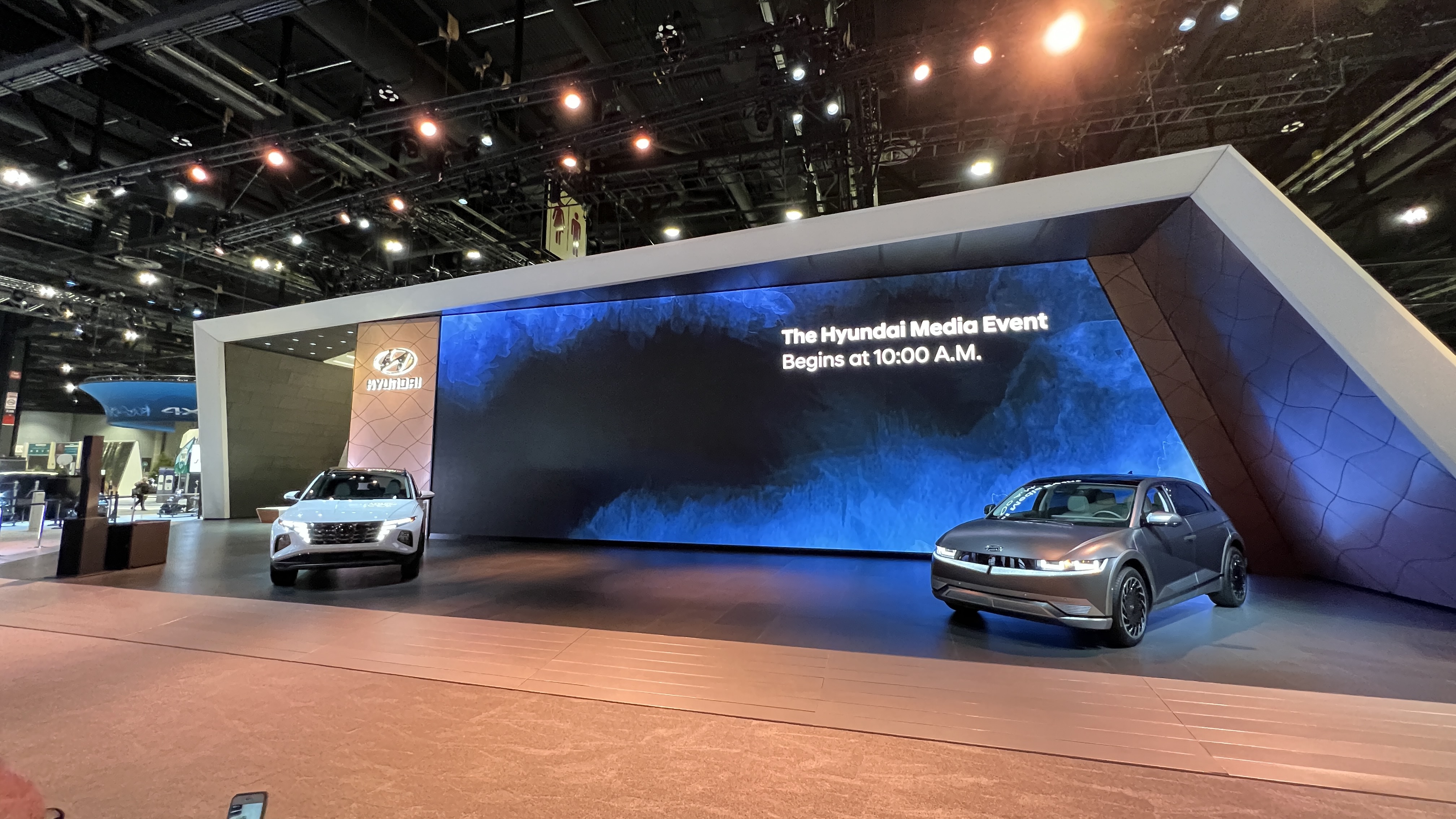 So no new vehicle information today. Instead, Hyundai focused on safety, "helping to safeguard you in your journey through life." Hyundai has more IIHS safety awards than any other brand. Today 98% of its new vehicles include automatic emergency braking (AEB) as well as radar sensors for forward collision avoidance.
vehicles also feature BlueLink to call the emergency services after a crash, Safe Exit Assist to stop door opening on oncoming traffic, including cyclists and cars, and Rear Occupant Alert, which features sensors in the back of the car to detect when a child is left in the vehicle and alert the owner.
It's Toyota's turn now and based on the pickup on stage I don't think we're going to see any EVs today. This looks like the 2022 Tundra, which is a great looking truck.
Toyota currently doesn't have a fully electric vehicle in the US but it does have the Mirai, a hydrogen cell car and a range of hybrids.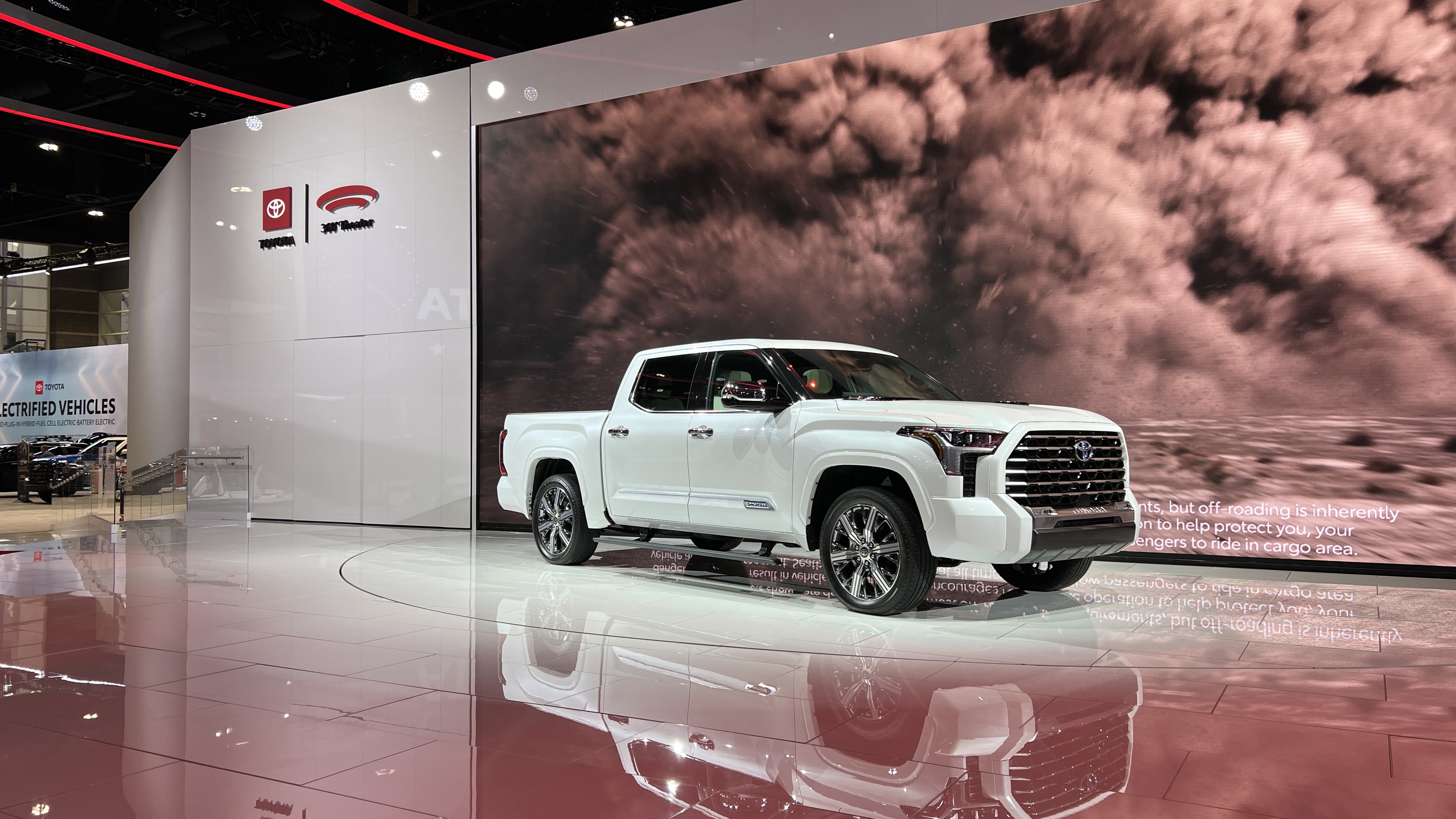 This is interesting though. This is the Toyota Rhombus, a concept battery powered vehicle. It has a single swivel seat in the front and a couch-like seat for two or three people in the rear. The steering wheel has a tablet mounted on it for info. My guess is that the car is designed to offer fully autonomous driving, at which point the driver and swivel round and relax with the passengers.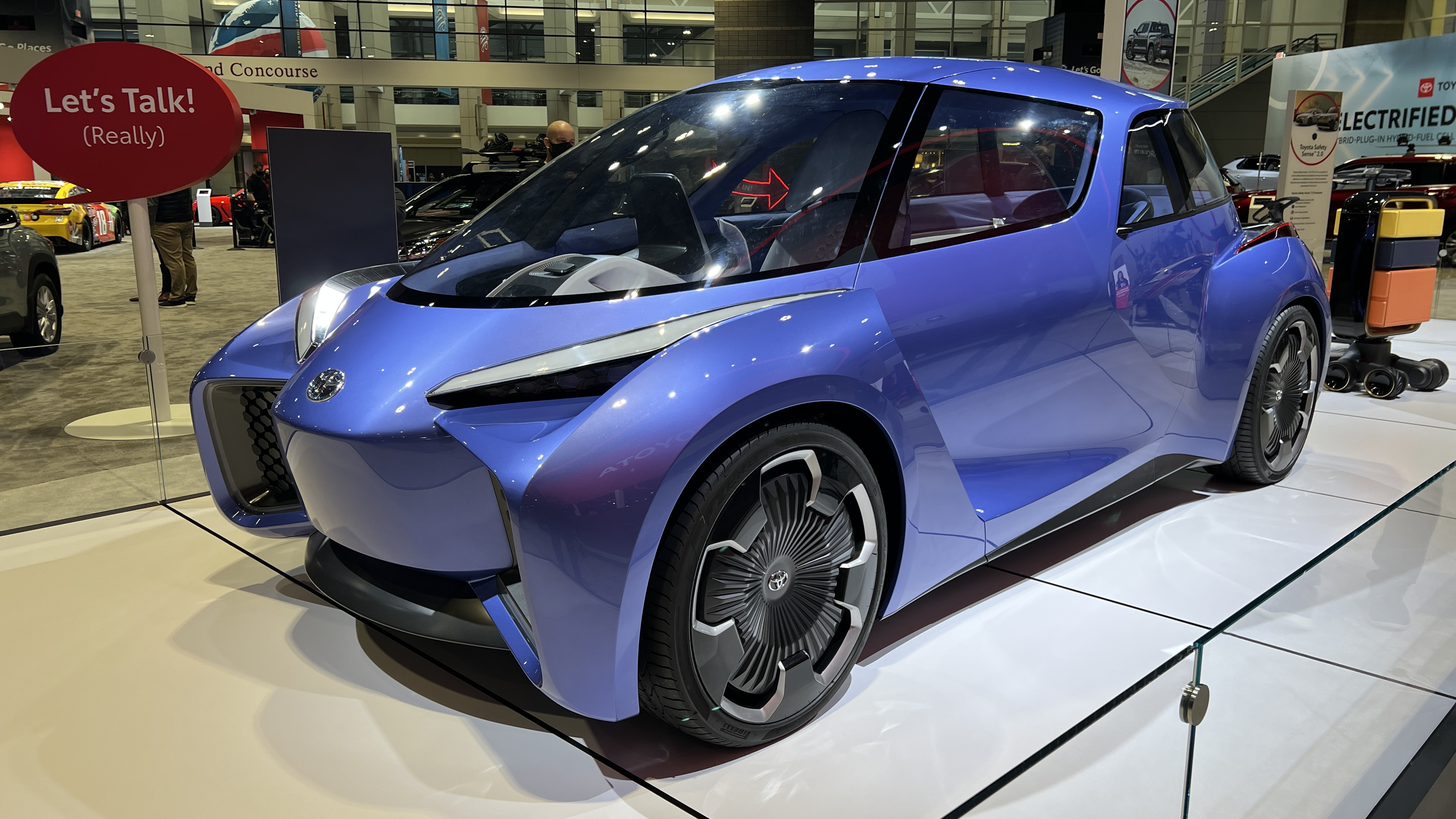 Here's a first look at Toyota's upcoming fully electric car, the bZ4X - standing for beyond zero. It is due out this spring and expected to have a 250 mile range.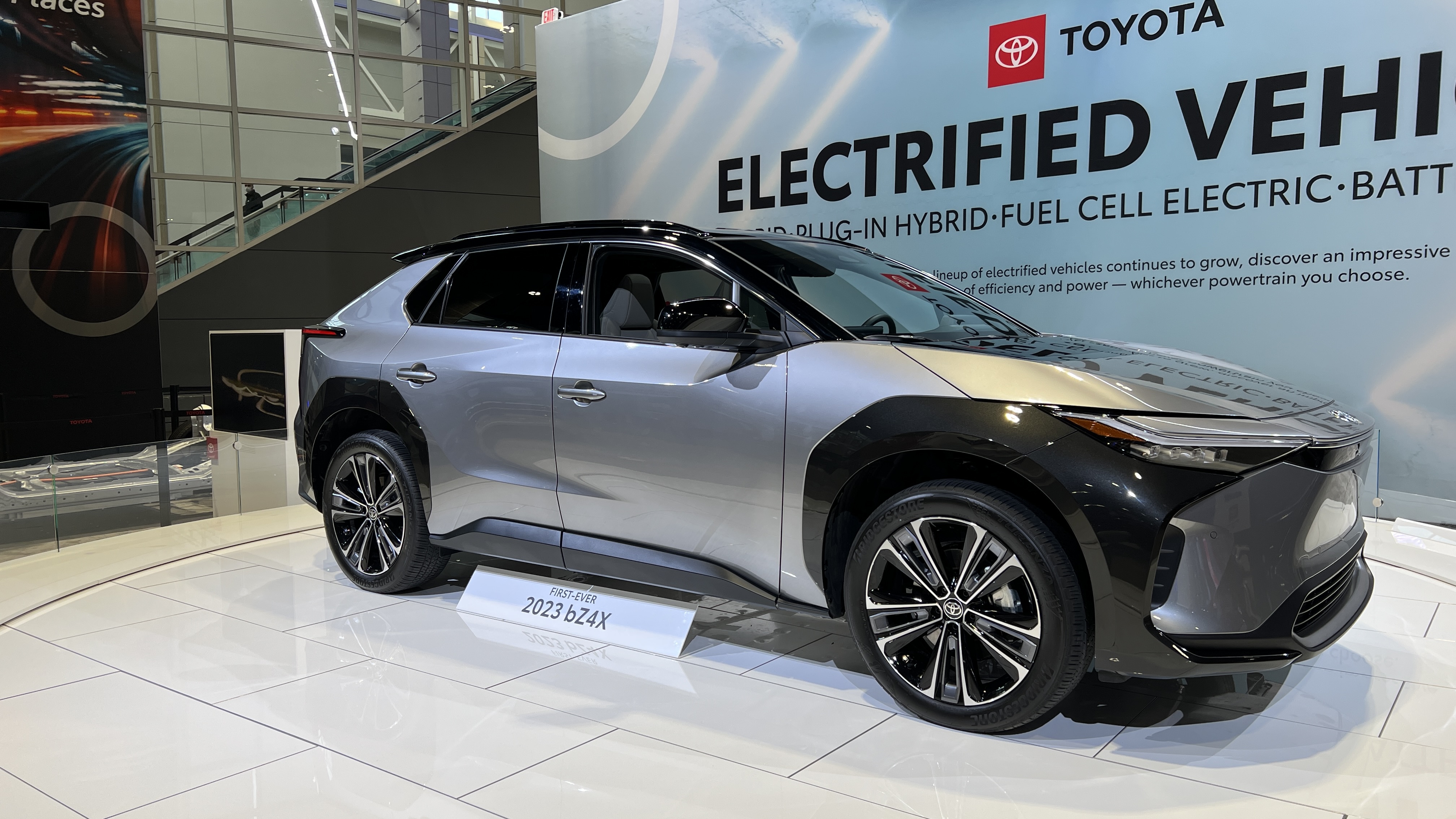 Kia has its Sportage on the stage, including a new plug-in hybrid version of the SUV. On its stand though, there's also a concept of the EV9 SUV which looks stunning. It's a lot bigger than the EV6, closer to the Telluride in terms of size and has some really interesting light panels on the front that appear through the body colored panels.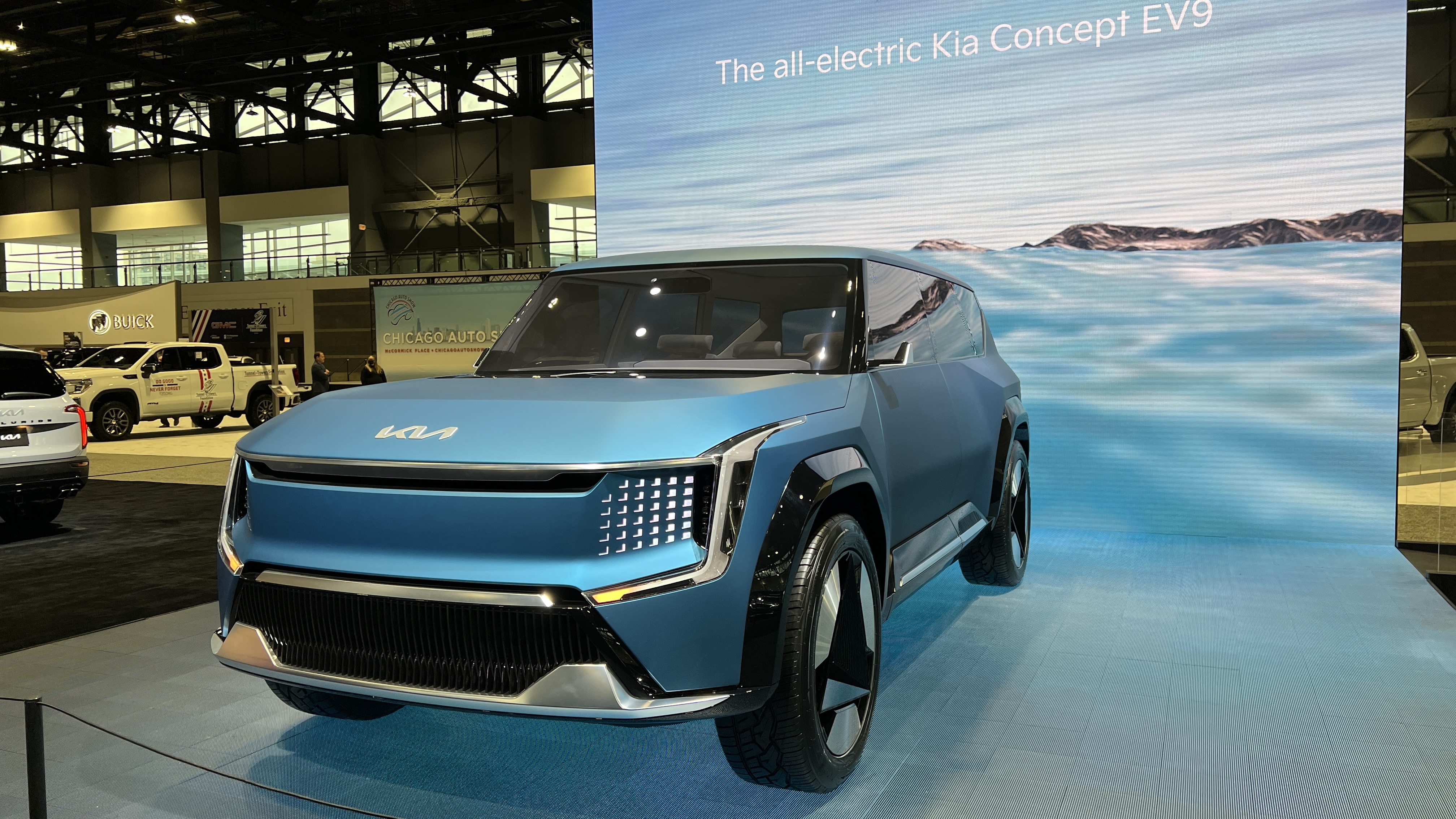 So, time to take a look at that new Chevrolet Silverado electric. It's a really impressive looking truck. The strip headlight that runs right across the front of the pickup gives it a really modern look, as does that filled in grill. It has a range of up to 400 miles and under 4.5 secs 0-60mph. This is a full size truck and despite the sleek looks, it's massive. it sits on 24inch wheels and has a 5'11" truck bed.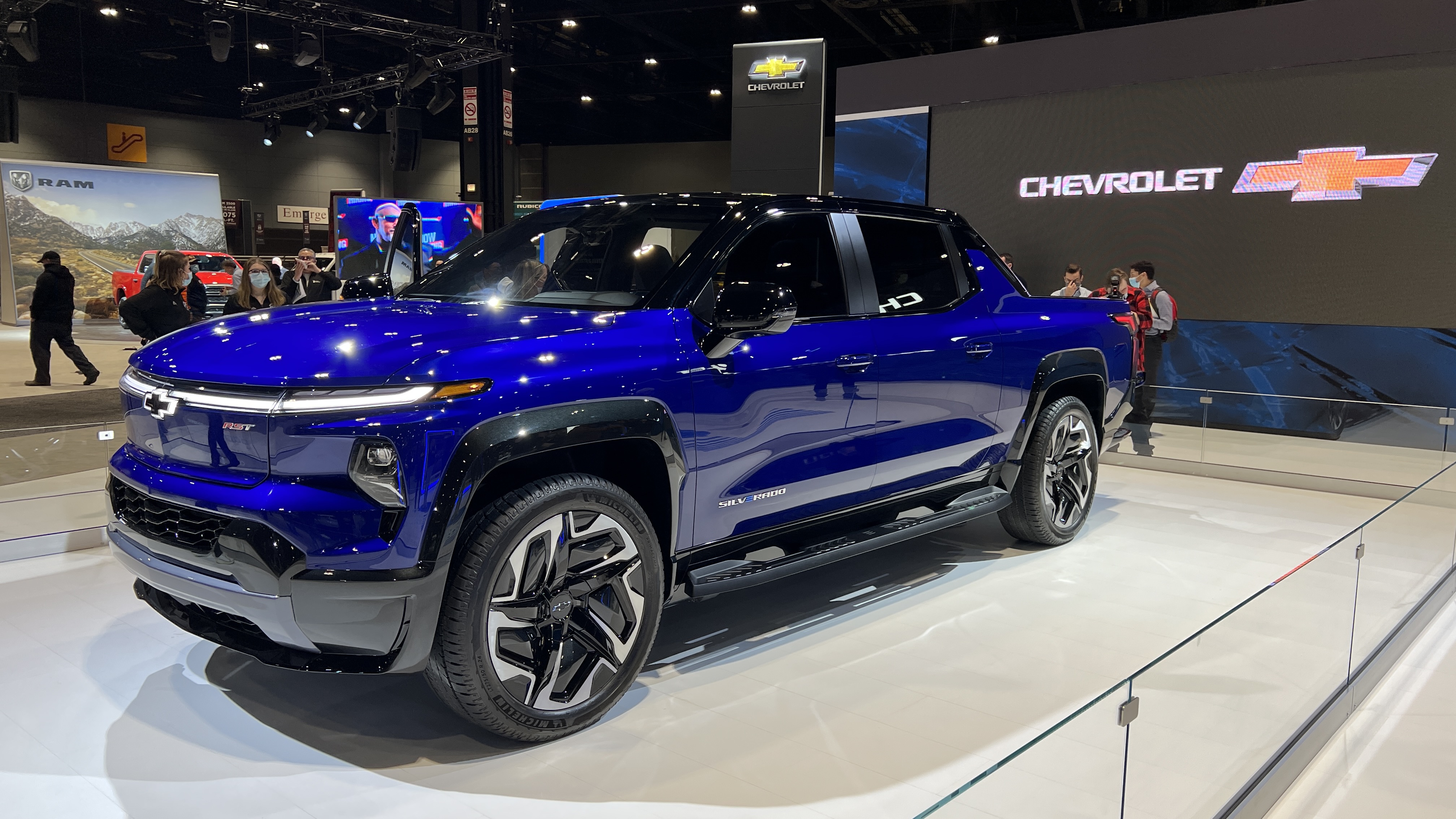 Over at the Ford stand it looks like we're about to see a new edition to the Bronco range. The Bronco was revived last year with a great new design that has proved hugely popular. It's a proper off-road 4x4 that's designed to be covered in mud but it looks just as good in the city. We've not seen a hybrid version of the Bronco but I suspect that not what's under the cover.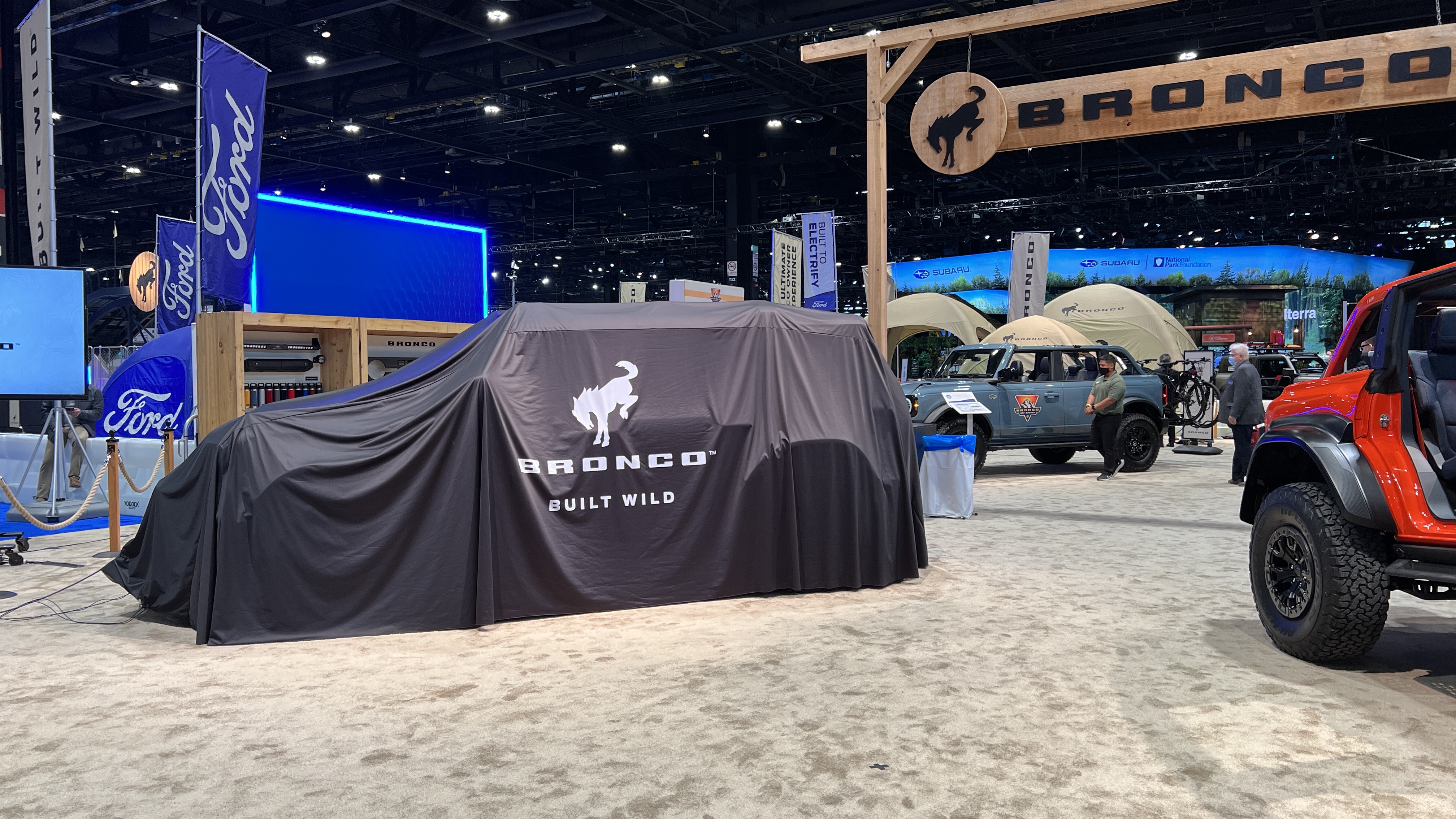 Actually, its an even more off-road option for Bronco customers. The Bronco Everglades is designed for the wild. It features a winch capable of pulling 10,000 pounds, a snorkel to bring in fresh air to the cabin and the engine, and the Sasquatch package. This includes 35 inch tires, 17 inch wheels and higher clearance. It also comes with a roof rack and a 12in chair screen inside.
Also on display is the new Bronco Raptor, the most extreme Bronco to date. It's wider, with huge 37 inch tires and a tuned 3-liter twin turbo engine that delivers 400hp.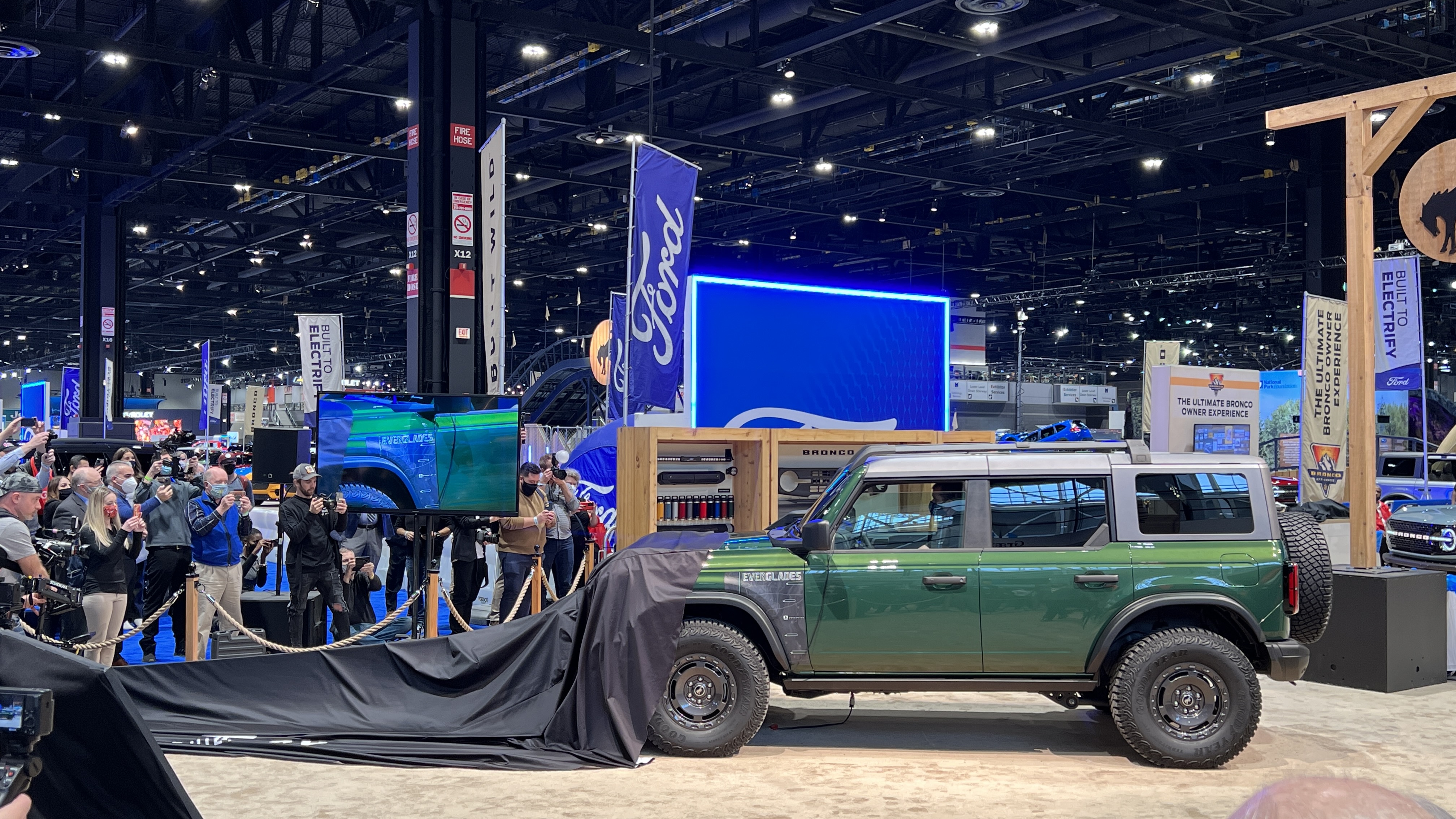 BMW has it's brand new iX M60 on pride of place at its stand. That large grill isn't to everyone's taste but finished in black, this one looks really classy. The interior feels far more like an electric car than the i4 – the design is more sparse, with a sweeping digital screen spanning from behind the wheel to the center console. And that steering wheel is slightly squared off too.
Image 1 of 2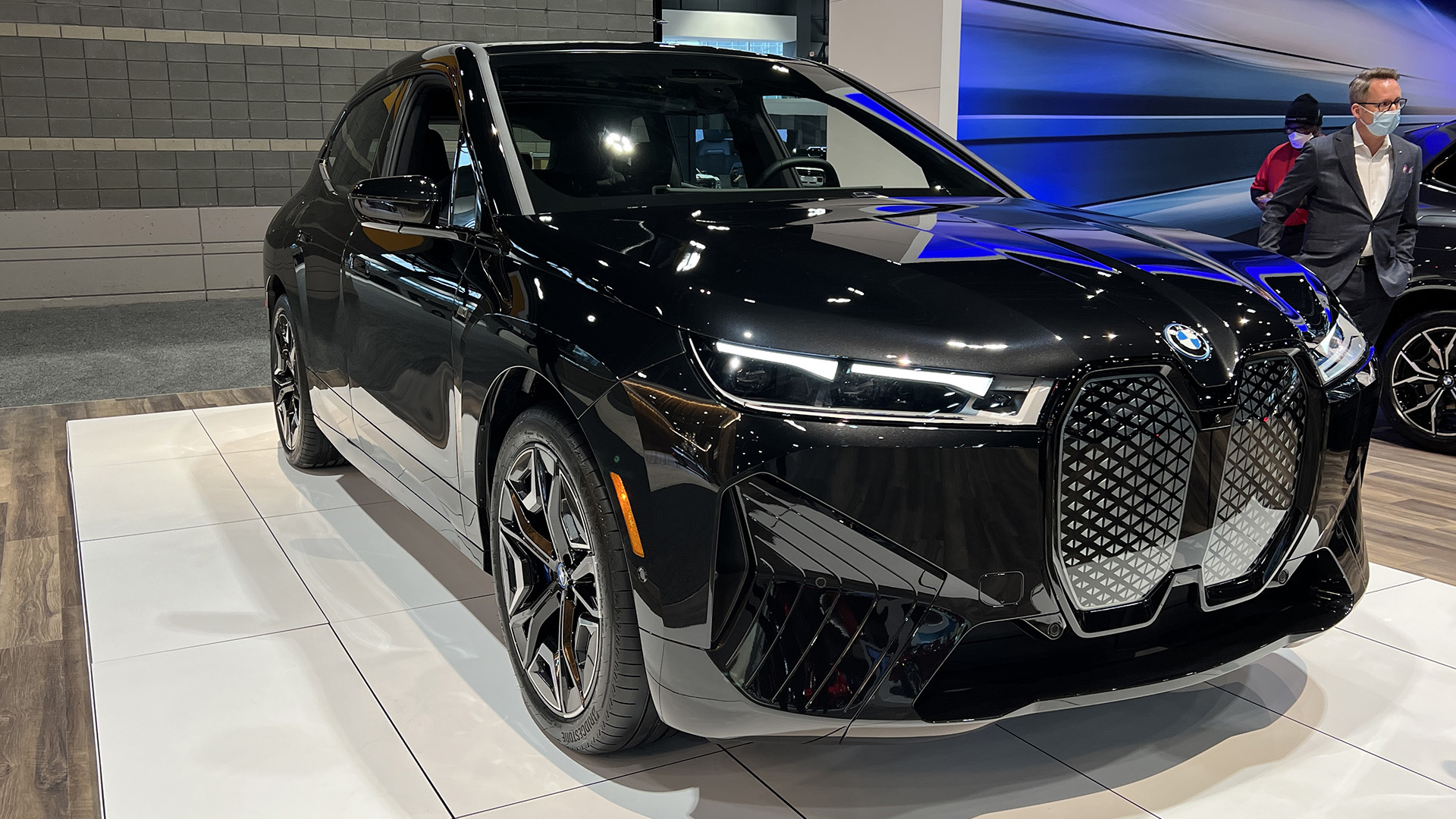 Image 1 of 2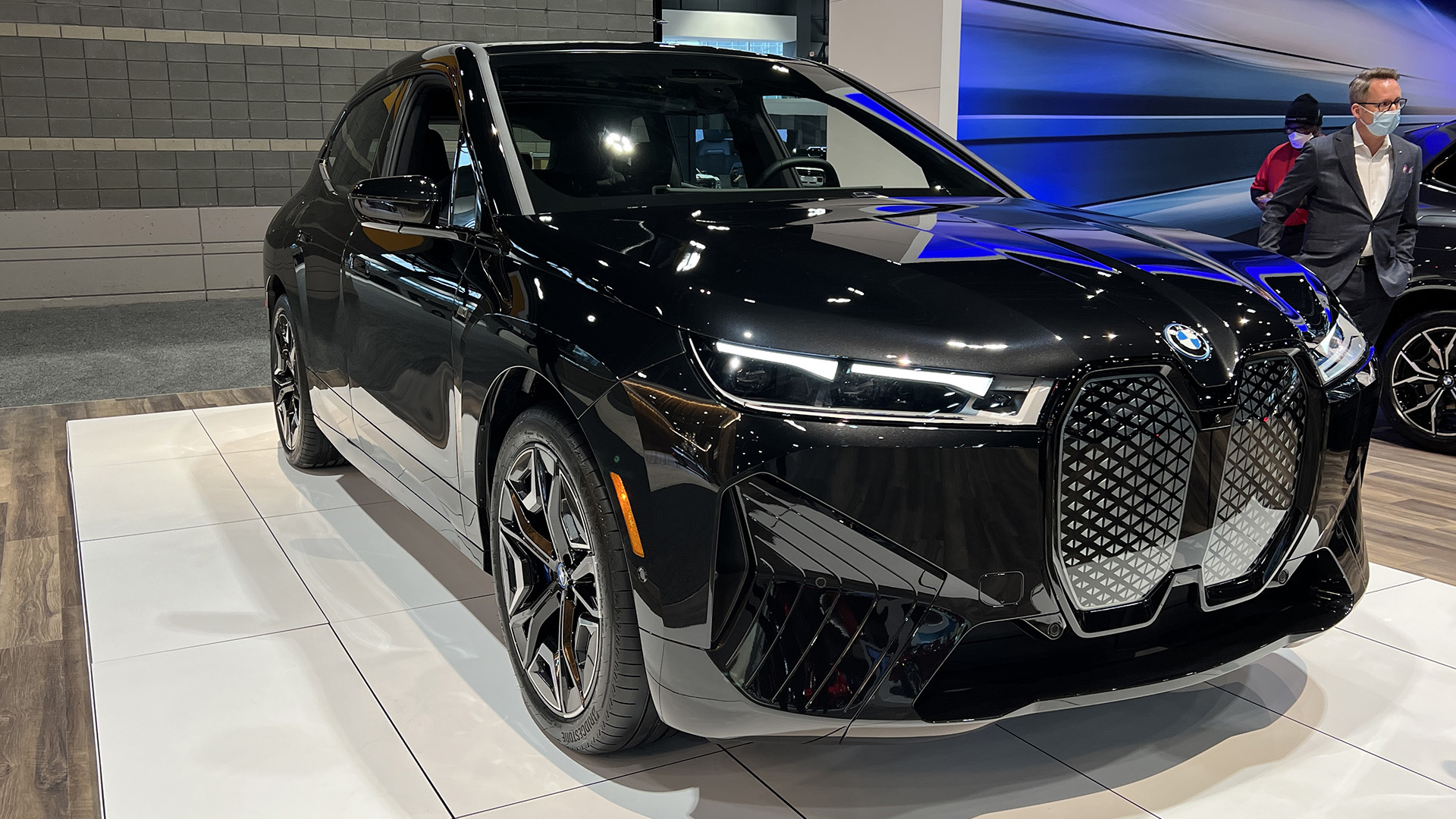 Image 2 of 2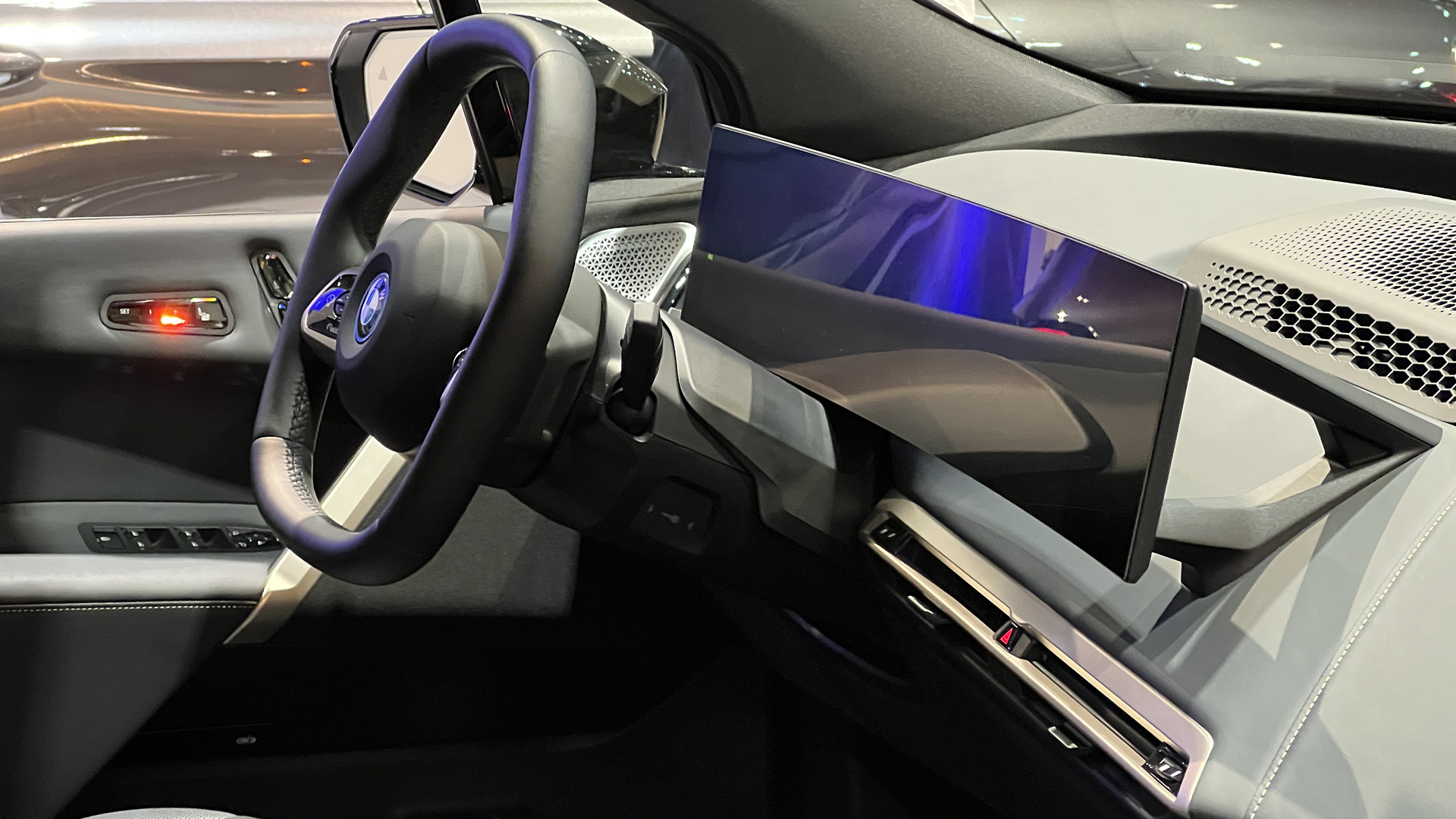 Ford is offering runs in some of its electric vehicles but there was one I really wanted to try. This is the 1978 F-100 with the Eluminator electric crate. That gives this vintage pickup the same 480 horse power as the Mustang Mach-E GT, and it looks stunning too.
Okay, wrapping up the day's coverage now but i'll leave you with some pics of some more beautiful cars. First, it's the Ford GT Alan Mann Heritage Edition. This is based on the GT race prototypes from 1966 and is an incredible looking car.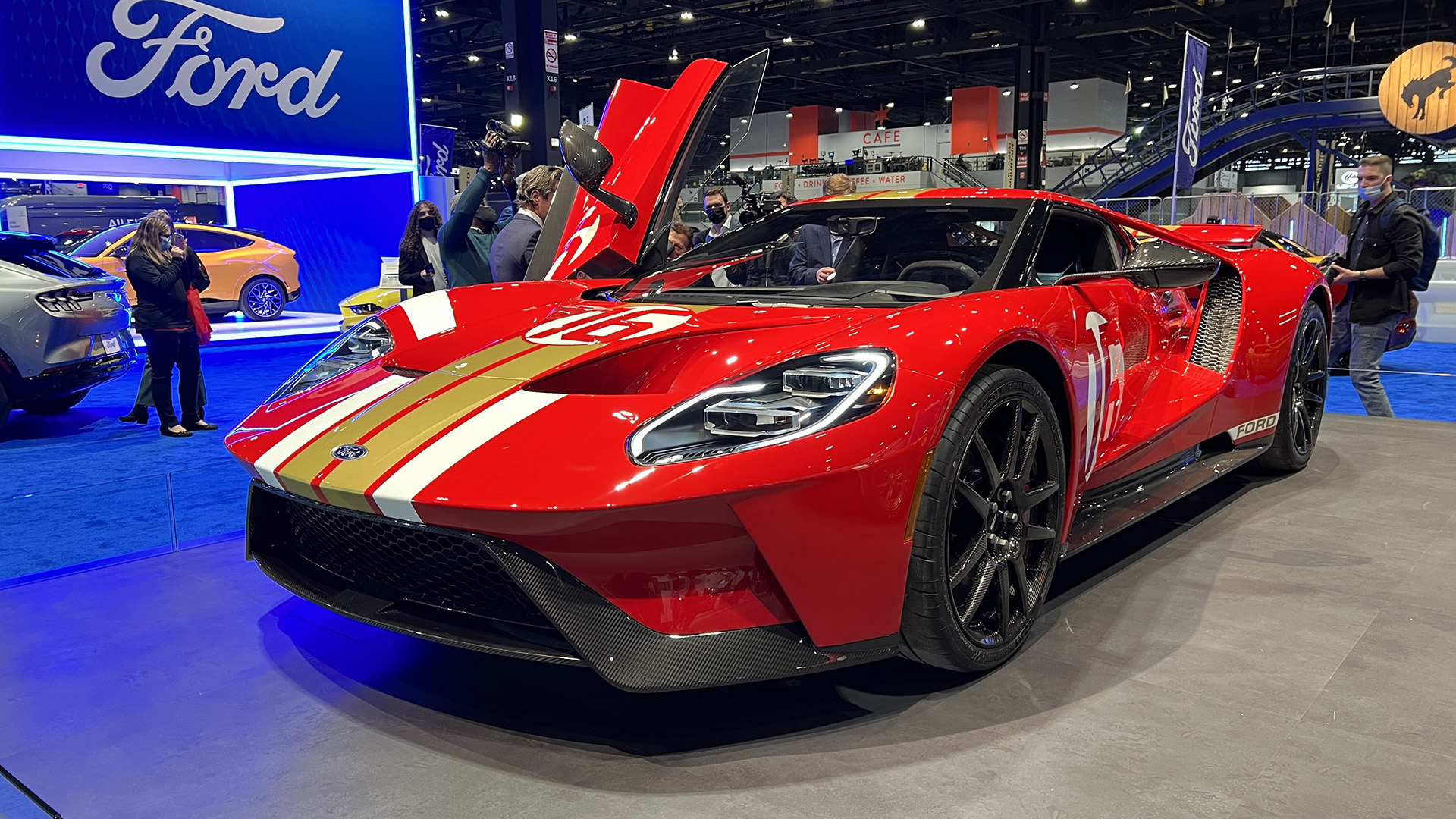 And this is the 2023 Chevrolet Corvette Z06 3LZ Coupe. It features a 5.5-liter V8 with 670hp and a 0-60 of 2.5 seconds.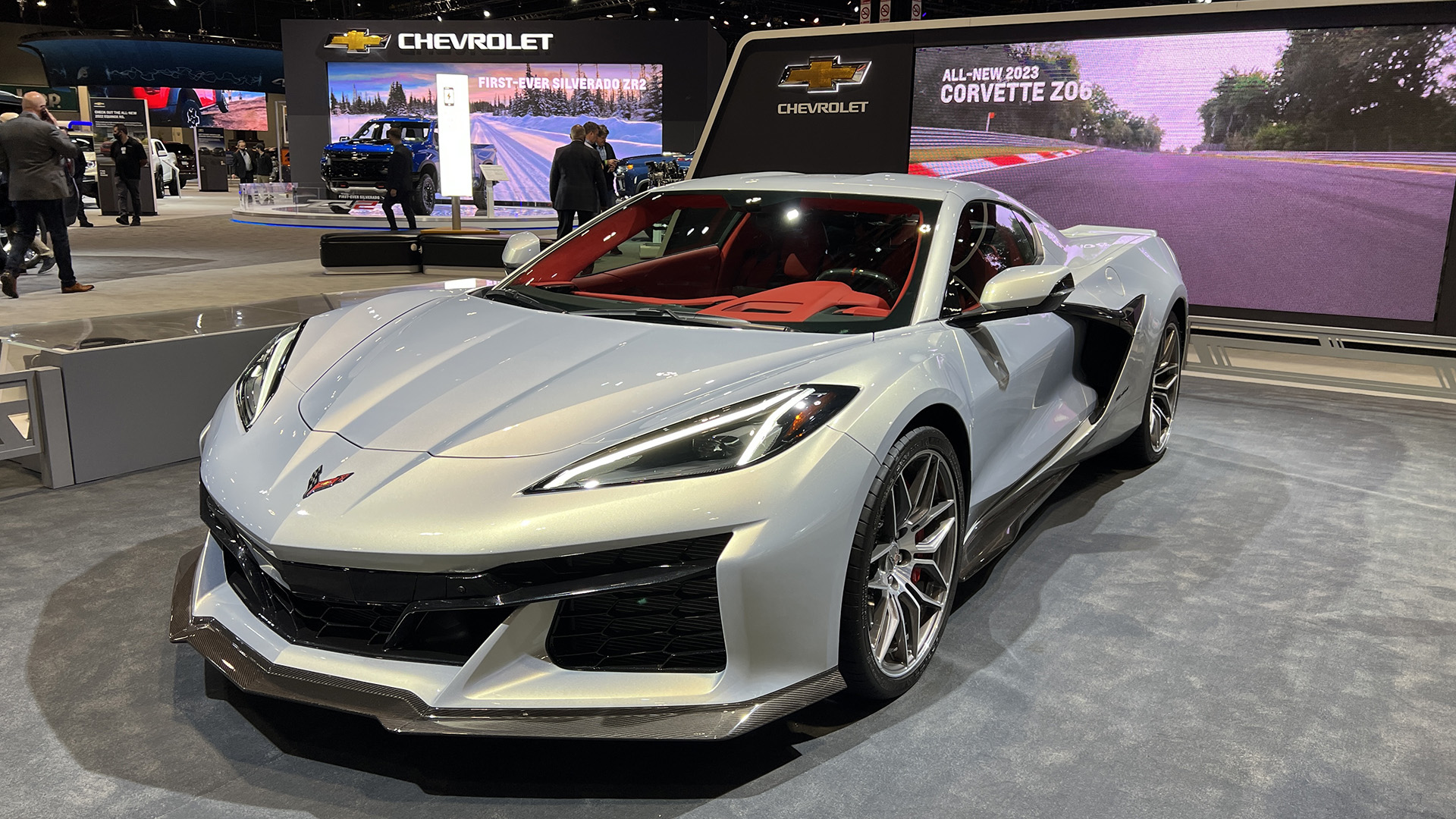 The convertible version is equally stunning. See you next year!