The best Bluetooth speakers make it easy to play music from any source, anywhere you want. Most of the popular models are battery powered and small enough to fit in a bag easily – our guide focuses on the best portable speakers, though there are bigger, beefier models here too.
The best Bluetooth speakers offer much better quality than in the past, and come in a bigger range of shapes, sizes and toughness. You can surprisingly large and refined sound from a can-sized lump of aluminium, and enough power for a big party from a bigger portable speaker.
The best portable speakers turn up everywhere from fields to beaches to kitchens – they're like the portable radios of the 21st century, and the best waterproof speakers use Bluetooth, since it makes it easier to be watertight. With a battery and vary degrees of ruggedising, these are handy for moving from room to room, and also taking outside.
Are Bluetooth and wireless the same thing?
No. All Bluetooth speakers are wireless but not all wireless speakers rely on Bluetooth, although most include it. This is going to become more of an issue as wireless speaker technology evolves. We've got a separate guide to the best wireless speakers, and that focuses more on home speakers with Wi-Fi.
Bluetooth also turns up as an option on speakers that are really meant to be used with Wi-Fi or an analogue or digital, wired input, such as the Naim Mu-so 2nd Gen or B&O Beosound Level – again, we're not really including those, and are focusing more on speakers where Bluetooth is expected to be the main way of plaing music on them.
The best Bluetooth speakers 2022 – the list
The Beosound A1 v2 finds its way to the top of this list thanks to sheer audio quality for the size – if you want a full, punchy sound that's fairly expansive, and that doesn't crush when going loud, then this is the place to start.
That's no surprise when it comes from Bang & Olufsen, of course. And it follow B&O's usual MO of having quite a neutral sound out of the box, but you can use the app to customise the audio – we at T3 like to push up the bass of B&O's products a little, and that's so easy to do and then save as a preset.
There's another smart trick here too, though – you can even use Alexa from the device, despite it lacking Wi-Fi, thanks to the Bluetooth connection. That means you can just request music without touching your phone (as long as your phone is still within range).
And, being a B&O speaker, it's also an object of desire, and is available in a great range of colours, with new ones added to the range over time. The build quality can certainly take a tumble, and is dust and waterproof, for lighter dunkings. Here's our full B&O Beosound A1 2nd Gen review.
The original Wonderboom from Logitech subsidiary Ultimate Ears was great. Wonderboom 2 is, as you'd imagine, one better. Better sound, longer battery life (13 hours instead of 10), cool new buttons to play with, dust- and sand-proofing (as well as the previous imperviousness to water), and a great price.
Unlike UE's more sophisticated Megaboom 3, there's no app to use more than one of them at once; it's just a straight-up Bluetooth speaker. It's super-portable though, and you can pair two of them either in stereo or dual mono. Strong Bluetooth means they can be placed 100m apart too – 'at either end of a tennis court', was one example given at launch. Even with just one Wonderboom 2 in play, the 360 degree audio is better than it has any right to be at the price, especially with pop, hip-hop, EDM, bro rock and other outdoor party-friendly sounds.
The Wonderboom 2 doesn't really try to straddle home and outdoors: it's clearly meant to be taken to wherever the party is. It's fully waterproof – in fact not only does it also float, but if you push it under the water for whatever reason, it'll even survive that. Being IP57 rated, it's also well protected against grit, salt water, dust and beach-side sand, so long as you keep the USB charger cover in place. It's sufficiently rugged that you can chuck it at the wall if you like, and it'll survive that too.
Another interesting new feature is Outdoor Boost. This makes the sound a bit less bassy and more shrill. This doesn't sound better than the normal mode, clearly, but it 'cuts through' better and could be a handy addition. In an emergency, you can also still charge your phone from the Wonderboom 2.
The Wonderboom 2 is the state of the art in waterproof, outdoor portable speakers. Keep an eye out for the original Wonderboom speaker going cheap, though – it's still an excellent product.
There are Bluetooth speakers that are more like updates to the old hi-fi mini systems – you plug them in, they're mainly for streaming but have a line in, and the emphasis is on superior sound quality. Then there are your classic portable Bluetooth speakers with battery power and go-anywhere convenience. The Audio Pro Addon C3 however – and a number of the other Bluetooth speakers listed here – are a hybrid of the two.
The C3 looks extremely stylish, sounds superb but is very petite, has a natty carry handle, and nine hours of battery life. It also piles on AirPlay and Spotify Connect via Wi-Fi, as well as Audio Pro's own app, so you can even use it as part of a very chic multi-room setup. There's a line in as well.
Audio Pro's app is dire, but you don't actually need to use it other than for multi-room control. If you use AirPlay from a laptop or mobile you can bypass it entirely and still have multi-room. Although one thing you should definitely use the app for is to set up the 5 preset buttons on the front of the C3 – these then give instant access to your favourite web radio stations or Spotify playlists.
Slightly surprisingly when connected via Bluetooth there's no support for the audio-improving Apt-X (Android) or AAC (iOS) codecs. However music played via Bluetooth still sounds excellent. This isn't a cheap box for playing pop music in the park – although it will do that, so long as you keep it dry – it's a very musical, high quality speaker that happens to use Bluetooth.
What you've got here is a super-portable speaker with Wi-Fi streaming for higher quality and multi-room, with Bluetooth for total convenience. It's a stunner, especially if you can avoid using Audio Pro's quite crappy app.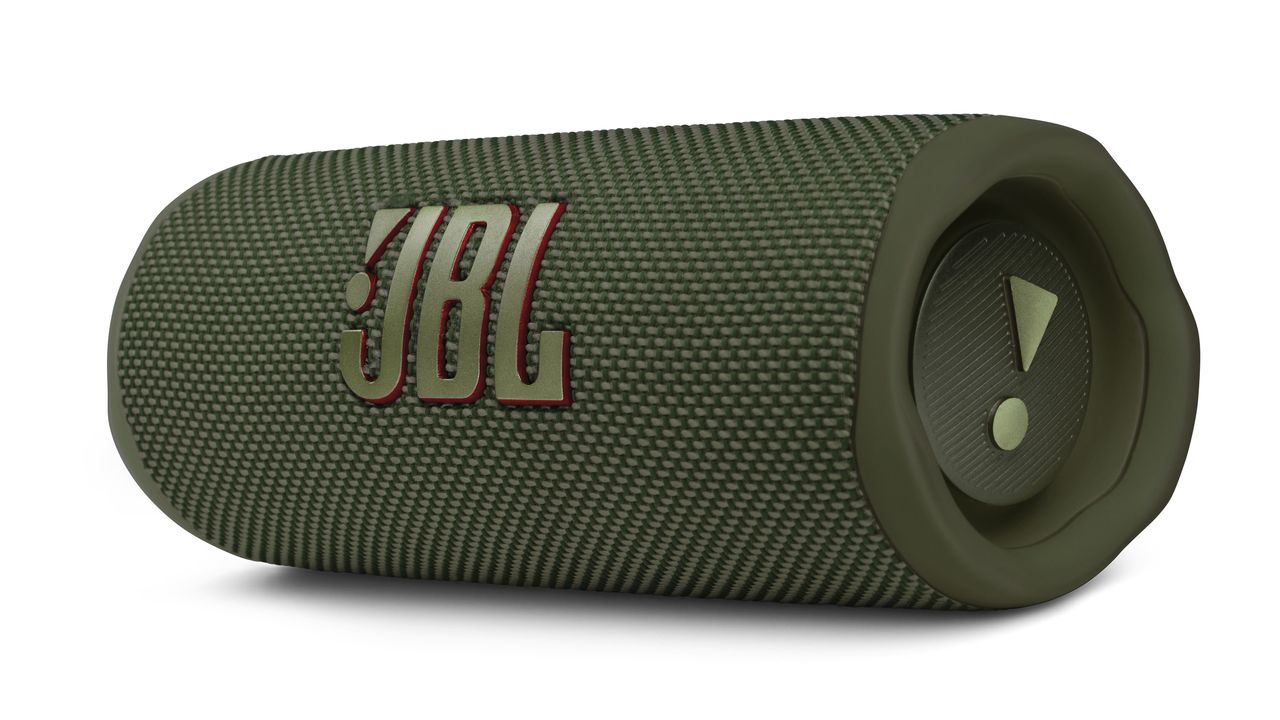 Anyone who is a fan of JBL will love the JBL Flip 6 Bluetooth speaker - it's small enough to chuck into your bag and still have space for everything else you might need. And it's now fully dustproof as well as waterproof so you won't need to worry about damaging it when you use it out in the elements.
Like with most JBL speakers, you can buy this in loads of cool colours so you'll be sure to find one that suits who you are, and it would make a great gift.
In the JBL FLIP 6 review, we were impressed by the sound which is surprisingly powerful considering how small the JBL Flip 6 is, it'll be good enough to use in bigger groups as well as by yourself. If you did want to make it even bigger then this speaker supports JBL PartyBoost which lets you pair it with two or more compatible devices to play music in Stereo or Party mode - you can choose which in the JBL Portable smartphone app.
The battery life is the only area where this speaker is a little average with about 12 hours of music, but that'll still be enough to get you through a day in the park or an evening in with friends.
The Megaboom 3 takes the goodness of the Wonderboom 2 and pumps everything up. While it may be targeted at those who want dance, pop and rock tunes in the outdoors, its relatively small footprint and attractive design mean it can function perfectly happily indoors – in the kitchen, for instance. The cooly muted colours it comes in are, in fact, about the only quiet things about it.
In contrast to the simplicity of the Wonderboom 2, Ultimate Ears has trowelled on the bonus features here, with the ability to pair two in stereo as well as the option to chain anything up to 'hundreds' of them (!) for even greater volume, via an app.
A 'magic button' on top lets you easily play, pause and skip tracks and, uh, not-so-easily control playlists. It's cool that UE has added this functionality but it has two problems: it only works with Apple Music and Deezer playlists, and you can only skip forwards through your playlists, one at a time. So if you have hundreds of playlists, this could be of rather limited use (or at least, you'll get RSI skipping to the one you want).
With 20 hours of battery life, impressive bass and volume, 360º sound, and build quality that renders it essentially unkillable, the UE Megaboom is by far the best outdoor speaker you can get. And as noted, you don't need to wait for summer to come back to enjoy it, as it does work well (for pop music in particular) in the kitchen, bedroom or elsewhere.
To put it simply, Wonderboom 2 is the best portable speaker, but Megaboom 3 is a better speaker overall. But seeing as this is a list of the best portable speakers, we have ranked the simpler, smaller Wonderboom 2 top. Hopefully that makes sense.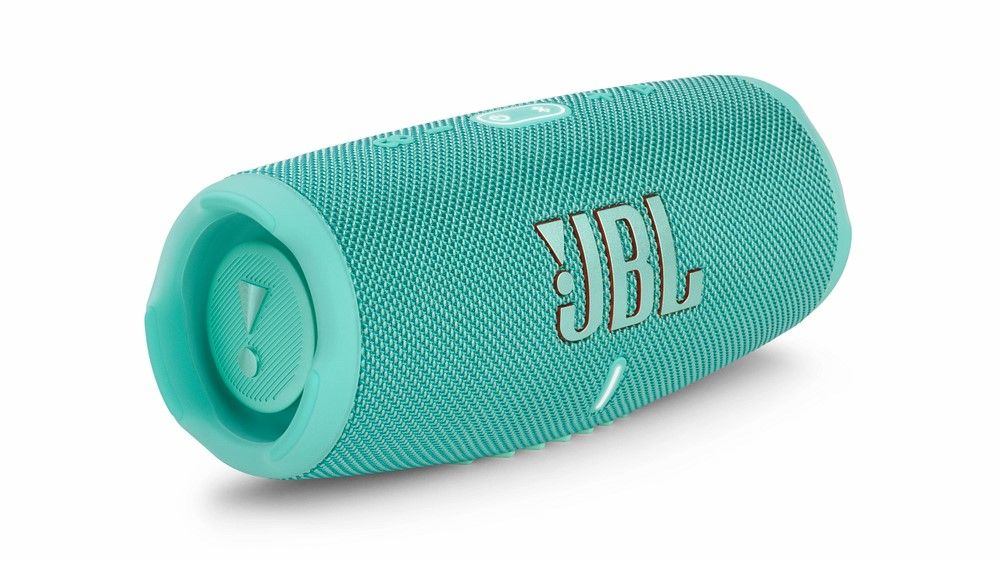 The JBL Charge 5 is a relatively small speaker that doesn't skimp on sound – it's chunkier than the B&O A1, and the design is a bit more 'practical' (though is likely a little tougher against drops, too). But it can really pump out the sound considering its size.
With powerful, accurate audio and some serious volume capabilities, this is a great speaker for a barbecue on the beach or picnic in the park. The 20 hours of battery life will easily last you the day, if not the whole weekend. Plus, if your phone is running out of charge, you can use it as a power bank and keep the music playing.
There were a couple of downsides like the fact that there aren't customisable equaliser settings, and there's no 3.5mm audio port to play music without Bluetooth, but those points seem like nitpicking in an otherwise fantastic speaker. The audio is just little less finely balanced than the B&O A1, with the treble and bass punching harder than the mid-range. Read more in the JBL Charge 5 review.
The Sonos Roam is a small (about 6.5 inches long) and easily carryable speaker (unlike the Sonos Move, the bigger Bluetooth speaker from the company, which is a hefty beast) that includes full Sonos Wi-Fi multi-room features as well as being a battery-powered speaker to, well, roam with.
The sound is strong for a portable speakers. It's not the most open or expressive out there, and it's not quite the loudest, but the former doesn't matter so much for outdoors listening. And it'll still be loud enough for most people – it's just maybe not the party speaker that some of the larger options here can be.
The real trick to it is that it can also function as a full member of a Sonos or Apple AirPlay 2 setup at home, over Wi-Fi, and it easily switches between the two options. If you want a portable speakers that can also take a useful spot in your bedroom/office, the Roam is a great choice. However, be warned that with a playing time of 10 hours, it's not especially impressive for battery life – some of its rivals can hit 20 hours. Our full Sonos Roam review talks more about what we liked in this speaker.
Audio Pro is known for making speakers with a simple, modern design and fantastic sound. Their smallest is the Audio Pro P5, it doesn't have tonnes of features but it does deliver music in the way that it was meant to be heard.
Small enough to fit in your bag, it's the perfect music-listening companion for those who care more about quality than anything else. You can choose to listen to music through Bluetooth or using a 3.5mm aux cable, and you can pair the speaker to another P5 to boost the sound.
The battery life is by no means the best on this list, at full volume, you will only get about 4 hours of playback. But if you keep it at 50% then you'll get about 14 hours from it which isn't so bad.
Where the Audio Pro P5 really excels is in sound quality, it is loud, energetic and punchy. It even supports Apple lossless which will please Apple Music subscribers. You can read more about it in the full Audio Pro P5 review. If you don't need any extra smarts from a portable speaker, then this one will be one of the best for sound quality.
The Pulse Flex 2i is again rather more than just a Bluetooth speaker. With Wi-Fi and ethernet included, it's actually Airplay 2 compatible, and also works with popular streaming services including Tidal and Spotify, and internet radio.
Considering how small it is, sound quality is little short of remarkable. With a wired connection it's even capable of playing hi-res audio files, for audiophiles, but Tidal (CD quality) and even the likes of Spotify (compressed MP3) sound wonderful.
The versatility needn't stop there, as you can add a battery pack (£69) and carry it with you wherever you may roam. Although not for very long, as battery life is only 6 hours, and it's not as svelte or light as some options here.
Compared to the Audio Pro speaker further up, Bluesound's champ is bordering on ugly, but since it sounds even better than the C3, has even more connectivity, and boasts an app that works better, we'll set aside our aesthetic reservations.
This Marshall speaker brings the brand's penchant for guitar-amp stylish to a a smaller frame, and impressively still keeps most of the signature look with having annoying knobs sticking out and catching on your pockets.
It has a good long battery life of 20 hours, and its sound is lively and punchy, and Marshall tends to go for. It's not built for gentle nuance, but delivers lots of bounce and fun for tunes while still being clearly detailed.
The only downside is that there are a few missing features – there's no mic (which can be handy for calls) and no way to adjust the sound's balance, such as an app with EQ settings. But we're happy to forgive those overall, as our full Marshall Emberton review will tell you.
You may not be looking for an all-singing all-dancing Bluetooth speaker, especially if you want something small you can just chuck into your luggage when you go away.
The JBL Go 3 is a tiny portable speaker that keeps things cheap and simple. There aren't loads of features and it won't start any big parties, but it's a great little device for listening to music by yourself or with just a few other people.
You'll be able to fit it into a small bag or even in a big pocket, so you can quite easily carry it around with you. It feels like a hardy little device as well, and it's waterproof so it'll survive everything from an accidental drop in the sea to a sudden bout of torrential rain.
Because it's so compact, you can't expect huge wall-shaking sound but it's still powerful enough to fill the room. Considering how cheap it is the audio quality is actually pretty good but you do only get about 5 hours of battery life. Read the full JBL Go 3 review to find out more.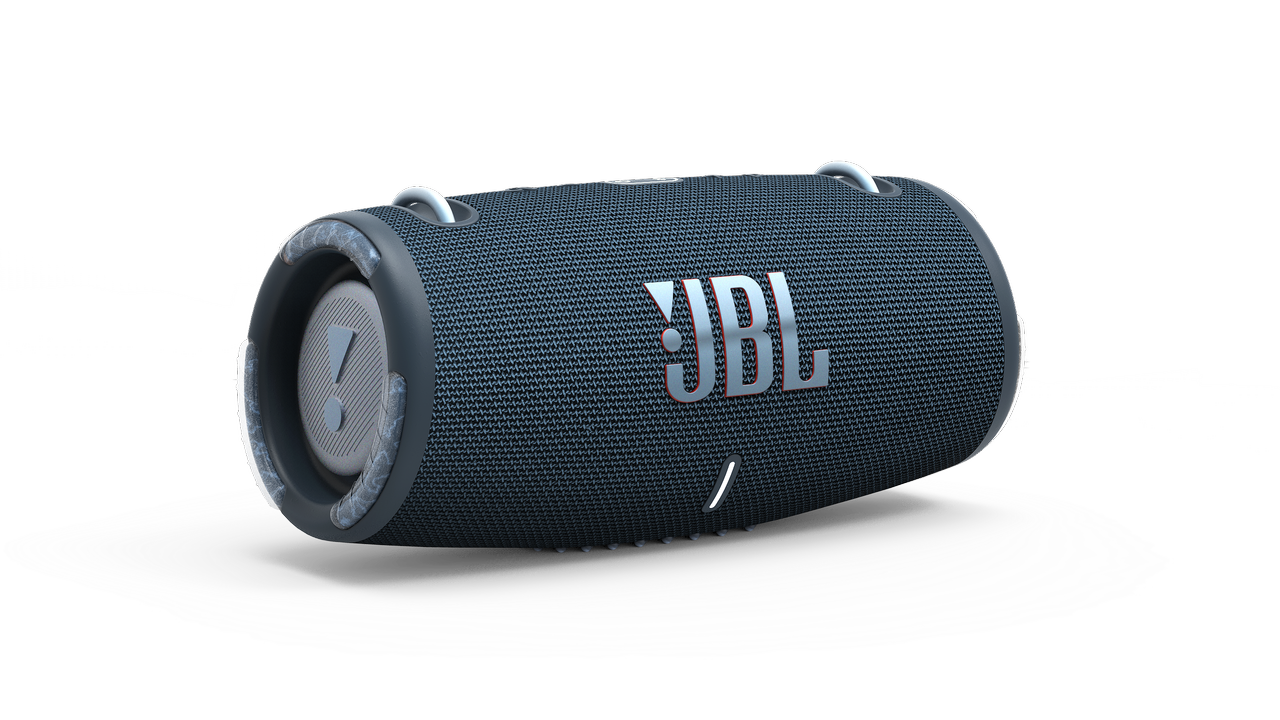 Designed to be used outside, the JBL Xtreme 3 is a waterproof, dustproof portable Bluetooth speaker that will withstand all kinds of conditions – be it rain or sandy beaches. It certainly looks and feels durable, though it is pretty damn big compared to most of the speakers here, so you'll definitely need to use the included shoulder strap to carry it around.
Connect to your phone using Bluetooth 5.1 or the Aux-in. If more than one person wants to be in control of the music, pair two smartphones to it and share the job. You can pump up the volume to seriously high levels, and the sound quality is crisp, detailed and bassy, all of which make it a great party speaker.
The 15-hour battery life is sure to last you a whole day of music, and you can charge your smartphone from the speaker too. This could easily be a trusted day-out device – read more in our full JBL Xtreme 3 review.
If you're a Bluetooth purist – do such people exist? – looking for great sounding stereo speakers, TUK is one of a very small number of options right now. Most higher-end wireless speakers also include Wi-Fi and cloud connectivity to service Tidal, Spotify, AirPlay, Chromecast et al. Kanto TUK has no truck with such new-fangled notions. It supports Bluetooth 4.2 – AAC and AptX – and NO OTHER WIRELESS CONNECTIONS AT ALL!
It's a pair of attractive, compact bookshelf speakers, and the right hand one contains the connections and DACs and Class D amplifiers and all that, and the right one is a slave, connected by a wire. Yes, doing 'proper' stereo Bluetooth without a wire between the speakers is a more elegant solution – but in my experience it never works satisfactorily 100% of the time.
It's also not just a pair of speakers, either. With a pre-amped input for a turntable, a standard, line level phono input, optical digital and USB, the Kanto TUK is actually what old people would call a 'music system' or 'mini system'. Clearly, setup is more complicated than with a one-box but the compact size of the TUK and straightforward connectivity, make it as easy as it can be.
I've seen reviews of this saying the bass is a bit thin, but I can assure you on a half decent pair of stands or a reasonably substantial shelf it is booming. There's a subwoofer connection as well, if you are a total bottom-end fiend. A handsome and sturdy remote is included, although I can't say I've used it much. Your colour choices are the black pictured here, and its arch rival: white. The white finish looks better IMO and the casing doesn't seem to be the dirt magnet that many white speakers are.
This is more like what many people would consider a classic Bluetooth speaker than the Kanto TUK. But really, it is a Sonos multi-room speaker, designed to be connected via Wi-Fi. However the Move has been ruggedised, and had a battery and Bluetooth connectivity added, so you can use it outdoors too.
Basically a Sonos One that you can take in your garden, the Move also includes Amazon Alexa or Google voice assistants (although not when in Bluetooth mode) and multi-room streaming support from a vast range of music services (although not when in Bluetooth mode).
Sound quality is excellent, and there's some genuinely clever software that automatically optimises the sound to its surroundings every time you move it. You can have some fun with the Move putting it in the most acoustically unpromising positions you can think of – it nearly always ends up sounding good, indoors or out.
Sonos Move is not the most handsome thing, but you soon realise it's design is excellent. A massive, recessed 'handle' on the back makes it easy to transport, and as well as being rugged, the base and paint finish are cunningly designed so it doesn't get marked and scarred by a life of being hefted about and placed on patios.
Sonos' app provides support for any music service you can think of or subscribe to, as well as allowing voice control of tunes via Alexa or Google. When you're in Bluetooth mode however, Move functions like any other Bluetooth speaker – you send music from your phone or other devices, from whatever music apps you happen to have installed.
Audio quality takes a noticeable hit when you switch to Bluetooth, compared to Wi-Fi or cloud streaming. Even so, it sounds way better than almost any other portable Bluetooth speaker I can think of, as our full Sonos Move review says. The battery life of 10 hours isn't bad, but do remember to replace the Move on its elegant charging stand when you're not using it outdoors or in the bathroom – the battery continues to drain even in standby mode, which can be an annoyance. See how this compares to the Roam above with our Sonos Roam vs Sonos Move guide.
This is a great alternative to the Sonos Move, though is just about as expensive, so you'd hope it would be. There's no multi-room tech here – it's all about Bluetooth and big, big sound. UE has always been great at squeezing big sound from fairly compact speakers, so maybe it's no surprise that when it doesn't have to be compact any more, the sound is really off the leash.
The sheer scale of the audio here, and how well it maintains its poise while being so big and loud, is beyond what the Sonos Move can manage, though that's the higher quality speaker overall, we'd say.
If what you want is a party machine, this'd probably be our choice, though. You could practically hold a damn concert in the park with one of these, as our full UE Hyperboom review tells you. Having the ability to pair two devices is great for a bit of flexibility too.
If you decide the Cambridge Audio YoYo (M) is both too stupidly named, and too much of a pain to setup, this excellent offering offers full stereo, without the need to pair two speakers, as they're wired together.
With a 3.5mm input and an optical digital one and an output for an active subwoofer, this could be the basis of a neat little system, but it's also mighty fine as a Bluetooth-only setup.
Audio is in line with most Ruark products, in that it's more Manilow than Metallica; more Stone Roses than Stormzy. But that's fine. In my opinion, the more upfront sound of the Cambridge Audio YoYo (M) is better – and it's cheaper too – but I know loads of older folks and acoustic heads love the Ruark sound.
The fact the speakers are wired to each other does make setup less of a hassle, as it removes the need to turn on two speakers every time you want to listen to music. It does limit how far apart you can place them, but you could always buy a longer 3.5mm to 3.5mm cable.