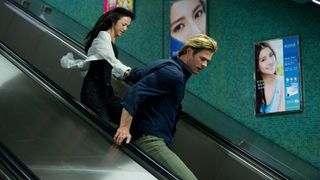 Movie: Blackhat - Mann's bytes slog
It's been a long, nearly six-year wait for Blackhat, the Michael Mann movie that Michael Mann has been itching to make since his first foray into digital with Ali, which was 14 years ago.
There was a mixed reaction to his last flick, Public Enemies, which resembled a revisionist take on a classic 20s gangster film - think Bonnie and Clyde or Dillinger - which had for some reason been shot using the forecourt CCTV cameras from Mann's local Esso.
This, by contrast, was meant to be the film that proved, once and for all, that digital, with its lack of gloss, should be the chosen palette for filmmakers who want to sprinkle some authenticity on the cinema screen. The problem is when your movie is all about hackers hacking, too much DV-shot keyboard work can be, well, a little dull.
That's not to say there aren't exhilarating scenes in Blackhat. Mann's thriller teams up jailed hacker Nicholas Hathaway (Liam "Brother of Thor" Hemsworth) with the Chinese government to help ward off a cyberterrorist cell that has infiltrated the Chai Wan nuclear power plant. However, Mann does his best to play down the cat-and-mouse-chasing, luxurious-location-hopping by again saddling many of the scenes with the visual imperfections for which his style of hi-def video is unfortunately famed.
This is most egregious in a scene that's superficially reminiscent of the infamous shootout in Heat, complete with surly men perched behind parked cars on a highway, trading machine-gun fire in a succession of choppy close-ups. But where Heat still sizzles with cinematic gloss, Blackhat already looks dated. Michael Mann's mantra of 'dirty it with with digital' means the gunplay looks like iPhone footage uploaded to YouTube. It's an action scene shot for the Live Leak generation.
However, for all of its faults, Blackhat is a timely story. Inspired by the Stuxnet attacks of 2010 - for which no one was ever charged - the film launches in the UK at a time when movie studios are reeling from hack attacks, Anonymous are more like Notorious, and some Russians just made off with a billion dollars from banks around the world, in one mega-heist.
Mann has done his homework, and Blackhat's hacking scenes are as authentic as they come - every firewall climbed, IP address decrypted and remote access trojan installed has been overseen by real-life hackers. But this authenticity is marred by some unfortunate CG scenes that place the viewer right in the middle of a computer terminal while it's being infiltrated.
Blackhat is an uneasy marriage of computer terminology, global espionage and outright action. At its best, it has the muscular makeup of a classic Mann movie but the plot is all a little too byte-sized and the visuals too drab to stand it up against the auteur's better movies.
Rating: 3/5
Out February 20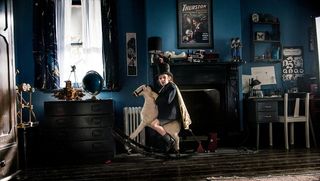 Blu-ray: Babadook - the creeping horror that is small children
This Australian horror combines familiar elements from The Shining and Repulsion - characters mentally unravelling amidst a ratcheting air of tension and dread - into something truly fresh and visually striking.
Following the death of her husband as he drove her to hospital to give birth to their child, Amelia has been all but overwhelmed by grief. Six years on, her son – who is, with the best will in the world, a squawking, nightmarish brat – is being plagued by a "Babadook" – a malign spirit whose story is told in a brilliantly realised, X-rated pop-up book that msyteriously appears in their home and then appears impossible to chuck out. In this smart Aussie chiller, it's left ambiguous as to whether this is a Poltergeist-style visitation or, more disturbingly, a manifestation of Amelia's suppressed rage at her own child.
In the wrong hands, this could result in a lot of laboured symbolism, but first-timer Jennifer Kent directs with great assurance, aided by outstanding performances from Essie Davis as a smart, decent woman on the verge of total breakdown and Noah Wiseman as her unfeasibly irritating son. With the cinematography and production design making the most of what is clearly not a huge budget, The Babadook is the best "thinking-person's scary movie" since The Orphanage, being moving, chilling and, at times, full-bore scary.
Rating: 4/5
Out now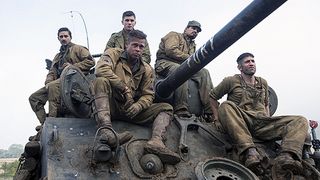 Blu-ray: Fury - angry men in tanks
Tank commander Brad Pitt and his crew of walking clichés fight through the last, hellish days of WWII and Hitler's "Total War". Decapitations by tracer bullet are disconcertingly frequent and the tank battles are fantastically done - a bit like Das Boot on land. The climax is preposterous, though.
Rating: 3/5
Out now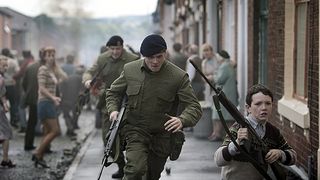 Blu-ray: '71 - Apocalypto in Ulster
British squaddie Jack O'Connell gets stuck in the wrong part of Troubles-era Belfast following a raid, and is pursued by a number of extravagantly moustachioed Republicans in flared trousers. The chase is in many ways less interesting than the unflinching portrayal of the conflict's realities, with neither side coming off very attractively. The slight lack of tension is because O'Connell's character is both underwritten and also unusually passive, to the extent that he feels like a bit-part player. To be fair, this makes a welcome break from the usual Rambo, lone warrior stereotypes you normally find in films such as this.
Rating: 3/5
Out March 9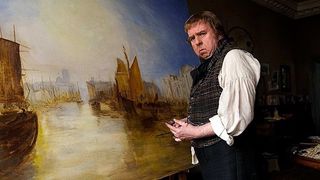 Blu-ray: Mr Turner - you'll see his true colours shinin' throooough
This is a very rare thing: a British historical piece that isn'tweighted down by its own sense of "prestige". You couldsay Mike Leigh's look at the last years of Turner's life painstakingly layers on detail rather than mirroring the violent strokes and tumultuous meshing of light and dark that characterised Turner's approach to painting. But that would be a bit pretentious of you. Anyway, a wonderfully acted film, even if hardly the most dramatic thing ever committed to celluloid.
Rating: 3/5
Out March 2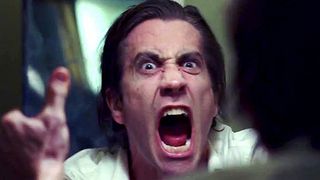 Blu-ray: Nightcrawler - Jake did a bad thing
Raaaaarrrrgh! Look how much acting Jake Gyllenhaal is doing there. This solid neo-noir is elevated by his performance, as he goes full method on the twisted soul of Lou Bloom, an, ahem, "go-getting" freelance crime photographer on a long and sordid journey into the seedy underbelly of Los Angeles.
Rating: 3/5
Out March 2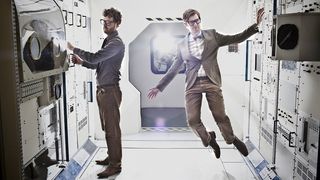 Music: Public Service Broadcasting - The Race for Space
With their charmingly dated mix of samples from newsreels and other 20th century recordings, big themes – WWII on their first EP, America's Apollo missions on this – and rather stiffly funky grooves, you could reasonably say Public Service Broadcasting are one-trick ponies. However, when they hit their stride, as on the propulsive Go! and Sputnik, they are undeniably elegant ponies whose one trick is a splendid one. A mixture of poignancy and wide-eyed optimism makes The Race for Space worthy of your tax dollars.
Rating: 3/5
Out February 23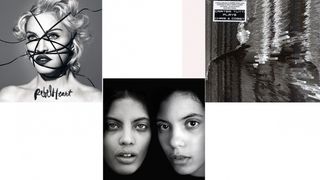 Music: More T3-picked beats for the month ahead
Madonna, Rebel Heart
Tracks here include Bitch I'm Madonna, Unapologetic Bitch, Iconic, and Messiah. Whatever can Madonna be trying to tell us with this? Hmm.
Ibeyi, Ibeyi
Quasi-mystical grooves with an Afro-Latin tint, this is hypnotic and soulful at its best, though overly "Jools Holland" at its worst.
Chris and Cosey, Plays Chris and Cosey
Quietly influential 80s synth duo remix their early works. The results still sound retro as hell, but also coldly, trance-inducingly compelling.