10 movies and TV shows that get tech right
When Hollywood gets it spot on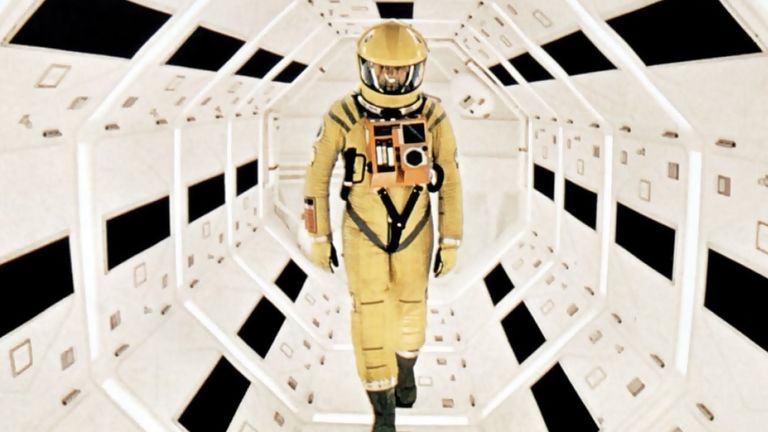 1/11
Introduction
To many film-makers, technology is a plot device. It's that thing that gets the script from A to B without really needing to explain how or why. Cinematic cheating, in other words.
There are far more dodgy hacking scenes, face-palming computer UIs and nonsense bits of tech than you can count in Hollywood films, and much more bad stuff than good. However, there are films out there that get it right: either by being realistic or just stepping back and thinking a bit more rather than just whacking in some gadgets to please the punters.
Are you a real tech fan? Here are the films and TV shows you need to check out.
2/11
The Social Network (2010)
The story of the creation and rise of Facebook, David Fincher's The Social Network is the tech story of our time. Sure, the kids may have moved into other social networks we're not even cool enough to know the names of, but it's a great tale.
Of course, this being an Aaron Sorkin joint, it's much more about witty conversations than peering into the server farms Mark Zuckerberg needed to agonise over when Facebook rocketed from a little Harvard social portal to something rapidly spreading across the world.
What did we learn? Well, working out who came up with a great tech idea can get you a load of legal headaches when there's million, or billions, of dollars involved. And Mark Zuckerberg can be a bit of a dick sometimes. No surprises there, then.
3/11
Catfish (2010)
Presented as a documentary, but packed with enough surprised and earnest-looking reactions to jam it firmly in "hammed up for the camera" quasi-fiction territory, Catfish is a great follow-up watch to The Social Network. That film showed how Facebook brought millions together online, this one shows how that 18-year-old girl you connected with might be some fat old guy with Wotsit crumbs in his belly button.
In Catfish, Nev starts thinking the young girl he's talking to online may be telling a few porky pies. Guess what: he finds out, spoiler warning, that's she's actually a married middle-aged woman.
It's a common story these days, but Catfish manages to draw the tale out over a pretty spellbinding 90 minutes that explore the nature of online identities. Realising this was happening all the time, Nev and his camera man buddy now make a TV show that exposes people who are fatter and older than they claim, all year long.
4/11
Office Space (1999)
Few films 'get' the love-hate relationship tech geeks have with their gadgets or the huge cultural gap between management and IT developers like Office Space. Computers are things capable of amazing stuff, but 99 per cent of the time are beige overlords of drudgery, big dull boxes that are are symbols of the definitely-not-twenty-something-anymore underachiever.
Sure, maybe we don't use giant CRT screens anymore and MacBooks look a bit nicer than Office Space's tech. But it has that awkward difference between the world of the tech fan in and out of work just perfectly.
Oh, and Michael Bolton and co. get to destroy an old PC tower: a scene you don't want to miss.
5/11
Pirates of Silicon Valley (1999)
Before The Social Network had a stab at telling the Facebook story, Pirates of Silicon Valley had a look at the even more incendiary story of the rise of Windows and Mac in the 80s and 90s. Unlike The Social Network, it's a relatively low-budget TV movie so has a few cheesy stylistic elements, but is well worth a watch.
Apple co-founder Steve Wozniak claims the personalities of the main players: Bill Gates, Steve Jobs and Wozniak, were captured just about perfectly. It's a fictionalised account, having to join the dots for dramatic purposes, but gives you a good idea of the cult-like environment of Apple in the early days.
While Jobs reportedly hated the film, he even went as far as to bring in Noah Wyle (who played him in the film) to come on stage pretending to be him at the 1999 Macworld conference. And who says Jobs didn't have a sense of humour?
6/11
2001: A Space Odyssey (1968)
Roughly based on an Arthur C Clarke short story, it's no wonder 1968's 2001: A Space Odyssey makes a whole bunch of predictions about tech of the future. And a whole bunch were roughly on the money because unlike so many sci-fi directors, Stanley Kubrick didn't feel the need to ramp everything up to 11 just to get heart rates in the audience going.
On the list of things 2001: A Space Odyssey got more-or-less right almost 50 years ago are Skype-style video calling, tablets, airline set entertainment… and while HAL 9000 is a bit more evil than Siri, they have the same slightly creepy robotic assistant vibe.
Even more important than this futurology stuff, 2001: A Space Odyssey takes a much more realistic approach to space travel and being out there in the black than most. How often do you see a film set in space where everything is silent, as it would be in a vaccum? Even NASA gave its aeronautics research the seal of approval.
7/11
Ex Machina (2015)
Sci fi movies often play it fast and loose with technology, but the best of them raise interesting questions about what companies like Google might end up actually creating at some not-too-specific point in the future. Ex Machina raises what has become quite a hot topic: AI.
Are robots going to reach that tipping point and effectively out-evolve humanity, making us all redundant. Can an AI really have a consciousness in the way we can? Are we buggered in the long run?
Bill Gates and Stephen Hawking say we should be worried, and they know a thing or two. While still a sci fi thriller, Ex Machina looks at this issue from a more thoughtful angle than most, a three-hander where a Sergey Brin-a-like calls in an intern to his epic pad in the rainforest to see whether his android creation can pass the Turing test. Worth a watch.
8/11
Gattaca (1997)
Can you imagine life before the internet? Heck, can you imagine a world before iPhones? Technology radically changes social norms, and Gattaca's vision of a world where technology has even altered the way we come into existence may be more hard-hitting today than when it came out in 1997.
It's about eugenics. Technology has reached the point where prospective parents can choose specific traits in their baby and map out their future, avoiding any undesirable genetic traits.
Your genetic map then becomes a CV, used everywhere you to judge who are you are and what you're worth. It's scary stuff, amped up just enough for dramatic purposes while looking at an issue in medical tech that is very much real. Heck, with 23andme you can already check out what chance you have of developing diseases in the future.
9/11
The IT Crowd (2006)
"Have you tried turning it on and off again?" If you've seen the The IT Crowd that little snippet can't help but remind you of this classic comedy.
Three IT support workers all-but locked in the basement of an office block, dealing with password queries and issues that could be fixed with a restart: doesn't sound like a rich vein of comedy waiting to be tapped. But this is one of the best sitcoms of the last 20 years.
No other series quite gets how much we rely on computers, and yet how little 99 per cent of people really understand them, as The IT Crowd. It's not just a case of geeks sneering at 'normal' people either. Not coming from Father Ted and Black Books creator Graham Linehan.
10/11
WALL-E (2008)
If you have a simple opinion on a complicated issue, you're probably more wrong than right. So it's a bit of a surprise to see what's ostensibly a kids' movie have such a complicated relationship with technology.
First, Wall-E's protagonists are robots, and pretty much the most human characters in the whole drama. They do amazing things, and aren't the apocalypse-bringers you'll find in something like The Terminator.
However, technology is as much a problem as a solution in Wall-E. Most of the film's actual people send their lives eyes glued to screens and backsides to motorised chairs, just growing fatter by the day. Maybe the moral of the story is just that we should all just go out in the the sun a bit more and, y'know, plant a tree every now and then. But it's an interesting look at where our over-reliance on tech could head.
11/11
The Matrix Reloaded (2003)
This series has given birth to countless bad techy films and even more dull-witted tech predictions. Plus The Matrix Reloaded is nowhere near as good as the original.
But it was one of the first films to actually pay attention to what the process of hacking actually is. There are no sparks flying out of the screen, no ridiculous progress bars and bleeps-bloop sound effects.
The Matrix Reloaded uses a real-life SSH exploit, a freeware port scanner called Nmap. It's in the scene where Trinity breaks into a Power Plant's system. Nods to real-life Neo wannabes don't get much more tech cred-filled than that. The rest of the film? Pure nonsense, naturally.