It was only a matter of days ago that I, as a PlayStation 5 owner, had penned that Xbox could lure me (to the dark side?) if the Xbox Series X dropped to a low enough price for Black Friday. Well, here we are: as EE has the Microsoft console at its lowest-ever price in this early deal.
So this is me putting my money where my mouth is with this being one of the best Black Friday deals I've seen. Except it's proven so darn popular that whilst I was desperately trying to log in to my BT/EE account with the deal happily sat in my basket the whole Series X stock at EE sold out. So, what's a deal-hunter to do?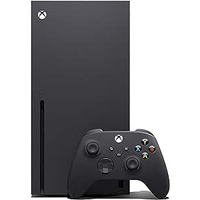 Xbox Series X: was £479, now £379 at EE
A massive £100 off the Xbox Series X sees the Microsoft console drop to its lowest-ever price. That's cheaper than even the best PS5 deals this Black Friday. Considering this is the most powerful console on the planet, and Microsoft keeps landing publishing exclusives – such as those with Bethesda – it's worth buying for great games like Starfield alone.
Well, you've got some options. The site says another 50 or so are expected in the coming days, although they may have already been pre-assigned for sale. However, for a mere £10 more you can add Diablo IV and take a gamble on the £389 bundle. It doesn't have a shipping date and states that it could be delayed. But you can buy it, unlike the console-only deal. So that might be a savvy workaround.
My approach? I've set up a deal alert in third-party tracking site CamelCamelCamel, as whilst that tracks Amazon stock specifically, it's fairly unusual that this major retailer doesn't match with the best Black Friday deals out there. So I'm crossing my fingers that it'll drop from its current £409 asking price on that site – as £379 is my threshold.
The main reason I want an Xbox Series X is to play Starfield, quite frankly, which is also price-cut as part of the Black Friday sales. I've seen the game as low as £42.99 at Currys right now. Tempted as I would be to buy that to avoid disappointment, until I've snagged myself a console purchase I'm just going to have to play the waiting game... but there's time enough before Black Friday proper, so I'm confident other Xbox deals will match in the coming days!