So, you've spent a while pondering the best Apple Watches. Maybe you've plumped for the top-spec Apple Watch Ultra, or decided you're happy with the Apple Watch SE. Or maybe, you're somewhere in the middle with the Apple Watch Series 8.
Regardless, you can't go too far wrong. What you might find, though, is that your gorgeous new smartwatch is a little under-protected. After all, the outward-facing portion in mostly glass. That's when a good Apple Watch case can really come into its own.
Buy this Apple Watch case on Amazon
This amBand case has a 4.4-star rating on Amazon with nearly 10,000 reviews. That's pretty good going, and a testament to the quality of the band. There's a real Casio G-Shock vibe about the whole thing, which gives it a cool, familiar look.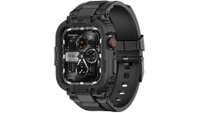 The case is made from TPU – a plastic which also has rubber-like qualities. It protrudes a little above the height of the screen, offering protection against drops which might otherwise leave you with a cracked display.
The buckle is crafted from 316L stainless steel, while sand-blasted metal panels also cover the side button and the cut-out for the speakers. There's no issues with sizing, either. amBand has options covering everything from old Series 3 models, right through to the Ultra, so you can be sure to find the right fit for your watch.
Right now, there's 15% off the band, too, taking it down to just $22.09. On my site, there's also a coupon for a further 20% off, which would take it below the $20 mark.
At that price, it's a no brainer. Even if you only use it in situations where you need something a bit more rugged, the potential savings far outstrip the cost.