Last week I was postulating that Xbox could actually lure me, a PlayStation 5 owner, into the Microsoft ecosystem if there was a good enough Black Friday discount deal. Then it happened: EE dropped the Xbox Series X to its then lowest-ever price.
Hurrah! Except, not quite: the console was a sell-out in a matter of moments and I was left, tail between legs, missing out on one of the best Black Friday deals of the year. Only that's not proven to be the case, as Amazon has come out guns blazing and has offered an EE-beating new cheapest-ever Xbox Series X price point.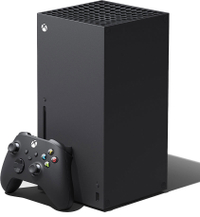 Xbox Series X: was £479, now £359.99 at Amazon
A massive £120 off the Xbox Series X sees the Microsoft console drop to its lowest-ever price. That's cheaper than even the best PS5 deals this Black Friday. Considering this is the most powerful console on the planet, and Microsoft keeps landing publishing exclusives – such as its Bethesda partnership – it's worth buying for great games like Starfield alone. Especially at this price!
So I took the plunge and actually bought one. It's the first time I've ever actually owned an Xbox (I know, shocker), as typically friends and family have been owners over the years. No longer, though, as I'm now joining the fold. The question, you may ask, is 'why?!'
Well, it's pretty simple: Microsoft has been savvy in gaining exclusivity deals, kicking off with Bethesda, and as that publishing company has made some of my favourite games ever (Fallout 3 is probably the pinnacle; Skyrim a close second) and I'm particularly keen to play Starfield (which I also just ordered from Shop.To where its price is lowest).
The great thing about Amazon selling the Xbox Series X cheaper than anywhere else, however, is that you can elect to pay in instalments. Which is precisely what I've done: five months at £72 means each and I'll have paid it off come March 2024 and the sting of the full £359 won't hit quite so hard up front. It's a great deal!