It's a new year and with it comes fresh deals on just about everything from smart tech to TVs, but Best Buy is dropping one of their best Google Pixel Watch deals already with savings well worth a look.
With deals on the Google Pixel Watch as low as $319.99, you can kick off the start of a new year (and a new fitness journey) with one of the best smartwatches available.
Check out Best Buy's Google Pixel Watch deals here
Google's wearable, which features a bevvy of apps and features known to the Google OS platform, comes loaded with health and fitness apps powered by FitBit to combine the functionality you'd expect from a Google device with the impressive health tracking features of a Fitbit smartwatch.
The Google Pixel Watch, which competes directly the best Apple watch on the market right now – the Apple Watch 8 – as well as the Samsung Galaxy Watch 5, is Google's way of shaking up the smartwatch market.
Clocking in at a standard price tag of $359.99 normally, it's on the more affordable side compared to its counterparts. However, Best Buy is giving these spectacular smartwatches a solid $30 price drop for a limited time and making them much more enticing to those shopping for one.
These Google Pixel Watch deals are only available for a limited time, so jump on the savings ASAP before they're gone!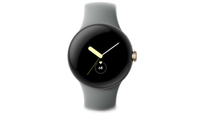 Google Pixel Watch Black 41mm WiFi/Bluetooth
was $349.99, now $319.99
Google's first smartwatch is by far one of the best on the market, and for good reason. Loaded with complete Google connectivity and paired with health and fitness tracking by Fitbit, it's the ultimate smartwatch for those who prefer Android systems.
Is the Google Pixel Watch worth it?
If you're an avid Android user, the Google Pixel Watch is one of the best smartwatches on the market next to the Samsung Galaxy Watch.
It's a simple yet sophisticated smartwatch that, from a personal standpoint, has a better design compared to other watch. It's sleek and elegant look goes with just about any outfit, and the interface itself is both intuitive and easy to use.
Since the Google Pixel Watch comes paired with Fitbit health and fitness tracking apps and features, it's by far a better options overall for those in need of a good exercise watch. Google's connectivity is broad, and everything from calls and text messages are available, but the added bonus of heart rate tracking and other Fitbit-centric apps amp up the Google Pixel Watch to a whole new level.
However, if you're an Apple fan than the Google Pixel Watch may not be what you're after. It won't feature the same connectivity and apps that Apple's watches come with, and it won't be able to completely maximize your Apple user experience due to some limitations.