With Christmas around the corner you might be looking for a last-ditch festive jumper that'll arrive before the big day. Fortunately there are lots of high-quality Christmas jumpers for gamers still available with postage available to arrive in time.
I've rounded up a top 10 of my favourites from around the internet. Well, Christmas jumpers that gamers will love that are still in stock, in a number of different sizes, and will suit adults and teens alike; I've also included two specifically for kids as the final two positions in this festive buying guide.
So whether you're into Mario, Sonic, Pokemon, Zelda, Street Fighter, PlayStation or Xbox, or more on a retro tip, there's a Christmas jumper option here for everyone - whether you're a hardcore gamer or not, or just looking for a fun festive jersey to be a talking point this holiday season.
Best Christmas jumpers for gamers
Why you can trust T3 Our expert reviewers spend hours testing and comparing products and services so you can choose the best for you. Find out more about how we test.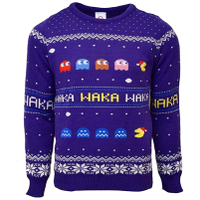 Pacman 'Waka Waka' Christmas jumper: £29.99 at Amazon
Waka, waka, waka: we all know the classic sound of this 1980s classic that still lives on today. The retro style is kept fully in tact, along with some nice snowflakes. Just don't eat the yellow ones, eh?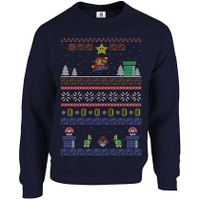 Mario retro Christmas jumper: £24.99 at Amazon
Sticking with the retro theme, there's this super (or Super) Mario side-scrolling jumper that'll be a familiar sight to any 1980s or 90s gamer. Goombas, Mushrooms and coins are all featured, but there's no Santa, just Mario jumping for the shiny star.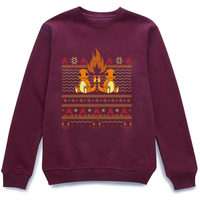 Merry Litmas Charizard Pokemon jumper: £19.99 at Zavvi
If you love Pokemon then you'll obviously love Charizard: and this Christmas jumper is one of the more creative to use the Pokemon license. It's a fireplace like no other that fans will love, juxtaposed with some snowflakes.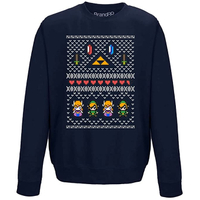 Hyrule Zelda retro jumper: £18.45 at Amazon
Probably my favourite on this list, and yes it's another retro take, but who doesn't love Zelda, Link and co? This takes me back to glorious Super Nintendo days of past... and I want to buy it. Great price, too.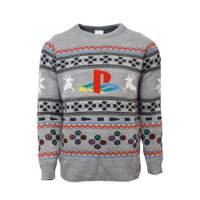 Official PlayStation 1 logo Christmas jumper: £29.99 at JustGeek
If you were into PlayStation back in 1995 then this classic PS1 logo will jump out. Presented here in its original colours, flanked by some reindeer and the d-pad instead of snowflakes, it's a classy classic number indeed.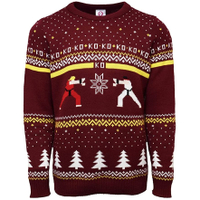 Streetfighter Ken v Ryu Christmas jumper: £32.99 at Amazon
Hadouken! Is there a Christmas version of that ol' classic Street Fighter catchphrase? Probably not. I'll go with 'turducken!' anyway, seeing as I can sort-of visualise Ken shouting it over the dinner table. This burgandy number could be yours, although only in M and XXL sizes at the time of writing...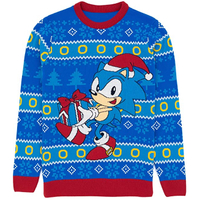 Sonic The Hedgehog official Christmas jumper: £38.99 at Amazon
If you really love Sonic (and you'll really, really need to if you're going to don this blue-and-red number) then here's the Christmas jumper for you. He's even got a lil present, cheers Sonic mate.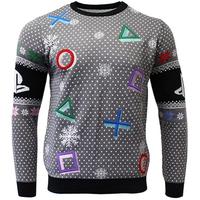 PlayStation four symbols jumper: £19.99 at Amazon
If you're not a fan of the PS1 logo jumper further up page then this four-symbol PlayStation jumper mixes the classic circle, square, cross, triangle controller symbols... the arms still have the retro PS1 logo on, though, just so you know.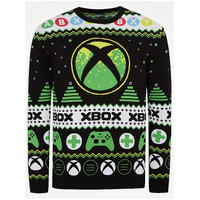 Xbox Christmas jumper for kids: £20 at ASDA
If you're kid's a major Xbox fan then this official one sold via ASDA is available for a range of ages. It's a rather literal take on all things Xbox, symbols galore, and finished in the classic green-and-black colour combination, but kids'll love it.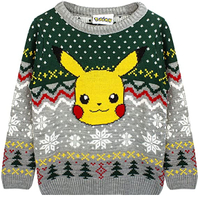 Pikachu Pokemon Christmas jumper for kids: £26.99 at Amazon
Kids love Pikachu. Well, we all do, right? But here's a jumper that's not designed for adults, available in a variety of age ranges for children specifically. Very cheery indeed, no electric bolts to be seen anywhere here, just snowflakes and that cheeky 'Chu smile. Lovely stuff.